How Marketers can use Marketing Automation
Marketing Automation Insider is supported by readers like yourself. We may earn an affiliate commission when you purchase through our links. Of course, this won't increase the cost of your subscription.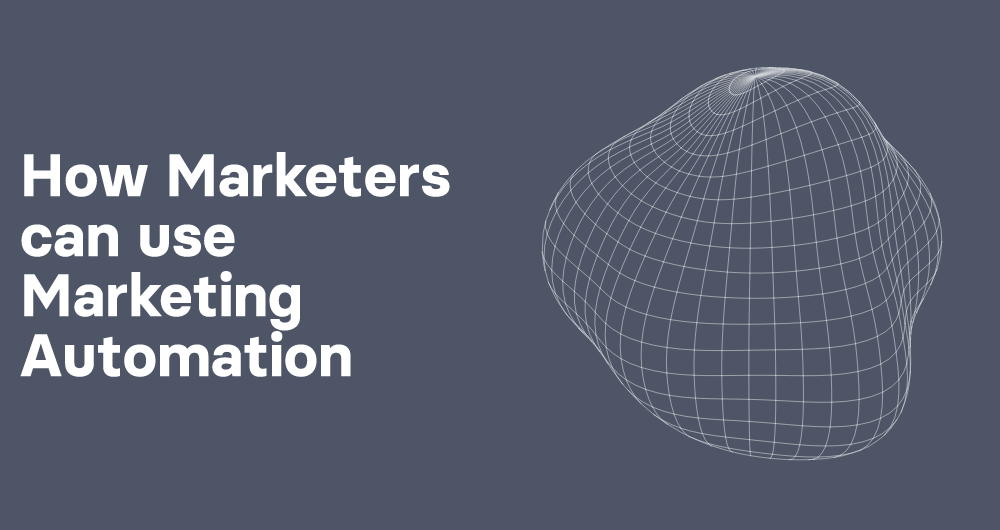 In the last chapter, we discussed how features like lead scoring, progressive profiling, and lead nurturing can improve your sales productivity and lead conversion rates.
Here we're going to turn our focus towards how marketing automation software can improve your company's acquisition, conversion, and retention rates.
Below are seven actionable ways you can use marketing automation yo take your marketing to the next level.
1. Behaviour-triggered marketing
The more relevant your marketing is to your audience, the more effective it'll be.
Marketing relevancy boils down to showing the right offer to the right person at the right time.
Behaviour-triggered marketing focuses on sending messages at the right time by triggering emails (or SMS messages) when a contact completes a defined set of actions.
Here's an example of one of AirBnB's behaviour-triggered emails: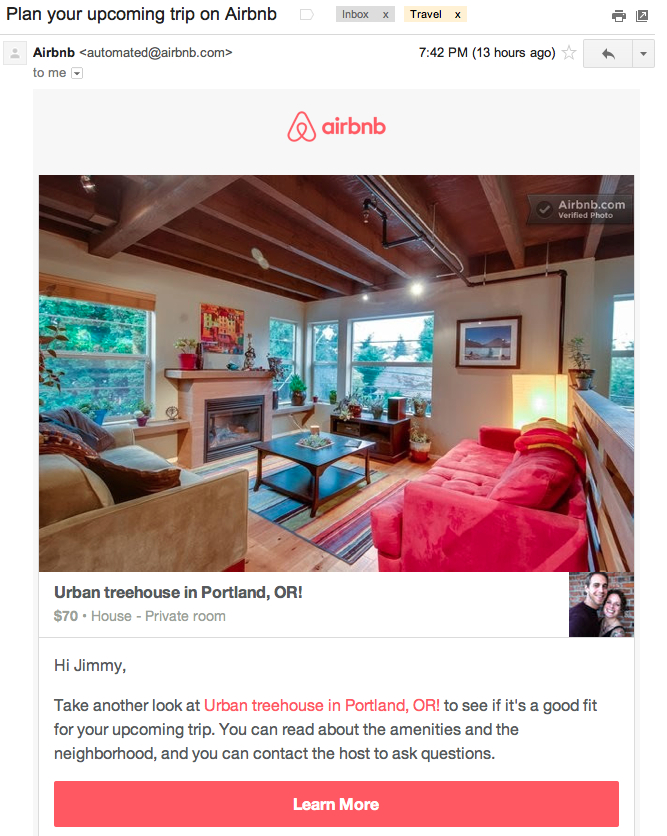 In this instance, Jimmy from Vero looked at this property but didn't book it within a few days.
If after several more days Jimmy still hadn't booked a room in Portland, he'd have received another behaviour-triggered email from AirBnB with a selection of similarly priced properties in the area.
Not only is this offer hyper-relevant to the customer, it's also genuinely helpful. It's worth noting that behaviour-triggered emails don't just work for purchase reminders.
You could use them to automate asking customers for feedback on your service after a specific amount of time, to upsell products, or even as a reminder for clients to pay their invoices on time! How could you use triggered emails to solve your business' pain points?
2. Segment your email marketing audiences
Email marketing is no longer about blasting a newsletter to everyone on your list at the same time.
It's about using captured information to send different messages to different segments of your list, based on what's most relevant to that segment.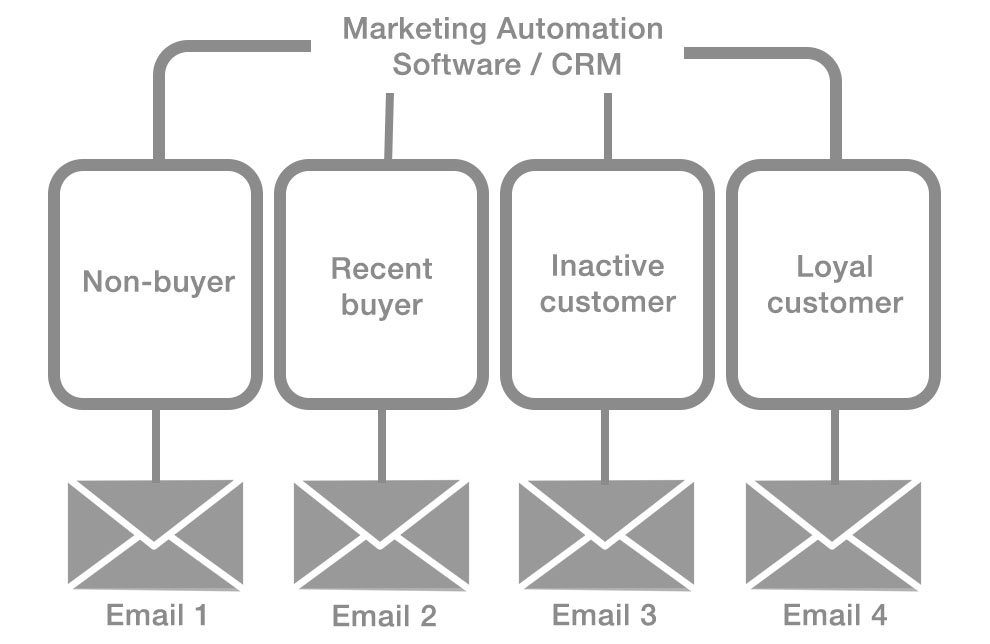 At a basic level, this makes it easier to vary how you market to your loyal customers vs. non-buyers and other types of leads.
But you can get far more creative with this.
From sending discount coupons to customers on their birthday, to sending additional information on the products your contacts were looking at, the potential of what you can do here is limitless.
3. Dynamically personalize web / blog content
Imagine if every visitor on your website saw content that was eerily relevant to them.
This is exactly what Wishpond do with their blog. By capturing the industry of their leads in a web form, they dynamically personalize the content on their website to show content related to each contact's industry.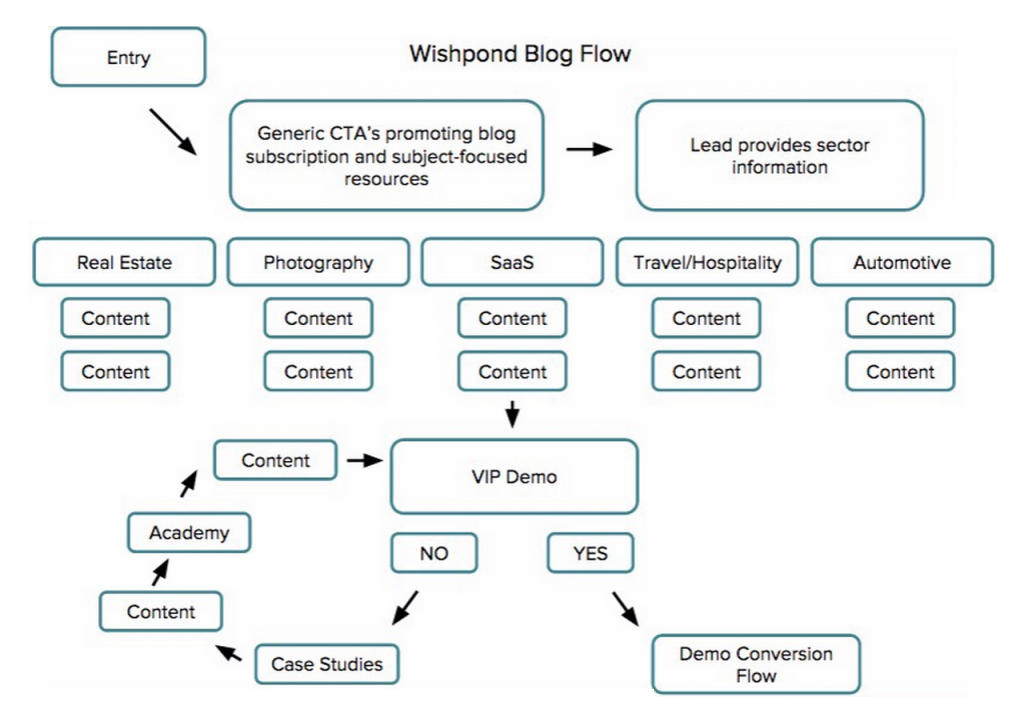 Wishpond's blog traffic flow.
If, for example, a contact selected 'real estate' as their industry, they would be presented with a series of eBooks and blog posts related to real estate marketing each time they visited Wishpond's blog.
While creating bespoke content for each niche (or whatever segment you choose) takes a long time, the boost in relevance, user experience, and your lead conversion rates may make this worthwhile.
4. Multi-channel marketing (that's easy to manage)
Multi-channel (and multi-device) marketing is one of those tactics that sounds nice in theory but is often too messy and complex to execute effectively.
Marketing automation changes this.
Most marketing automation tools enable you to combine multiple marketing channels in the same workflow. For example, Ontraport allows you to use 2-way SMS, email marketing, and physical postcards in your automation sequences.

By combining multiple marketing channels in your automation workflows you increase the likelihood of leads engaging with what you have to say.
5. Improve upsell and cross-sell recommendations
In the book Marketing Metrics, the authors conducted a study which found that the probability of selling to a new customer is between 5-20%. The probability for selling to an existing customer is 60-70%.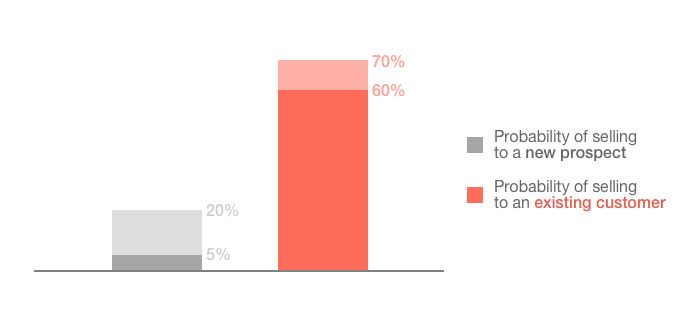 The takeaway? If you're not upselling, you're leaving money on the table.
With marketing automation, it's possible to make your upsells hyper-relevant, well-timed, and hassle-free.
The latter point is worth thinking about, as many people feel uncomfortable personally upselling to their customers. By automating the process, you remove these feelings from the equation entirely.
How you upsell depends on the type of business you operate. For eCommerce websites, this should be an absolute no-brainer.
MusicLawContracts.com, an eCommerce website we run that sells music contract templates, used automated upsells to upsell 34.2% of customers who purchased a single contract to upgrade to the full pack of contracts. This alone has increased the site's overall revenue by 18%.
For service or subscription businesses, a good tactic is to automate a survey to your clients every few months to find out how satisfied they are with your service (using the Net Promoter Score system or similar).
You can then create an automation workflow to direct highly satisfied customers towards an upsell, while directing unsatisfied customers towards your project management or customer service team.
6. Improve Blogger & journalist outreach
Contacting a long list of bloggers manually is repetitive, mundane, and error-prone; A perfect candidate for automation.
Marketing automation software streamlines this process by allowing you to write one outreach email template, and then upload a spreadsheet of journalist leads to send the template to (inserting their name and publication for personalization).
You could even create a workflow that sends a follow-up email several days later if the journalist still hasn't responded.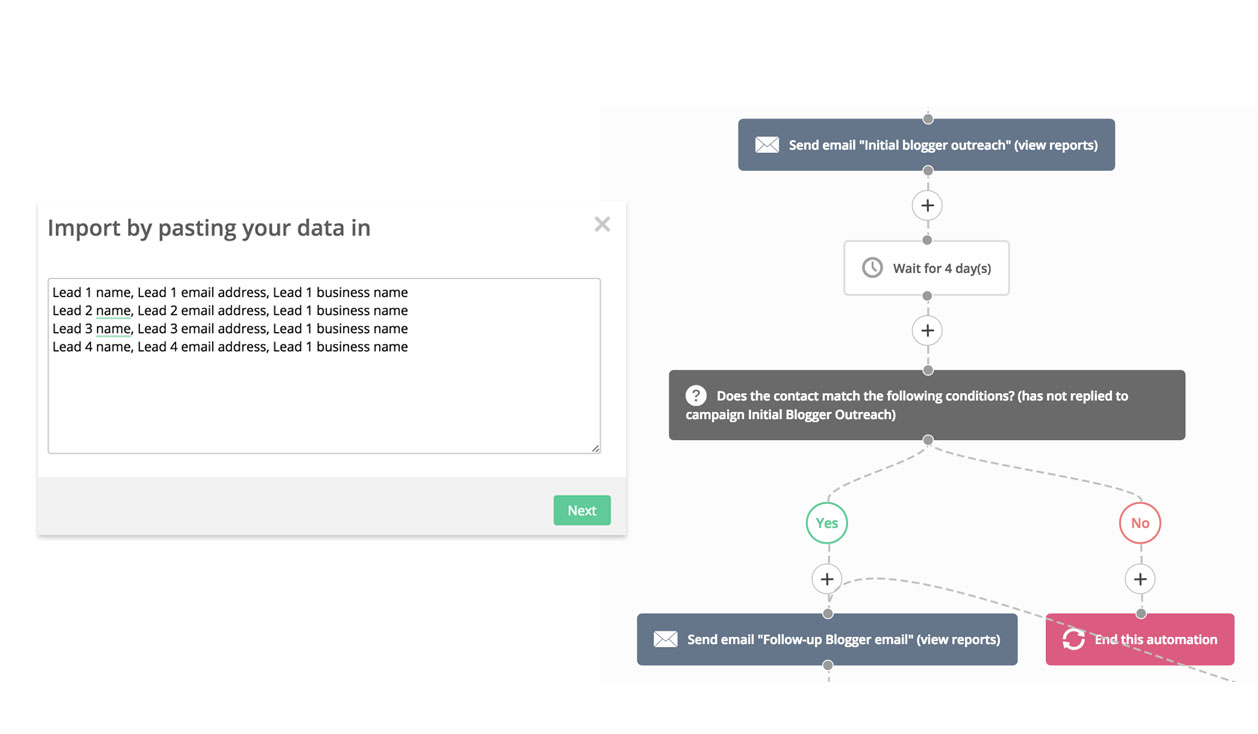 For Qosy, a luxury lifestyle website we run that sends over a hundred journalist outreach emails per month, this has vastly reduced the amount of time we spend doing outreach, while improving our response rate.
7. Track the effectiveness of your marketing (properly)
Most marketing analytics tools tell you how many leads you had in a given time period, where they came from, and what your conversion rate is.
To truly measure the effectiveness of your marketing you need to know precisely how valuable each lead ends up being worth, the time it took to convert them, what touch points influenced the sale, and more.
The data required to answer these questions is typically stored in a CRM.
While there are some marketing tools that integrate with CRMs, most marketing automation tools double up as a surprisingly powerful marketing reporting suite.
If you're using lead scoring, for example, your software can tell you the average lead quality of each marketing campaign you run. This makes it easier to justify those campaigns that generate a small number of very high-value customers.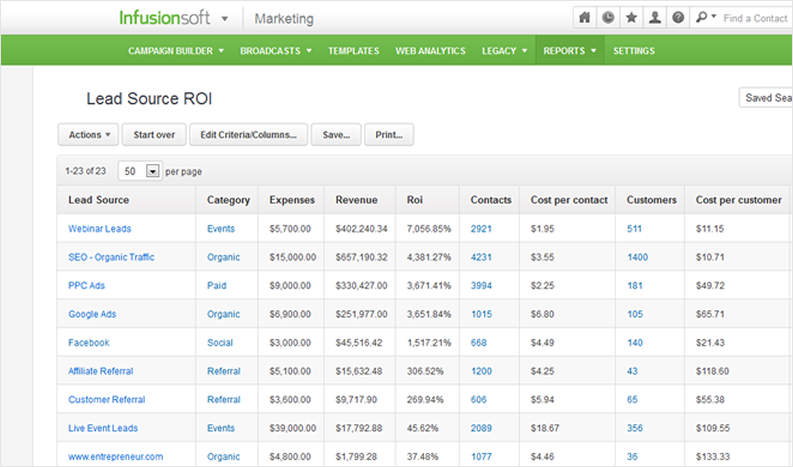 For me, this is one of the least talked about, yet most valuable aspects of marketing automation software. By implementing software that empowers your marketing with CRM data, you improve the overall intelligence of your marketing strategy.
Start reading chapter 4