Marketing Automation Insider is supported by readers like yourself. We may earn an affiliate commission when you purchase through our links. Of course, this won't increase the cost of your subscription.
Our thoughts on Hubspot
Hubspot are an extremely popular, yet massively over-priced, marketing automation tool aimed at small businesses.
In our recent analysis of the marketing automation industry, we found that Hubspot own a 41.6% share of the small business automation software market, positioning them ahead of Keap as the market leaders.
Despite having an exceptionally well-designed product that has proven its value to over 30,000 small businesses, we generally would not recommend Hubspot. Why? Because there are even better alternatives (e.g. ActiveCampaign ) that cost 20x less.
While Hubspot's starting price of $200/month may not seem like much, they're notorious for price creep and lock-in contracts. While you may start by paying $200/mo, this can quickly end up in the thousands as you require additional contacts and features.
For comparison, where Hubspot charge $2,400/mo for 10k contacts (plus $5,000 for onboarding), Ontraport charge only $297/mo for 25k contacts (with no onboarding fee), and Hubspot charge just $70/mo for 10k contacts. Ultimately, whether or not Hubspot is going to be right for you business depends on the size of your list today, and where you expect it to be in 1, 3, and 5 years time.
Hubspot is one of the best designed and best marketed marketing automation tools, which explains why they have the highest number of customers among all marketing automation tools.
Try Hubspot for free
Hubspot Review Summary
Hubspot is a well known and well regarded marketing automation tool in the market

Prices scale fast as you add on more features to the starting set

You may find it worth it to utilise their huge feature set and mature integration
HubSpot is best for:
HubSpot is ideal for medium-sized B2B businesses and agencies that need a centralized CRM & marketing platform with in-depth reporting.
Hubspot's Screenshots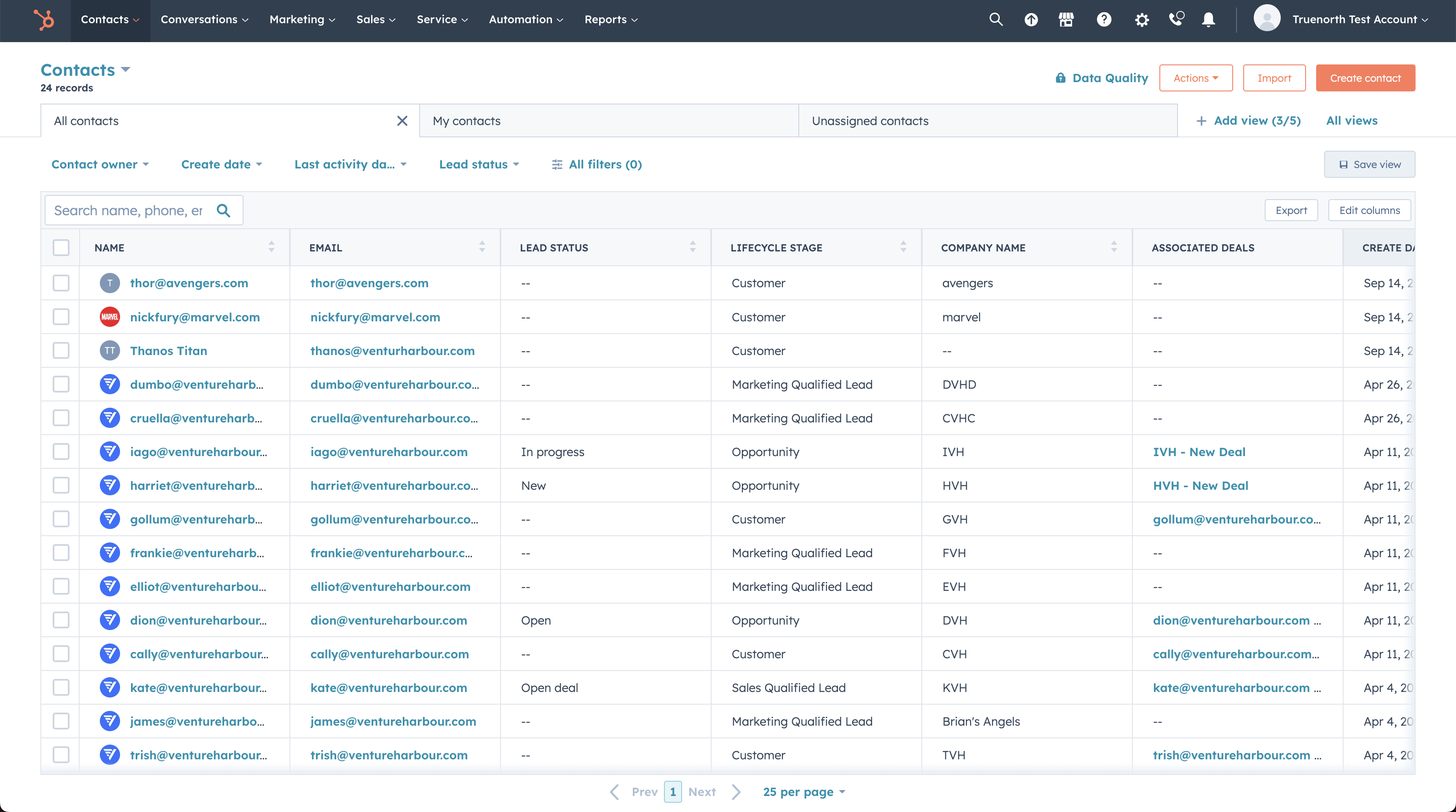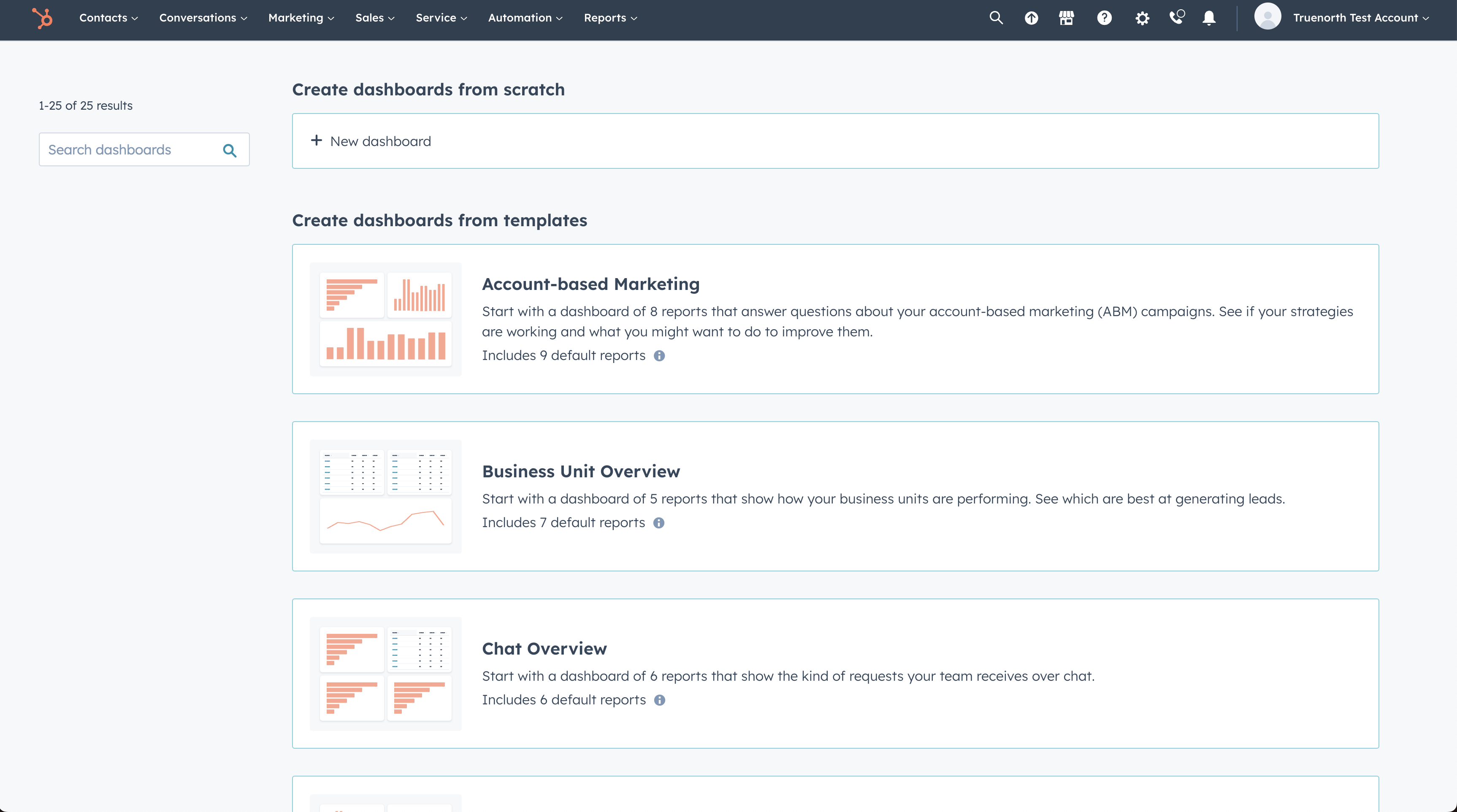 Hubspot's Pricing
With a lot of features and market renown, Hubspot offers a lot of flexibility and you can have confidence in your marketing automations. However this comes at a hefty price tag, with prices starting at $200/mo.
And as to find out which plan is right for you, check out our full Hubspot pricing breakdown.
Hubspot's pricing
Hubspot's Pros and Cons
Hubspot is easy to use, and well regarded in the market - but beware if you have a limited budget.
Pros
The platform is easy to use:
Hubspot have a beautifully designed product. Given the complexity of marketing automation software, they have done a great job of making it intuitive for small business owners with little or no coding ability.

7-day free trial:
Most marketing automation tools do a pretty bad job of mitigating the customer's up-front risk (high setup fees, no free trials, and long contracts). While Hubspot do require high setup fees and a contract, they are one of the only tools to offer a free trial.

Educating their users:
Perhaps the most impressive aspect of Hubspot is the extent to which they invest in educating their customers. Their blog provides an exceptional place for business owners to learn about online marketing.

A place for all your tools:
Hubspot is convenient in that it has everything in one place. While you could get 99% of Hubspot's functionality for free (or cheap) elsewhere, it's handy having it all in one place.
Cons
Requires a 12-month contract:
Hubspot contracts are billed annually by default. Ultimately, marketing automation is something that you're likely to use for many years, so this is not too big an issue. However, it would be preferable to have a rolling month-on-month contract.

No A/B testing in their basic or PRO package:
If you want to run split tests, you're going to have to upgrade to their $2,400/month package. Given that A/B testing is one of their quickest and most effective ways to improve the performance of online campaigns, it seems odd that they wouldn't offer this at lower levels to help small businesses generate better results (and additional revenue).

Very steep price creep:
While Hubspot do have a $200/month package, marketing automation and CRM integration are only offered at their $800/month package, which includes only 1,000 contacts. As your requirements and contacts grow, so does this cost (quite rapidly).

Most tools offered by Hubspot are free elsewhere:
Hubspot offers a well-designed set of tools, but there aren't any silver bullets in there that couldn't be found elsewhere for free or cheap.

Technical support is paid:
Implementing Hubspot is fairly straight-forward, but if you do require ongoing technical support, you'll have to pay for it.
Hubspot's Features Overview
Whilst not the biggest list on the market, Hubspot does offer a comprehensive list of feaures.
Hubspot visual marketing automation:
The visual editor works in real time to cover the most simple to the most complex of your customer journeys.

Salesforce Integration:
Strong two-way sync means you can keep all your data uptodate.
WordPress
Unbounce
Google Analytics
Facebook
ClickFunnels
HubSpot
LinkedIn
Facebook Pages
Instagram Lead Ads
Google Ads
Facebook Ads
Databox
Twilio
AdEspresso
Driftrock
Funnel
Outlook
Gmail
Hubspot User Reviews
Most favourable review
Mayank Gulati
Data Analyst
The martech tools are spot on
Been using HubSpot for a few years now, it\'s grown fantastically well. With the new pricing, there\'s no cost for contacts as well. That\'s probably why it owns 40+% of the SME market. The martech tools are spot on. One of the issues is that it\'s too easy to edit, needs good practices to setup to stop it from becoming a frankensystem.
Most critical review
Randall Tinfow
Managing Director
Hubspot disappointment
We are in Hubspot's startup program, with a discounted rate of about $650/month. The surprise is that the pages constructed using their templates are not acceptable. There are CSS errors and presentation problems that require us to pull engineers out of their normal workflow (billed at $150-225/hour) and get them to work on the spaghetti code offered by Hubspot. We can't use any of their templates without intervention by either their tech support or our very busy engineers. Here's an example from yesterday. A blog article template has social media sharing buttons above the main body of text. The buttons are out of alignment. How are we supposed to be taken seriously by very demanding clientele if we can't get the basics right? In order to serve our customers, we need to demonstrate "best practices" in everything we do. Hubspot is a patchwork of less than excellent mechanisms cobbled together to satisfy small business marketing needs. Not a good match for us. What Hubspot does extremely well is create content for their own marketing. They have high domain authority for marketing automation. They've got the wonderful high touch customer service during the trial period. But the actual day-to-day implementation is far less than expected. To their credit, they also have managed to build partnerships and half competent integrations with other vendors in the marketing ecosystem. For example, when we talk to data suppliers like ZoomInfo or identity resolution vendors, integration with Hubspot is usually straightforward. I'll add that navigation of their dashboard is far less than intuitive. One of our interns has spent 50+ hours learning Hubspot basics so she could show the rest of us how to us it. Don't let anyone tell you that the UX is seamless or friction free! Unless things radically change we will bail out. In sum, Hubspot is a clear case of overpromise and underdeliver. It's adequate but far from excellent.
Our verdict on Hubspot
Hubspot are the most popular marketing automation tool for small businesses. While their product is excellent, you do need to be aware of price creep, as Hubspot's pricing gets expensive as you require additional contacts.
Last checked by Marketing Automation Insider: 24/03/2023
First reviewed by Marketing Automation Insider: 22/02/2017