Marketing Automation Insider is supported by readers like yourself. We may earn an affiliate commission when you purchase through our links. Of course, this won't increase the cost of your subscription.
Our thoughts on Klaviyo
Klaviyo is an email marketing platform that helps businesses send targeted, personalized and automated emails to their customers. It's a powerful tool that has gained a lot of traction in the ecommerce world.
Try Klaviyo for free
Klaviyo Review Summary
Klaviyo is a great choice for businesses that are looking to improve their email marketing game

It has a lot of useful features, a user-friendly interface, and great customer support.
Klaviyo is best for:
Klaviyo is an email marketing platform designed for e-commerce businesses, providing tools for creating targeted email campaigns, automations, and personalization.
Klaviyo's Screenshots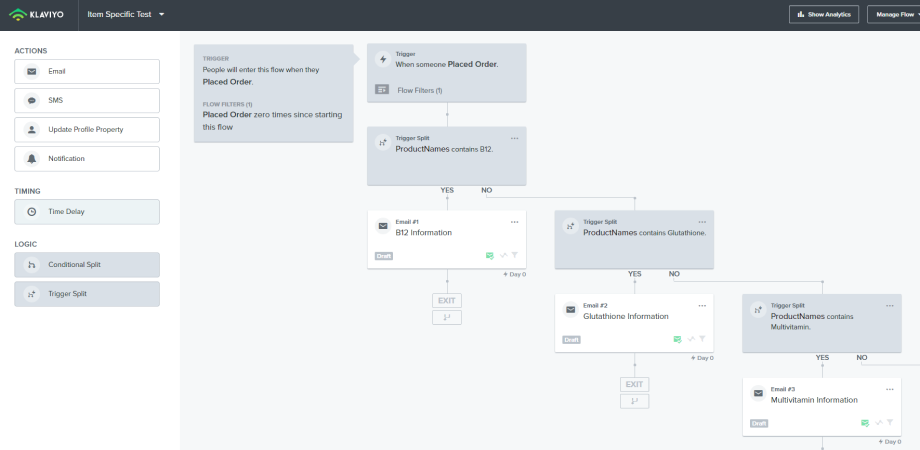 Klaviyo's Pricing
Klaviyo's pricing is based on the number of contacts you have in your email list. Prices start at $20/month for up to 500 contacts and go up to $950/month for up to 150,000 contacts. They also offer a free plan for up to 250 contacts.
And as to find out which plan is right for you, check out our full Klaviyo pricing breakdown.
Klaviyo pricing
Klaviyo's Pros and Cons
Klaviyo would be a wise choice if you are an ecommerce buisness with some experiance of automations
Pros
Easy integration with ecommerce platforms
Great automation features
Detailed reporting
Cons
Complexity of the platform for beginners
Some limitations on customization options
Klaviyo's Features Overview
Klaviyo has easy integrations, an intuitive interface, and powerful automation capabilities. If we were to critisice it would be around difficulties with their customer support or issues with integrations.
Email automation
Segmentation
A/B testing
Abandoned cart recovery

Integrations with popular ecommerce platforms such as Shopify and Magento
WordPress
LoudCrowd
Sauce
Gatsby
Upfluence
Funnel
Optimove
Unbounce
Convert Pro
ConvertFlow
Facebook Conversions
Facebook Lead Ads
Instagram for Business
LeadQuizzes
Segment
Foursixty
Tadpull
Movable Ink
Jebbit
Whatagraph
Human
Gleam
Flowbox
Google Analytics
Facebook
Databox
Gmail
Outlook
Klaviyo User Reviews
Our verdict on Klaviyo
Our verdict is that Klaviyo is a great choice for ecommerce businesses that want to improve their email marketing efforts. While it may take some time to learn how to use all of its features, the benefits are definitely worth it. With a free plan and reasonable prices for larger lists, Klaviyo is definitely worth considering.
Last checked by Marketing Automation Insider: 24/03/2023
First reviewed by Marketing Automation Insider: 22/02/2017