Marketing Automation Insider is supported by readers like yourself. We may earn an affiliate commission when you purchase through our links. Of course, this won't increase the cost of your subscription.
Our thoughts on ActiveCampaign
ActiveCampaign is a hidden gem in the marketing automation world.
They're one of the most affordable providers for small businesses and their software is exceptionally well-designed. Despite this, very few people have even heard of them.
We recently moved this website's automation to ActiveCampaign and have since built a large number of workflows, pushing the software to its limits – here's what we found.
There aren't many bad things to say about ActiveCampaign. While the dashboard could be more customizable, and viewing a contact's details could be made more intuitive, these are minor details. Unlike other marketing automation tools I've used that have been designed for small businesses, I've yet to have an idea that the software won't allow me to build.
Their pricing is also extremely generous for the quality of product offered.
Try ActiveCampaign for free
ActiveCampaign Review Summary
ActiveCampaign is a complete email marketing tool with advanced automation features.

The entry-level plan starts at $29 per month (paid monthly), and includes automation workflows for solopreneurs who need their marketing to run effortlessly.

Exceptional range of features, customer support & integrations; CRM functionality is okay but not great.

Users often highlight ActiveCampaign's high deliverability, quality of reporting & ease of use.
ActiveCampaign is best for:
Small and medium sized businesses looking to grow through better customer relationships.
ActiveCampaign Screenshots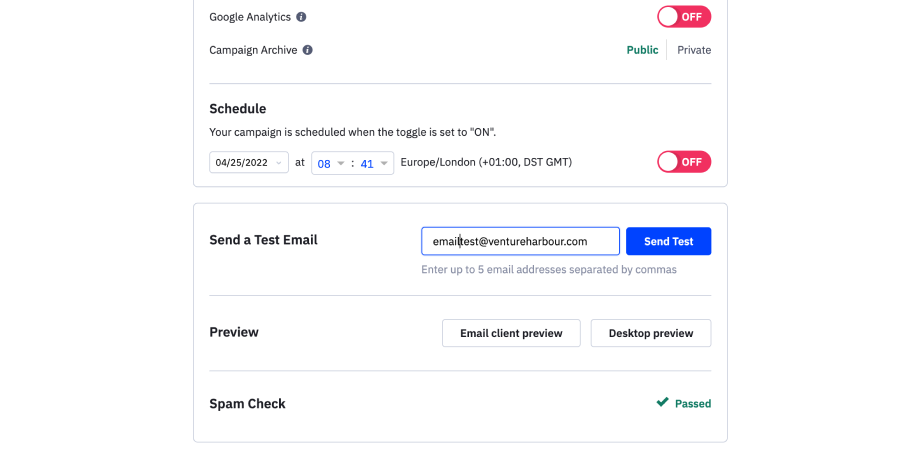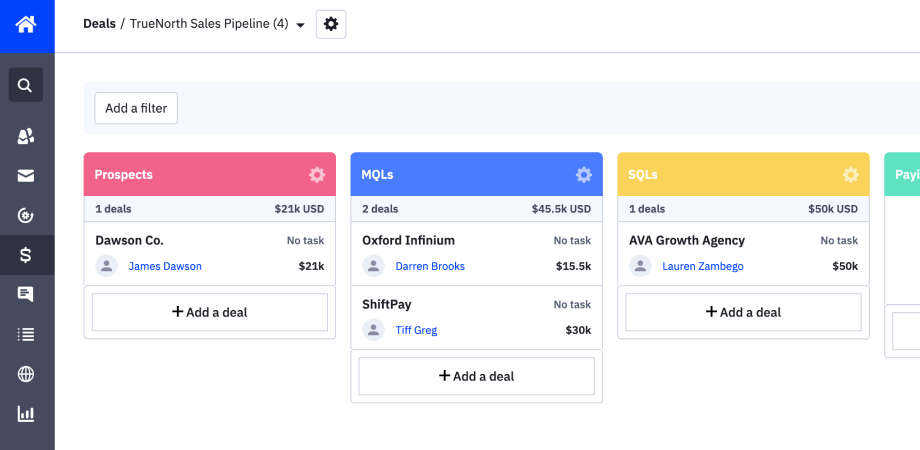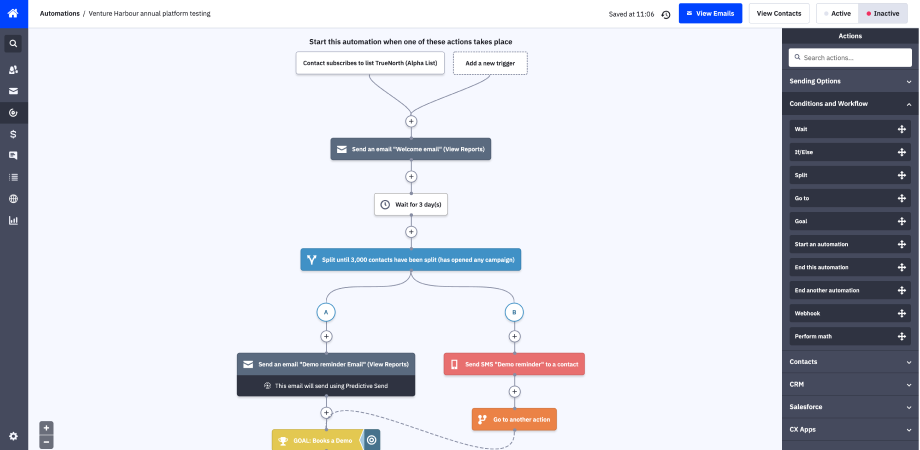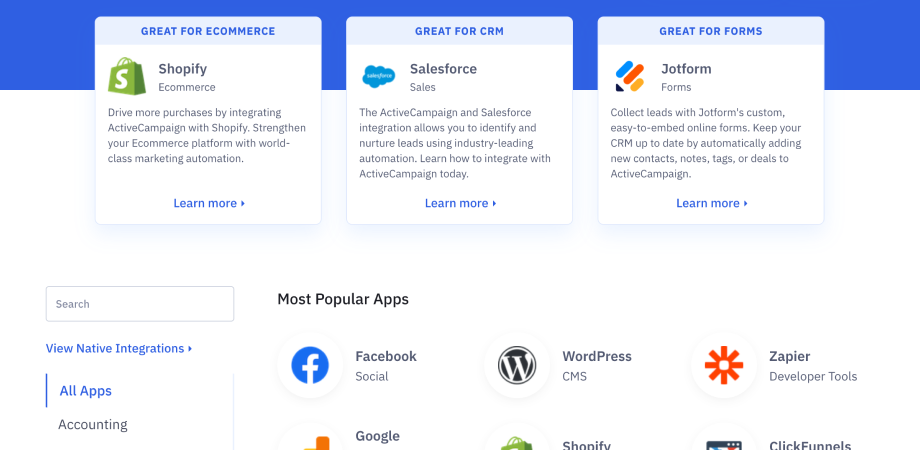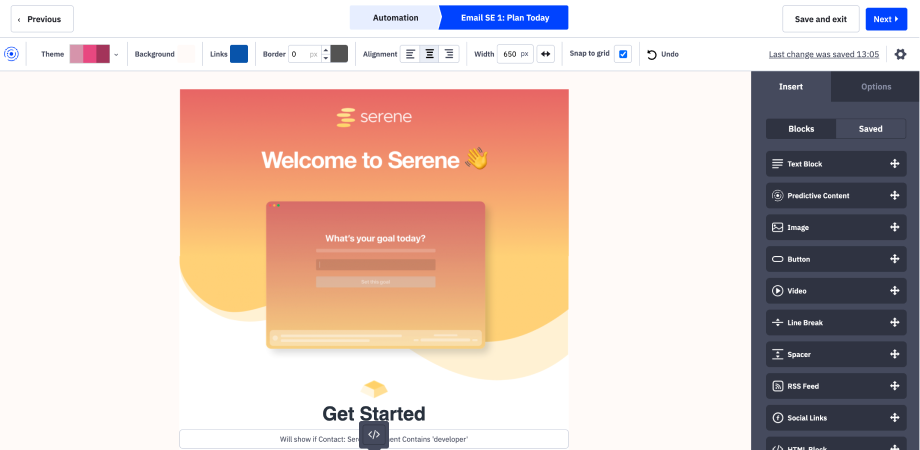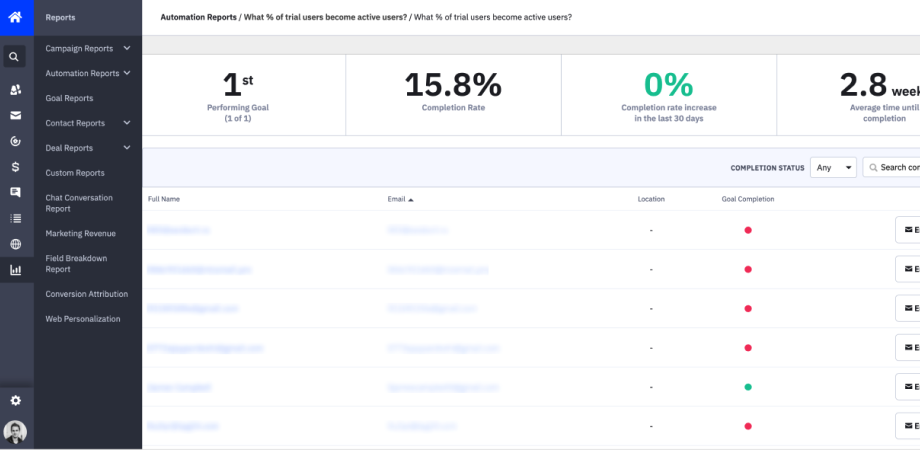 ActiveCampaign's Pricing
ActiveCampaign prices are not the cheapest, but they do provide value considering the features available. It is worth noting that they do not offer a free plan . However, you can do a trial run for 14 days without paying anything. See all four ActiveCampaign pricing levels.
ActiveCampaign's Pros and Cons
Overall, ActiveCampaign is a very good piece of software with only a small number of flaws. It has one of the best user interfaces for building automation campaigns, making it easy and enjoyable to use.
Pros
Ease of use:
ActiveCampaign were the first platform to pioneer the visual marketing automation builder. The first thing that you notice when you start using ActiveCampaign is how well-designed and intuitive the user interface is. It's one of the only marketing automation tools we've used that requires no training to understand.

Affordable:
For the majority of small business who don't want to commit to paying thousands of dollars per year for marketing automation, ActiveCampaign is a great option. Their pricing starts at just $9/month with no upfront setup fees.

Lots of Integrations:
ActiveCampaign integrates with 900+ tools. Unlike many automation tools that rely solely on a Zapier integration, ActiveCampaign has a wide range of native integrations with CRMs and eCommerce platforms allowing for a deeper integration.

Automation split testing:
This feature enables you to A/B test entire sequences against each other, rather than just test individual emails (which is offered by most marketing automation tools).

Machine learning:
In recent years, ActiveCampaign has built a number of innovative ML-based features, including predictive sending, predictive content, and predictive win-probability scoring of leads to help you automate even more of your marketing & sales process.
Cons
CRM:
ActiveCampaign's marketing automation is particularly powerful because ActiveCampaign has an in-built CRM system. This CRM, however, is not as good as standalone platforms like PipeDrive or Salesforce – though we feel this is a reasonable trade-off for ActiveCampaign's automation features.

Reporting:
Despite being fairly comprehensive and providing insights on sales/goal conversions, ActiveCampaign's reporting is quite crowded and can be difficult to navigate at times.
ActiveCampaign Features Overview
ActiveCampaign offers a good range of pro features:
ActiveCampaign visual marketing automation
The most highly-rated feature in ActiveCampaign With 135+ triggers and actions to choose from, you can easily build effective marketing sequences that combine email, SMS, push notifications and site messages. If you're new to marketing automation or just seeking inspiration, ActiveCampaign has 500+ pre-built automation recipes.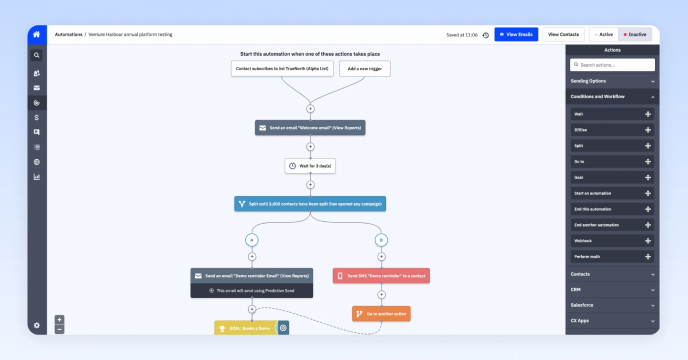 ActiveCampaign's drag-and-drop visual automation builder
ActiveCampaign CRM
As part of their CRM offering, ActiveCampaign help you to automate your contact management. The advantage of this is being able to see your whole sales process at a glance, and keep your team in sync across with automated sales routing and task assignment. Another key benefit is being able to track interaction at every stage of the sales cycle, making it a really important part of your marketing toolkit.
ActiveCampaign Integrations
While ActiveCampaign do have many native integrations, the majority of their 900+ apps and integrations come through their Zapier integration.
While we found most of these integrations very comprehensive, some do require a PRO Zapier account. Below are some of the popular tools you can integrate with ActiveCampaign.
KickoffLabs
BurstSMS
HubSpot
LinkedIn
WordPress
Facebook Ads
Facebook Conversions
Facebook Pages
Geeno
GetProspect
Google Ads
Instagram Lead Ads
Inbound Now
Invite Box
Jumplead
CouponTools
eWebinar
LiveStorm
Ploomes
Unbounce
ClickFunnels
Google Analytics
Facebook
Instagram for Business
Databox
ConvertFlow
Gleam
Outlook
Twilio
AdEspresso
Driftrock
Funnel
Gmail
ActiveCampaign User Reviews
User Review
Anna G
Co-Founder, Head of Product & Growth
Validated reviewer
The biggest downside is the email editor - it's often buggy, but the logic for automation is great.
I use several different platforms for email marketing and have also been a user of Ontraport, and InfusionSoft. I started looking up reviews on ActiveCampaign's CRM functions since it's been a year or so that I've been active in this platform. (I've automated my campaigns so much so that I haven't had to do much editing these days.) In any case, I wanted to see if any improvements have been done to the email editor, and it appears that it has not.This is a huge disappointment since everything else is really well developed. What I like most about is the ease and creation of automations within campaigns. It's intuitive and follows the flow of the everyday logic. I am comparing this to MailChimp, which requires a lot of workarounds when creating automations. The upside to MailChimp is that its email editor is pristine.I wish they would do something about ActiveCampaign's email editor, otherwise, it would get higher ratings from me.I believe their Customer Support was okay. It had the appearance that they were available, but they weren't 100% as available as MailChimp's support chat. But overall, I believe my questions were always answered by ActiveCampaign support.I am wondering though how much the CRM function is used by people who use this platform. I'd really love to know.
Our verdict on ActiveCampaign
If you're looking for a market-leading email marketing solution, there's no denying that ActiveCampaign has long occupied that position.
Last checked by Marketing Automation Insider: 24/03/2023
First reviewed by Marketing Automation Insider: 22/02/2017