Marketing Automation Insider is supported by readers like yourself. We may earn an affiliate commission when you purchase through our links. Of course, this won't increase the cost of your subscription.
Our thoughts on Ontraport
Ontraport is one of the best kept secrets of business and marketing automation.
With no setup fees and a monthly cost that is less than 1/10th of what some of their competitors are charging for the same level of service (though still not quite as affordable as ActiveCampaign), there's no question that Ontraport is designed with small businesses in mind.
You might think that their relatively low cost would come at the expense of product quality, but this isn't the case. Their email deliverability rates are some of the highest among all automation vendors we've seen, and their range of services are equally as impressive.
As such, it's unsurprising that a large number of well-known bloggers, coaches, small businesses of all kinds and online training companies have been flocking to Ontraport over the past few years.
Try Ontraport for free
Ontraport Review Summary
Ontraport is a great option for small businesses, especially starting out

They offer an additional onboarding service if you're happy to pay for a smooth set up

Their deliverability is considered some of the best in market
Ontraport is best for:
Ontraport is ideal for coaches, teachers and other information product-based businesses looking for an all-in-one sales and marketing platform.
Ontraport's Screenshots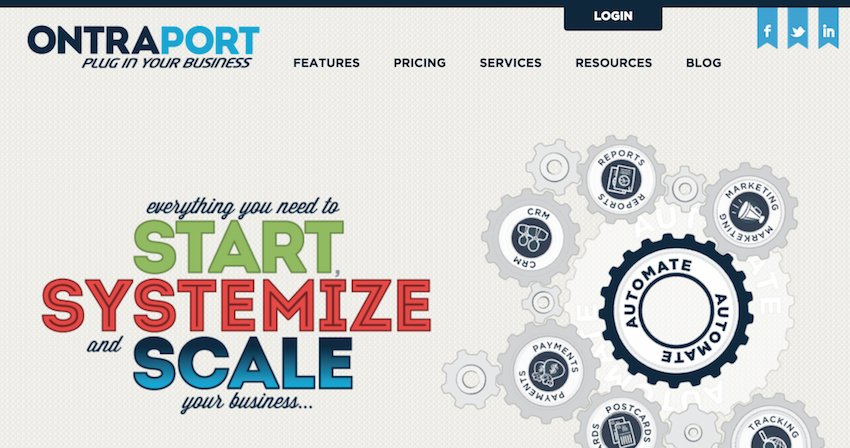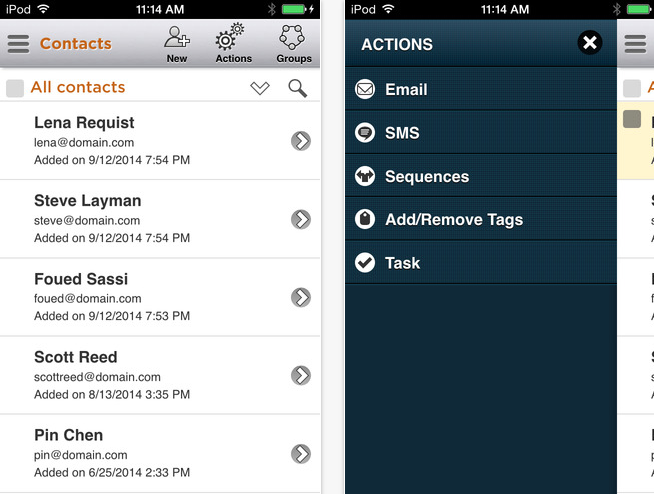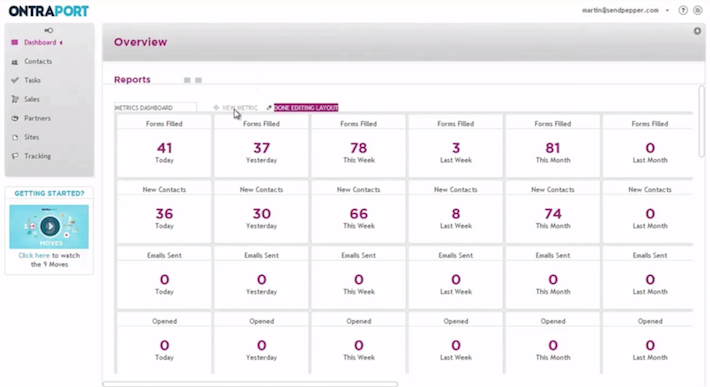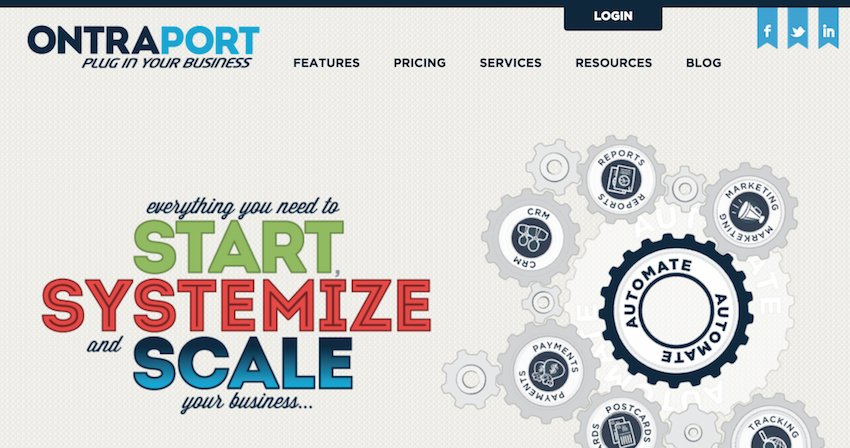 Ontraport's Pricing
Starting at $24 a month for a single user, Ontraport is an affordable entry point for small team, and offers competitive plans as you scale.
And as to find out which plan is right for you, check out our full Ontraport pricing breakdown.
Ontraport pricing
Ontraport's Pros and Cons
Ontraport recently updated their interface (4.0) making it bolder and easier to navigate. They receive lots of praise for their platform, which packs a lot of punch for such a relatively low price.
Pros
Pricing:
The most obvious benefit of Ontraport is the affordability of their service. At $297/month with no setup fees and two hours of free onboarding calls, they're positioned very competitively. What's important to consider with Ontraport is that they give you access to all of their features, and the ability to store 25,000 contacts and send 100,000 emails. While some other tools may start at a lower entry price, you would likely pay 5-10x the cost of Ontraport for the same level of contacts & features. They're scalable so that as your business grows, they can grow with you so you don't need to worry about switching systems later. The offer of a 90 day risk free guarantee is practically unheard of these days along with month-to-month or discounted annual pricing option after the 90 day risk guarantee period.

Great community:
Ontraport has award winning customer support via phone, chat, and email during most business hours. They're clearly committed to the success of their customers, holding a 97% satisfaction rate and all their reps work from one central location for seamless communication between support and development. They upgraded all of their servers for redundancy, invested in a content delivery network to ensure the fastest speed internationally and are constantly looking for ways to make their app quick and responsive. They also have a great community of users on their Facebook user group, an education site that's free to Ontraport customers, a quarterly bootcamp and certified consultant course and an annual business building event in Santa Barbara, CA.

Unified system:
Ontraport is the automated engine behind your marketing campaigns, seamlessly integrating your emails, landing pages, ecommerce and more with your CRM so you can hyper-target your leads and convert them into customers. When you have separate systems managing all of these operations, your data is strewn about and it's challenging to be able to make intelligent, data-driven decisions about your business. Ontraport combines your marketing efforts into one, central system so you have ONE place to call for support and ONE place to look at your business data.

Custom objects:
Ontraport offers the ability to build custom objects which is only available in enterprise systems such as SalesForce, Marketo or Eloqua. Custom objects allows you to create relationships between multiple databases. unique to your organization. eCommerce features – Ontraport has a large range of impressive ecommerce features including automatic credit card payment collections and the ability to add upsells, cross-sells, cart abandonment and credit card expiration notification automation.
Cons
Dashboard user interface:
While you can create virtually any metric you'd like, their reporting dashboard isn't particularly visually appealing as it doesn't have graphs and charts.
Ontraport's Features Overview
Ontraport offers features that are hard to come by in other platforms, alongside an easy and quick set up:
Campaign Automation:
With split testing and deep funnel conversion reporting, Ontraport's automation builder gives a lot of power

Tracking and attribiution:
With tracking every step of the journey, Ontraport gives you one of the most complete pictures of any tool out there
Ontraport User Reviews
Most favourable review
Fantastic multi-purpose tool
The editorial evaluation of Ontraport is more accurate than the user reviews, which seem outdated, or uninformed about the latest versions. Ontraport is a powerful program, which combines multiple tools, each at a high level of sophistication. So there is a lot to learn, but there is with all marketing applications. You can also use Ontraport's process automation tools to automate many aspects of your business, not just marketing funnels.Most businesses will only need the "plus" version, which is $147/month. Their customer support is SUPERB; the documentation is comprehensive, with print and short. effective videos. It really is great value for money.
Most critical review
It's like they don't want us to use them!
I want to like this program and want to use it but the customer service department just doesn't understand their customer. I was once told that they can't help me because I didn't have video of the problem happening. Who takes video when they are creating a landing page? When I said that was ridiculous they said they were sorry I found their policy ridiculous. So if you aren't prepared to screen share, video your work or be talked down to whenever you report a problem this may not be the program for you.
Our verdict on Ontraport
If you're looking for a one stop shop as a small, growing B2B buisness, then Ontraport could be right for you.
Last checked by Marketing Automation Insider: 24/03/2023
First reviewed by Marketing Automation Insider: 22/02/2017