Oracle Marketing Cloud review
Marketing Automation Insider is supported by readers like yourself. We may earn an affiliate commission when you purchase through our links. Of course, this won't increase the cost of your subscription.
Our thoughts on Oracle Marketing Cloud
Eloqua (who were later acquired by Oracle and renamed 'Oracle Marketing Cloud') were one of the first companies to offer marketing automation.
Built in 1999, they entered the industry seven years before other key players began to emerge, and 11 years before marketing automation became widely adopted by enterprise-level organizations.
Understandably, their tool is considered to be one of the most powerful in the industry, which explains why their pricing starts at $2,000 per month. Used by the likes of American Express, Sony, and LinkedIn, this is a tool designed to add clout to very large organizations.
Try Oracle Marketing Cloud for free
Oracle Marketing Cloud Review Summary
Oracle Eloqua is a great choice for enterprise-level organizations that want a comprehensive tool for automating their marketing processes

A deep level of functionality, strong data management features, and customizable dashboards make this a poweful tool
Oracle Eloqua is best for:
Eloqua is ideal for large enterprises looking for a powerful marketing automation solution
Oracle Marketing Cloud's Screenshots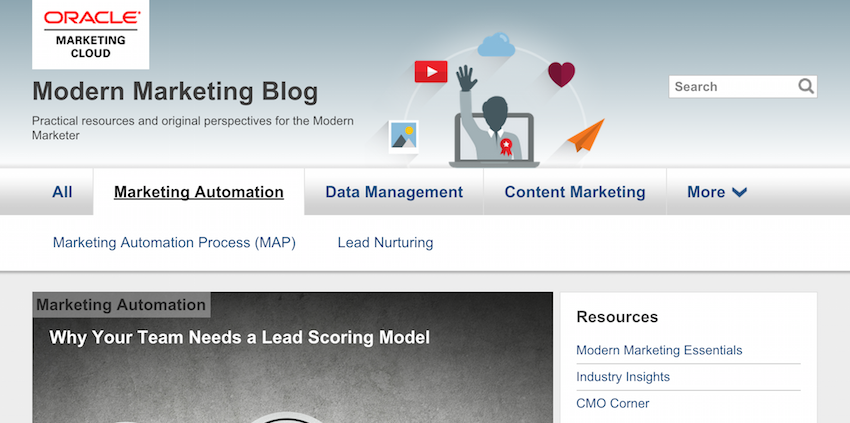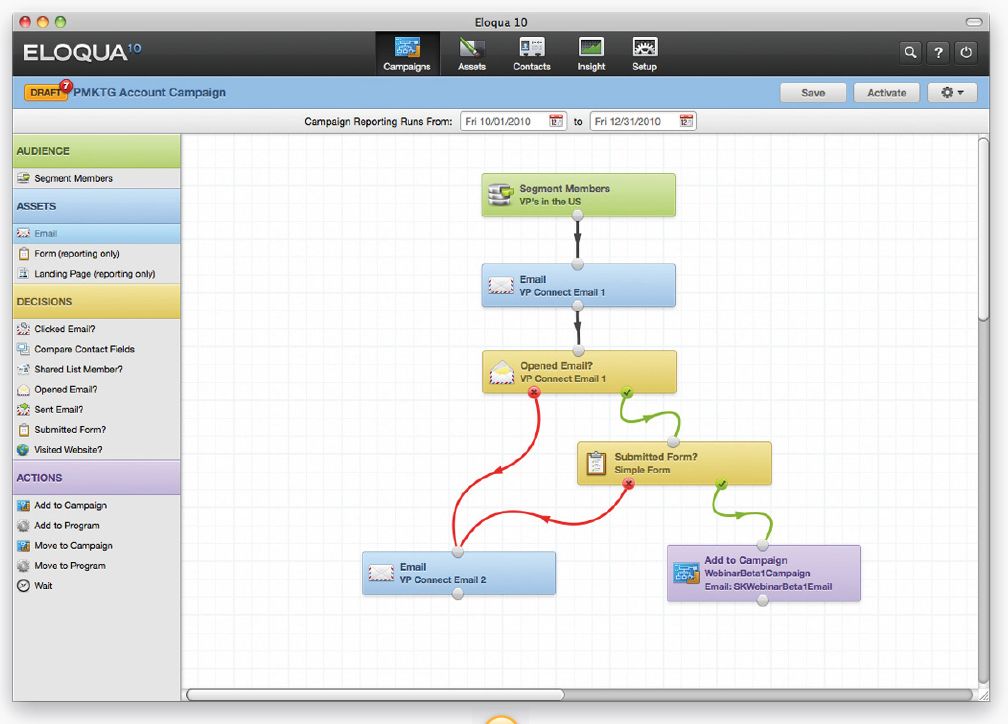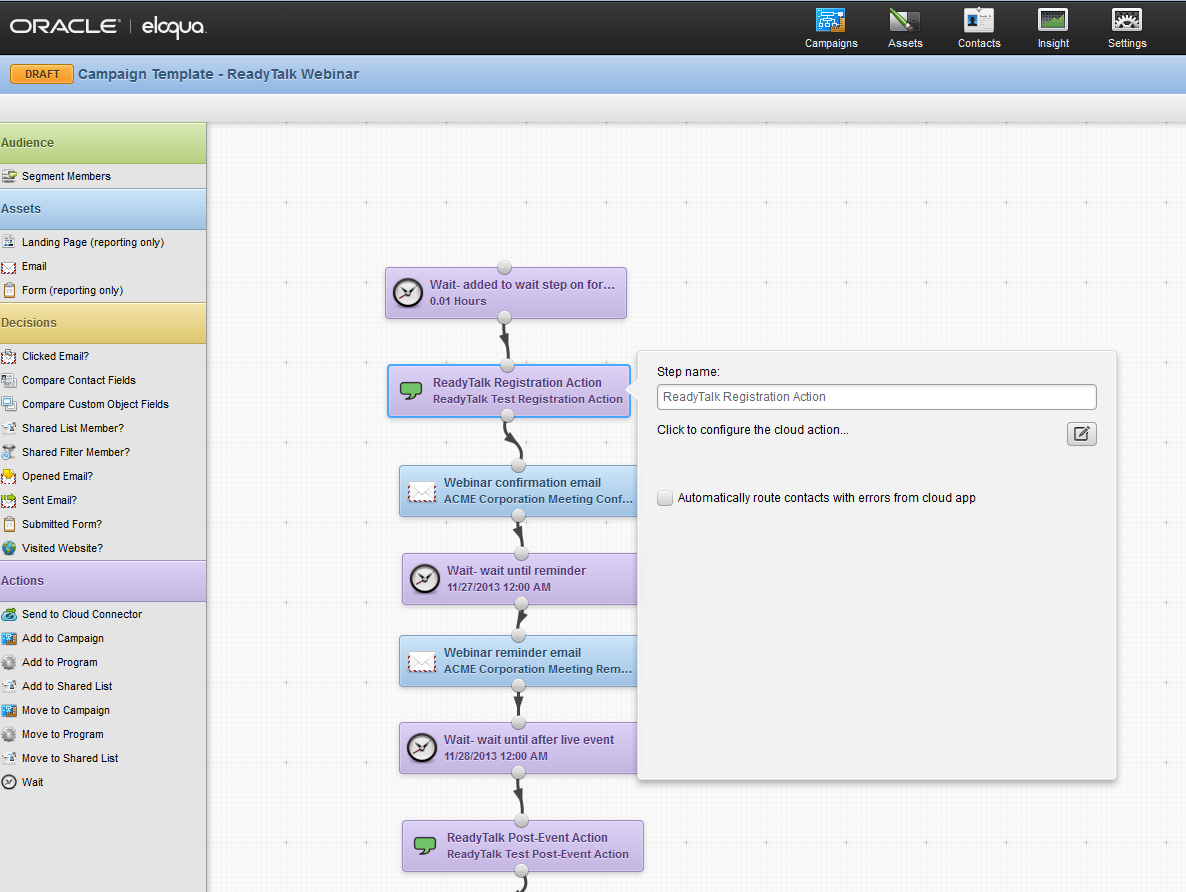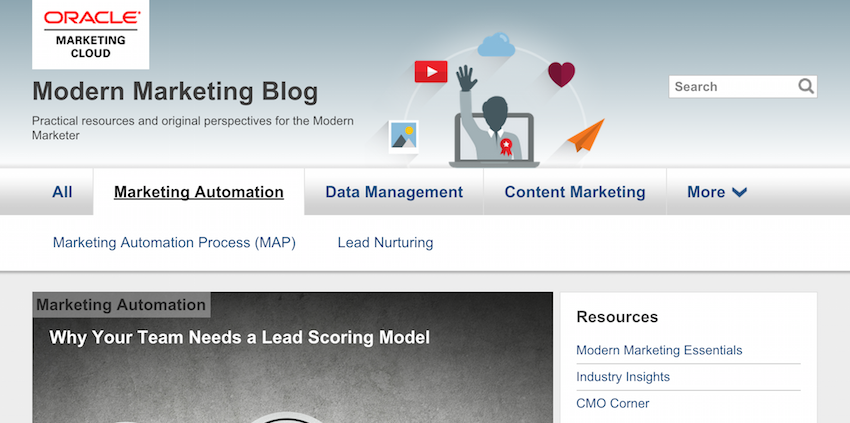 Oracle Marketing Cloud's Pricing
Pricing for Oracle Marketing Cloud ranges from $2,000 to $4,000 per month for the basic package, with additional costs for add-ons and higher-tier plans.
Oracle Marketing Cloud's Pros and Cons
Oracle Marketing Cloud is the most expensive marketing automation tool on the market, and is aimed primarily at large enterprise businesses.
Pros
Integrations:
Oracle Marketing Cloud has a large range of great integrations with over 100 third party platforms.

Well-designed visual campaign builder:
Similar to Infusionsoft, Oracle Marketing Cloud uses a nice visual campaign builder that's both intuitive and powerful to use.

HyperSite builder:
One of our favourite features in Oracle Marketing Cloud is HyperSite, which allows you to quickly build personalized microsites using dynamic user content.

Reputation:
Oracle Marketing Cloud is widely considered to be the most powerful marketing automation tool for enterprise businesses.
Cons
Expensive:
Starting at $2,000 / month, Oracle Marketing Cloud isn't priced to be accessible. On top of this, expect to sign a long-term contract.

Slow implementation time:
Due to the types of organizations that typically use Oracle Marketing Cloud, implementation usually takes a long time.

No integration with Google Adwords:
Oddly, there is no way to track PPC ROI using Oracle Marketing Cloud. This is particularly odd considering that many enterprise businesses will be spending hundreds of thousands to millions on PPC per year.

Customer-facing quality:
Many user reviews have noted a gradual decline in quality since Oracle acquired Eloqua and renamed it Oracle Marketing Cloud.
Oracle Marketing Cloud's Features Overview
Oracle Eloqua has robust features and automation capabilities, but some the interface can be complex and difficult to navigate.
Lead scoring
Behavioral tracking
Email marketing
Landing page creation
CRM integration
Reporting and analytics
Oracle Marketing Cloud User Reviews
Most favourable review
Integration Time - Quite Simple and Easy
Just adding some notes to this as one of the cons listed is 'integration time'. I work at a large publishing company with many brands and NLs, and moving to Eloqua was simple and easy. List import was a breeze using their import tools, and because the UI is so intuitive, our very non-tech savvy Editors were able to move and start using the tools in days. The Email Builder, Landing Page Tools and Forms are really quite good, i could not recommend the tool more.
Most critical review
Steep decline in performance in 2019, lots of bugs, errors
We were happy Eloqua customers for 7 years. However, since Oracle took over we no longer have a designated Account Manager, the majority of Eloqua resources including the ones working on the platform have been replaced with "trained" Oracle ones. The new releases created big issues since they didn't account for how Eloqua was installed and integrated with other tools. The platform gives lost of errors when trying to access emails, or canvas. We need to log out, login again after 10, 15 min. Support is not useful, you get canned answers and not a true discovery takes place. They moved our instance to Oracle servers, since then we noticed a steep decline in lead gen, most likely due to the new IP address having not great reputation. All in all poor experience with the platform this year, we regret to have to switch but this is the situation. Also, the tool didn't improve much over the years so competition really caught up. We didn't expect this, Oracle is a reputable company, however this acquisition was not handled properly.
Our verdict on Oracle Marketing Cloud
Our verdict is that Oracle Marketing Cloud is an excellent choice for large-scale businesses with complex marketing needs, but smaller organizations may find it difficult to justify the cost and complexity of the platform.
Last checked by Marketing Automation Insider: 24/03/2023
First reviewed by Marketing Automation Insider: 22/02/2017