Marketing Automation Insider is supported by readers like yourself. We may earn an affiliate commission when you purchase through our links. Of course, this won't increase the cost of your subscription.
Our thoughts on Marketo
Starting at $895/month, Marketo is a great mid-range marketing automation tool for those requiring something that's robust for a 100+ person organisation, but who don't want to shell out $2,000/month+ for a tool like Eloqua.
Marketo is used by a number of reputable companies including Charles Schwab, Chrysler, Intel, and even Infusionsoft, who have outgrown their own marketing automation tool.
Take a look at our comprehensive comparison pages where you can explore the features, pricing, and customer reviews of Marketo alongside other top contenders. It's the perfect resource to make an informed decision for your marketing needs.
Try Marketo for free
Marketo Review Summary
For those with a decent tooling budget looking for a robust solution with a solid feature base

Prices are on request, so you can expect a conversation about your needs before you get a quote
Marketo is best for:
Marketo is a marketing automation software designed for businesses of all sizes. It provides tools for lead management, email marketing, social media, and analytics to help businesses increase revenue and improve customer engagement. Marketo is suitable for companies that want to streamline their marketing efforts, automate repetitive tasks, and gain insights on their target audience.
Marketo's Screenshots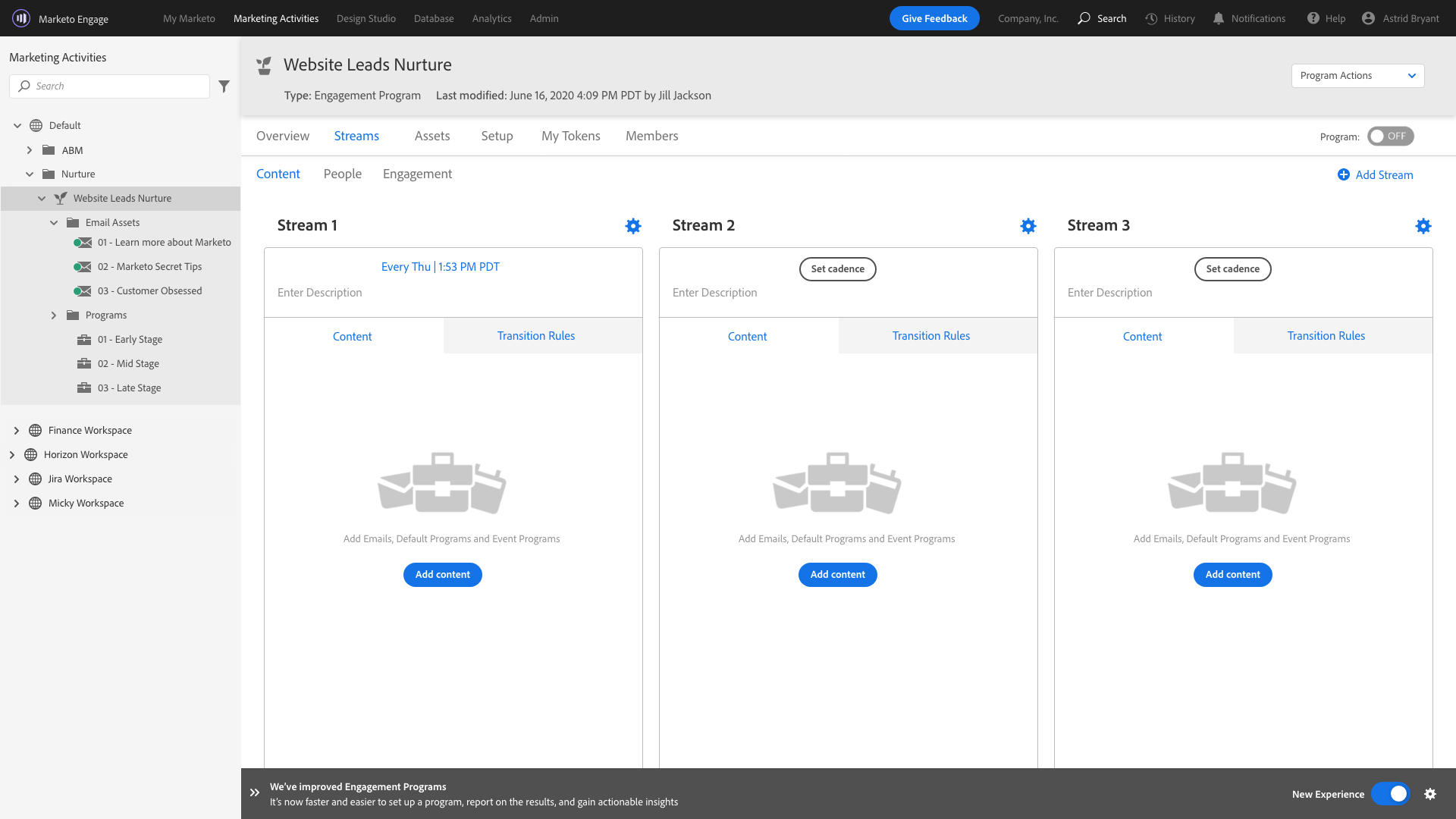 Marketo's Pricing
All Marketo pricing is on request, with plans scaling based on number of users and complexity of features.
And as to find out which plan is right for you, check out our full Marketo pricing breakdown.
Marketo pricing
Marketo's Pros and Cons
A big name in the market, but you may find it expensive if you are looking for a broader toolkit for marketing automation.
Pros
Easy and intuitive to use:
Marketo receives a lot of praise for the usability of their platform. While it may not have the prettiest of user interfaces, everything is well labeled and easy to get used to, making adoption easier than some other tools.

Great Salesforce integration:
Great Salesforce integration: Marketo has an exceptional integration with Salesforce. While syncing between Salesforce and Marketo can take time, the two tools work together effortlessly.

Quick and easy to setup:
Compared to some of Marketo's competitors, it's relatively easy to implement and get up and running.

Great customer support & community:
Marketo have a great customer support team, and a very active community of users helping one another with campaigns and technical issues.
Cons
Poor landing page & form builder:


Marketo didn't start as a marketing automation service (it was originally a lead management tool). While most of the product has been updated, there are still a few remnants, such as their landing page builder, that is clunky and difficult to use.

Reports & analytics:


The most common complaint about Marketo is in regards to their limited analytics and reporting functionality. Without additional extensions, it can take a long time to produce reports that you should be able to produce in the click of a button.

Steep jumps in pricing:


Marketo offers three standard pricing tiers, at $895, $1,795, and $3,175 per month. Each tier unlocks new features, which means that it might cost an additional $900 – $1,400 per month for just a handful of extra features.
Marketo's Features Overview
Aimed at larger teams, even the lowest plan does contain a comprehensive list of features.
Cross-channel marketing:
Co-ordinate engagement across channels both online and in-person so you always know where your customers are at every stage of their journey

Sales and marketing data talk to each other:
Convert more leads when you share customer records across departments

Content intelligence:
Marketo Engage uses real-time behaviours, profiles enriched with online and off-line data and AI to help you to identify and deliver the best-performing content to create 1:1 personalised experiences at scale
Sugar CRM
Zapier
Salesforce
SAP
Oracle
Netsuite
Marketo User Reviews
Most favourable review
Marketo - No other Marketing Automation Tool able to compete
Being user of Marketo, since 2012, I am definitely biased. Marketo has been a great partner for me on the client side and now as a consultant for my clients. It has never given me a reason to go another tool.
Most critical review
User Friendly it is NOT!
As a user of Marketo I am actually shocked that you list a pro as "user friendly, easy to use". Of all the products available this is the hardest to use and navigate. It has the worst UI out of any of the system, it feels like a very dated and convoluted tool. It crashes and breaks often, and I don't find they have the best customer service either, for the price you pay. As a use of Padot and HubSpot I'd strongly recommend those two over Marketo unless you have hired a marketo specialist. This is not a tool that can easily be picked up without extensive training.
Our verdict on Marketo
Marketo is extremely intuitive and receives a lot of praise for how easy it is to implement and use. At times, the tool can be a bit slow and buggy, but in general it's a good piece of software.
Last checked by Marketing Automation Insider: 23/06/2023
First reviewed by Marketing Automation Insider: 22/02/2017