Marketing Automation Insider is supported by readers like yourself. We may earn an affiliate commission when you purchase through our links. Of course, this won't increase the cost of your subscription.
Our thoughts on Sharpspring
Sharpspring are best known as 'the marketing automation tool for agencies'.
While their solution is also used by thousands of businesses, they excel in providing a great product that agencies can offer to their clients. The Sharpspring platform is fully rebrandable, and offers lots of features needed to manage multiple clients under one piece of software.
The platform itself includes behavioural-based email automation, site tracking, a built-in CRM system (although you can also integrate with over 700+ third-party tools & CRMs via their Zapier integration), and much more.
One area where Sharpspring are above and beyond other tools is with landing pages. While many marketing automation tools provide a landing page builder, they're usually buggy after-thoughts. Sharpspring provide beautiful landing page templates designed to convert.
Sharpspring are not the cheapest marketing automation tool on the market, but you do get what you pay for. If you're comparing mid/high-end tools like Pardot and Marketo we'd highly recommend adding Sharpspring to your list of considerations.
Try Sharpspring for free
Sharpspring Review Summary
Sharpspring are a great option for agencies
The landing page builder is well integrated with lots of templates

If you're looking for a tool to support a complex marketing plan, consider Sharpspring
SharpSpring is best for:
SharpSpring is ideal for marketing agencies and SMBs
Sharpspring's Screenshots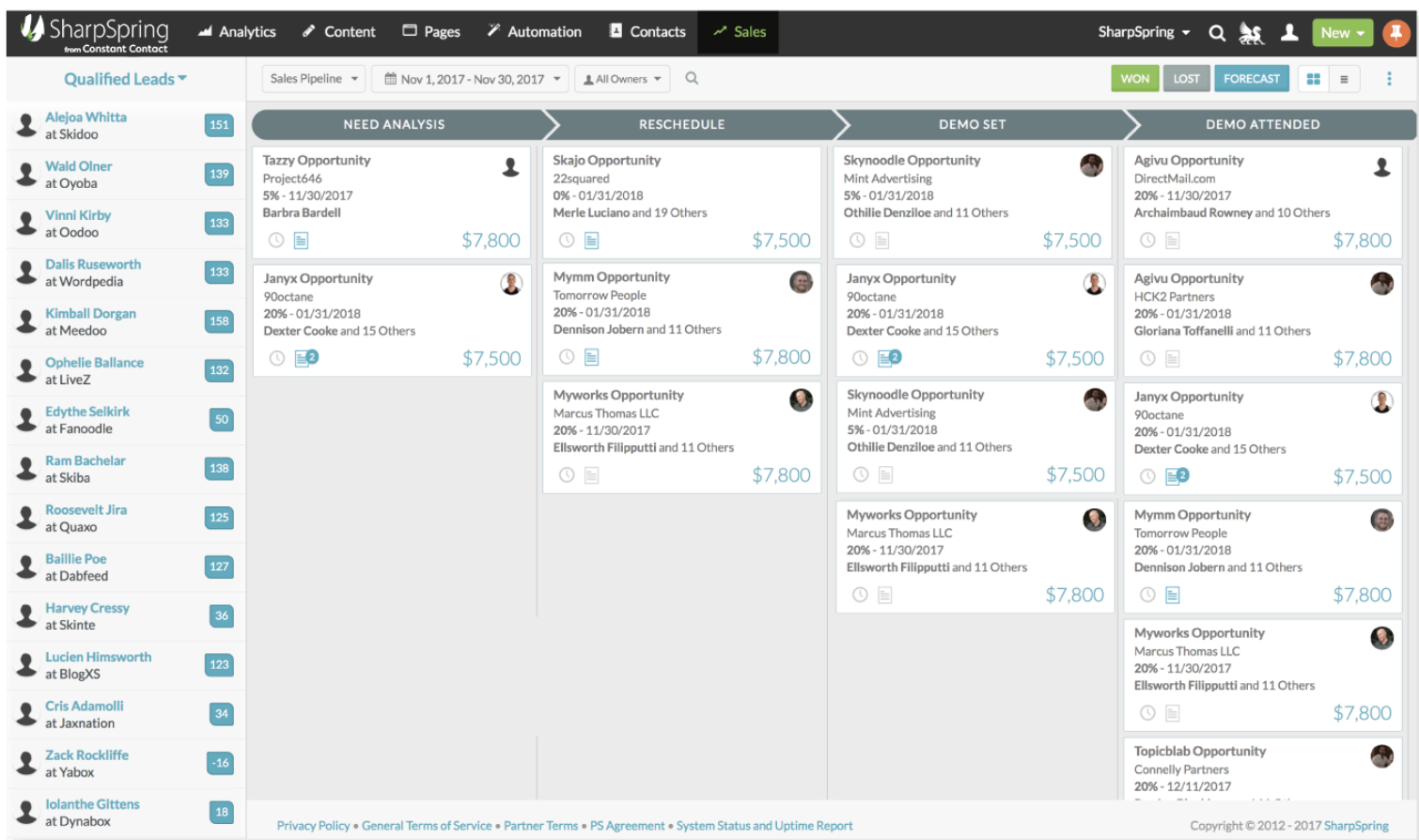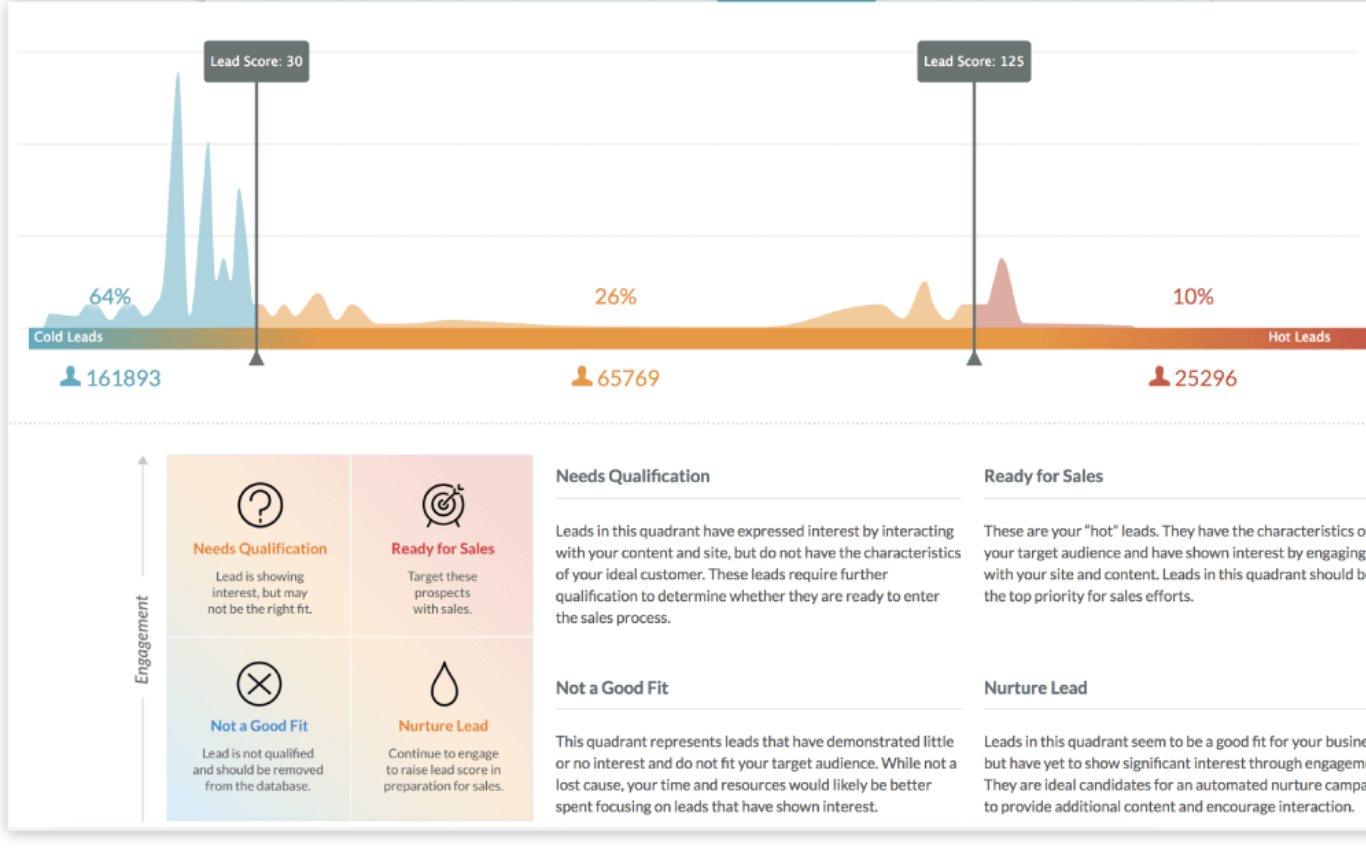 Sharpspring's Pricing
Sharpspring are not the cheapest starting cost, but it is well worth it to run complex marketing from 1000 contacts.
And as to find out which plan is right for you, check out our full Sharpspring pricing breakdown.
Sharpsprings pricing
Sharpspring's Pros and Cons
Overall, Sharpspring is a very good piece of software with only a small number of flaws. It has one of the best user interfaces for building automation campaigns, making it easy and enjoyable to use.
Pros
Cost effective:
Compared to similar tools at this level, Sharpspring is 3-10X less expensive than other tools like Pardot or Marketo.

Month-to-month contracts:
With Sharpspring there are no long-term contracts or expensive transfer fees. If you want to switch providers, you just need to provide 30 days notice.

Ideal for agencies:
Sharpspring is particularly well-known for its offering to agencies. Their platform is fully rebrandable, and includes special pricing and user management features designed for agencies.
Cons
Limited features:
Compared to its competitors, Sharpspring might not have all the features you're looking for
Sharpspring's Features Overview
All plans offer access to a full feature set, covering everything from landing pages, froms, chatbots and reporting.
Full Marketing Automation:
A powerful, easy-to-use visual workflow builder simplifies marketing automation using branching logic to engage leads at all points of their buying journey

Dynamic Landing Pages:
Build powerful landing pages and landing page funnels with Sharpsprings simple editor, or adapt a template from thier extensive library

Reporting and Analytics:
Dashboards help share key information with team, clients and customers
Shopify Plus
Bigcommerce
WooCommerce
Volusion
Prestashop
Magento
Gumroad
Shopify
Sharpspring User Reviews
User Review
Just an Awesome Marketing Automation Tool
We used SharpSpring on a daily basis, we use it to do inbound marketing, finding lead prospects and lead nurturing. We have been using it on a few clients and it has been phenomenal, we are able to provide them with quality leads, drive sales in a more efficient manner, it's a great tool for marketing automation. We had an ROI in less than 6 months We reduce man-hours by using all the automation features, that way you can program post and mailings. We were able to convert more quality leads than before. We use it on our company too and it has made a huge impact on revenue. No commitment or contract, the user interface is a key point that made us choose them. We choose it for its flexibility and competitive price. We use it for lead nurturing, referrals, social marketing, and website visitor tracking. The feature customization has given us a lot of automation possibilities. User ID is one of the best features of this software, it gives a full track of leads, that makes it really easy to provide the lead with the proper information at the right time. The synchronization with Analytics and Adwords make a wonderful add on to keep track of reports and to know the effectiveness of your campaign. It also helps us to know the interaction of the sales team with the clients. It's an amazing tool.
Our verdict on Sharpspring
Overall, Sharpspring is a very good piece of software with only a small number of flaws. It has one of the best user interfaces for building automation campaigns, making it easy and enjoyable to use.
Last checked by Marketing Automation Insider: 24/03/2023
First reviewed by Marketing Automation Insider: 22/02/2017