5 Reasons Why Your eCommerce Site Needs Marketing Automation
Marketing Automation Insider is supported by readers like yourself. We may earn an affiliate commission when you purchase through our links. Of course, this won't increase the cost of your subscription.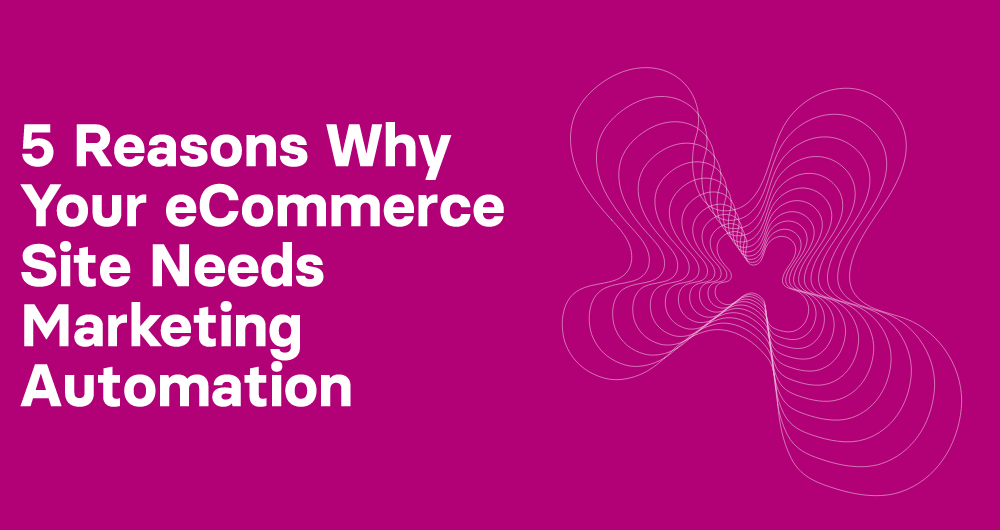 One of the most versatile arenas for marketing automation is eCommerce. You can use automation on your eCommerce site to do everything from optimizing conversion rates to predicting customer behavior to increasing repeat sales.
In this post, we'll take a look at 5 of the most productive ways your eCommerce site can get a big boost from automation.
1. Manage Cart Abandonment
The average cart abandonment rate nowadays is around 68% (Baymard).
If your own abandonment rate is anywhere close to that figure, that means that you're losing sales from about two thirds of your wallet out, ready-to-buy store browsers.
Cart abandonment is an epidemic that's hit eCommerce hard. Just imagine how much more revenue you would be pulling in if even half of those potential customers end up completing the sale.
There are several ways you can start reducing abandonment — simplifying the checkout process and adding multiple payment methods are great places to start — but one way that marketing automation can help is with abandonment emails.
Abandonment emails help you to reach out to leads that have left products in their cart untouched for a specified duration.
If you don't have the faintest idea of what should go in such an email, I'll direct you over to Shopify, where Dan Wang has curated an awesome list of 13 amazing abandoned cart emails.
Right here, though, I'll highlight one of the best abandonment emails I saw in Dan's post.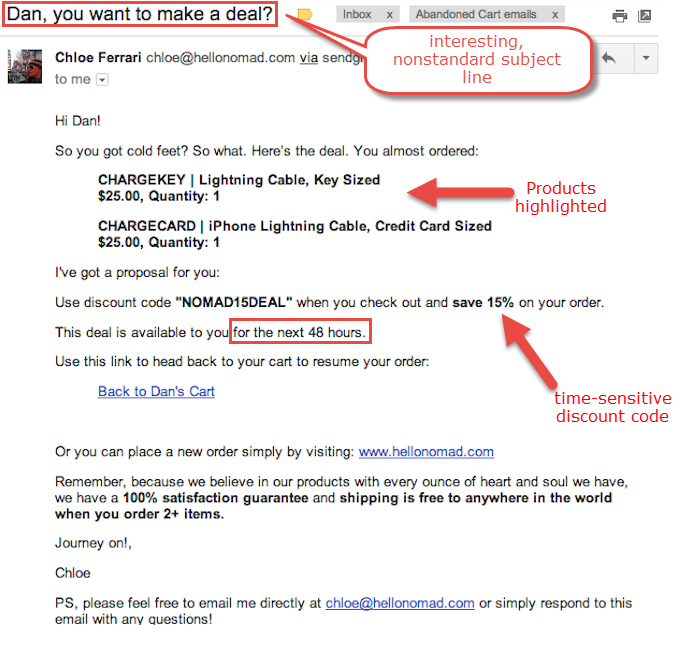 First of all, note the catchy subject line. It's not one of those monotonous, ultra-boring "Reminder: You Haven't Completed Your Order" subject lines that nobody actually wants to click on. Instead, this one piques the reader's interest by asking a question and also personalizes the email by using the first name of the lead.
Down below in the email body, notice how the names of the products left in the cart are bolded and centered so Dan can instantly see what products he's left in his cart.
Finally, there's an added incentive to complete the purchase: the 15% discount code (this increases the perception of value). It's also time-sensitive, which also helps to create urgency: a powerful conversion tactic.
2. Detailed Analytics
Another important aspect of running a successful eCommerce business is using analytics to track everything. Most marketing automation tools will integrate with platforms like Google Analytics and KISSmetrics to track a whole host of traffic & conversion statistics that you've probably never even considered before.
These analytics will give you actionable advice as to what you can improve on your site: no matter if it's something as small as changing the design of your social buttons or even something as big as eliminating free shipping.
You can view metrics like the avg. number of products each visitor views, bounce rate on specific pages, cart to checkout conversions, traffic sources by avg. order value, and much more.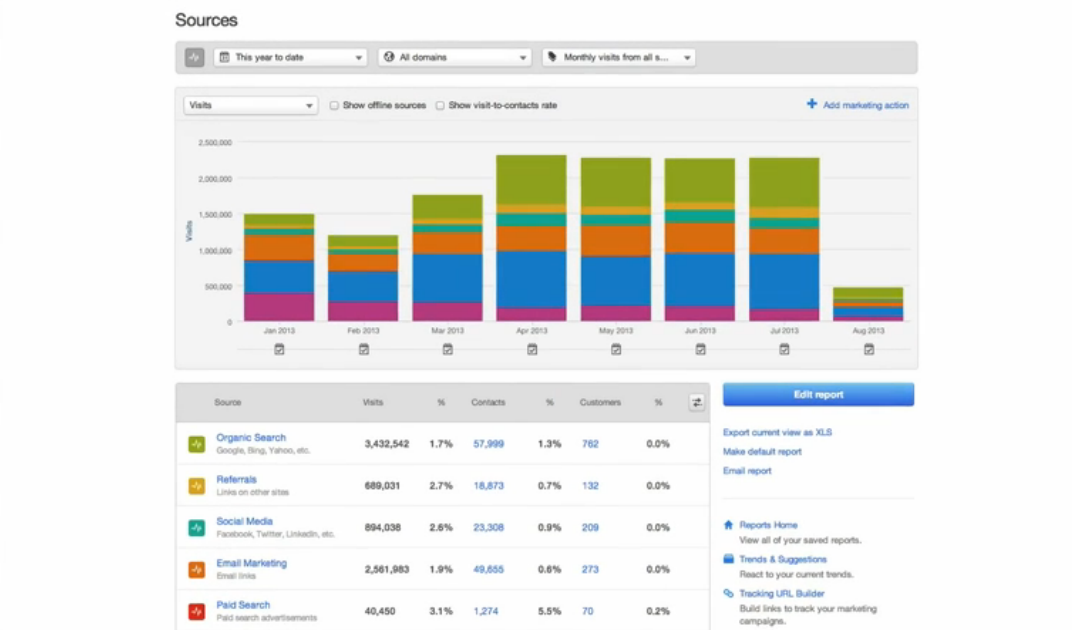 A snapshot of analytics data from Hubspot.
Let's take a pretend example (fictional data, but it illustrates the point nonetheless). Say that your eCommerce website implements an email marketing campaign that does the following:
Sends an email to 5,000 leads promoting products personalized to each lead's browsing history.
2,000 of those leads open the email.
200 click through and visit the site.
100 add a product(s) to their cart.
20 end up purchasing a product(s).
If you just look at the overall picture, your email had a 0.2% conversion rate. But when you use detailed analytics, you're able to drill down much deeper and see exactly what went right and what went wrong.
Let's look at this example again, but now let's take notice of each individual metric.
5,000 leads are sent personalized emails.
2,000 leads open your email (40% open rate — great job: more than double the average)
200 click through (10% click through rate — pretty good, but can be improved: consider changing around the placement of links and retesting how relevant the promoted products are to your contacts)
100 add a product to their cart (50% view to cart conversion rate — very good!)
10 end up purchasing a product (90% cart abandonment rate — definitely needs improvement: consider using abandonment email like we discussed or streamlining the sales funnel)
See the difference in information? The 0.2% conversion rate just gave you a broad view of your email's effectiveness, but these detailed metrics have revealed 2 key aspects of your marketing & sales funnels that have room for improvement — cart abandonment and email click through rates.
3. Investigate Customer Demographics
Another one of marketing automation's most powerful capabilities is to investigate the demographics of your eCommerce website's visitors, leads, and customers.
With features like geo-targeting, you'll be able to drill down into the specific countries and regions that give you the most engaged traffic. You can then use this information to change traffic & advertising channels as appropriate.
Once your visitors have turned into leads and customers, you'll have even more information at your disposal. By segregating and scoring conversions according to factors like purchase value, number of repeat sales, etc. you'll discover where your best conversions come from (highest value customers with the lowest acquisition cost) and adapt your marketing strategy accordingly.
Here's an example of an email campaign for a site that sells contract templates for music companies.
Each country, though, has different legislation regarding protection of artists' rights. That means that the emails promoting a pack of contracts must be targeted to specific geographies, so each visitor has the right country-based contract promoted to it.
The screenshot below shows you how one specific email is segregated so that a specific content block is revealed only to contacts who are based in Australia and who have already bought a pack of 40 contracts.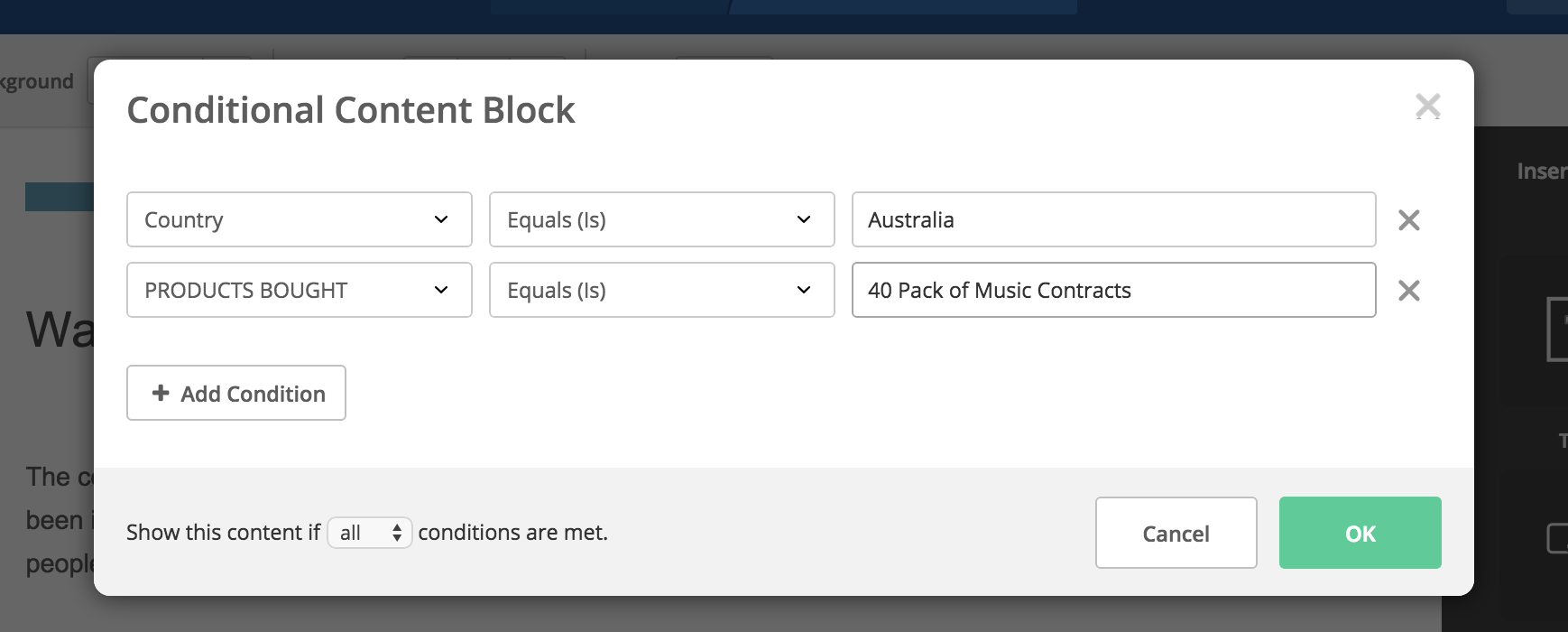 So an Australia-based visitor sees this content block.

The same segregation can also be applied for contacts in the UK.

4. Post-Transactional Email Marketing
The idea of post-transaction email is basically self-explanatory: it's email marketing after the transaction (sale). Take a look below at an email I recently received from eBay after I bought some audio equipment on the site — it's a great example.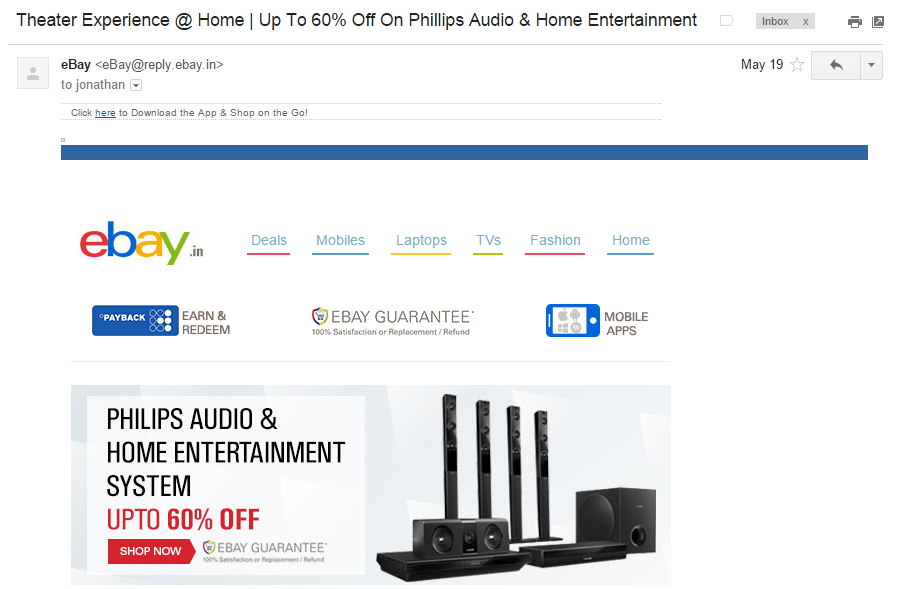 We've discussed repeat customers and increasing customer lifetime value in detail at the MAI blog before. The number one strategy we talked about was post-transaction product promotion.
Here, the main idea to remember is to only promote products that are relevant to what the customer has already ordered. If a customer has just bought a BB gun from your site, a logical next step would be to try to sell bullets to him/her.
If you reverse the order in which those two products are bought & promoted, you'll see why relevancy matters.
Customers that buy BB bullets probably already own a gun. Chances are slim that they will be interested in purchasing a new one. The product promotion isn't a natural upsell and probably won't covert nearly as much.
5. Optimize Product Pages for Maximum Conversions
Every eCommerce business owner understands the value of good copywriting. Good copywriting is concise, clear, and written in easy-to-understand, everyday language.
Great copywriting, on the other hand, is all those things and the result of a lot of testing.
If you aren't continually test your product pages and copywriting, you'll never come close to hitting maximum conversion potential.
Marketing automation tools like Ontraport make A/B testing super easy. Just create two versions of the same page (e.g. a serif font vs a sans serif font) and then the tool will automatically direct equal volumes of traffic to each variation. Once a meaningful amount of data has been gathered, you'll have a clear view of which version produces the higher conversion rate.
Michael Aagard from Content Verve once ran a split test for a major European eCommerce site that sells porcelain items with hand-drawn designs. By changing the add to cart button from a cool blue to a bright green, Michael produced a 35.81% increase in conversions (that's an increase in sales, not just in click throughs).
That's the sort of impact A/B testing can have on your e-store.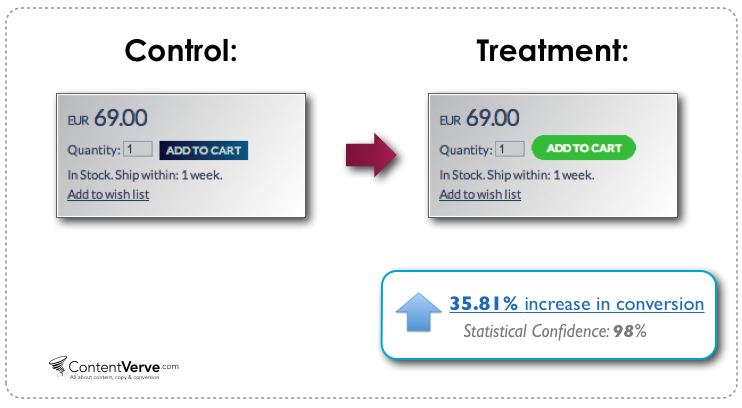 Here are a few basic things you can start testing right off the bat:
call-to-action button color and text (e.g. "add to cart" vs. "buy now" vs. "purchase now", etc.)
product descriptions: paragraphs of text vs. bullet-points
different product images
removing navigational menus from landing pages
the number/type of fields in sign up forms
Wrapping Up
We've only discussed a small sample of the benefits automation has to offer to the eCommerce industry. The list of possible marketing automation features and campaigns is truly too long to discuss in any single post.
If you're ready to start using marketing automation to decrease abandonment, increase repeat sales, and make your products convert better, then see which software fits your eCommerce business here.
Got any experience using automation? Please share in the comments below!