5 Best Low-Cost Marketing Automation Tools for Small Businesses
Marketing Automation Insider is supported by readers like yourself. We may earn an affiliate commission when you purchase through our links. Of course, this won't increase the cost of your subscription.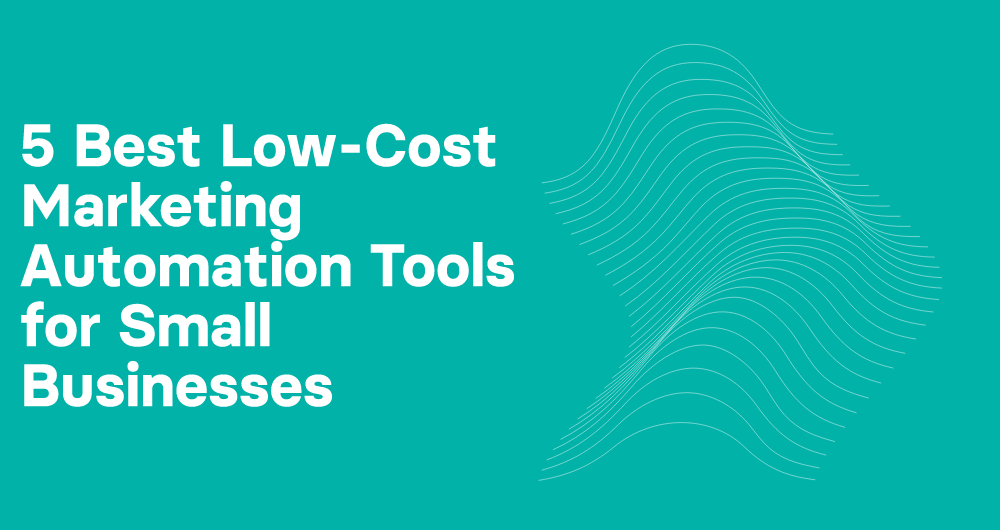 If you're running a small business, the idea of automating your sales and marketing is compelling.
To do this while shortening your sales cycle, improving your lead qualification, and freeing up time to focus on more creative work makes it virtually a no brainer.
That is, until you look at the price tag.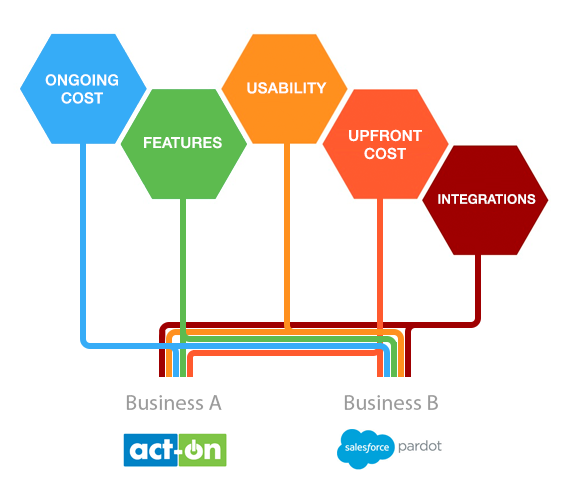 Marketing automation tools are notoriously expensive, as most vendors base their pricing on the approximate value that the software will add to your business. After all, what's $10,000 per year if it'll grow your business by an extra $250,000 per year?
With that said, it'd be foolish to not mitigate your risk by choosing the tool that's most affordable and best suited to your business.
In this post, I'll share five of the best low-cost marketing automation tools for small businesses. To narrow down your options between them, I'd recommend reading our post on '7 considerations when choosing small business automation software', or by using our free tool finder.
ActiveCampaign are one of the best kept secrets in the small business marketing & sales world. For years very few people knew about their platform, which is among one of the best marketing automation tools out there – despite being 20-30X less expensive than many of the other tools in this post.
We used them here at Marketing Automation Insider and have done for almost three years now. So what's so great about ActiveCampaign? For a start, their visual interface makes it extremely easy to build powerful marketing automation workflows.
They also have a built-in CRM system, which makes it easy to keep everything managed in one place. Having personally tried to use Salesforce, PipeDrive, Zoho and many CRMs over the years, this is the only one that I've enjoyed using.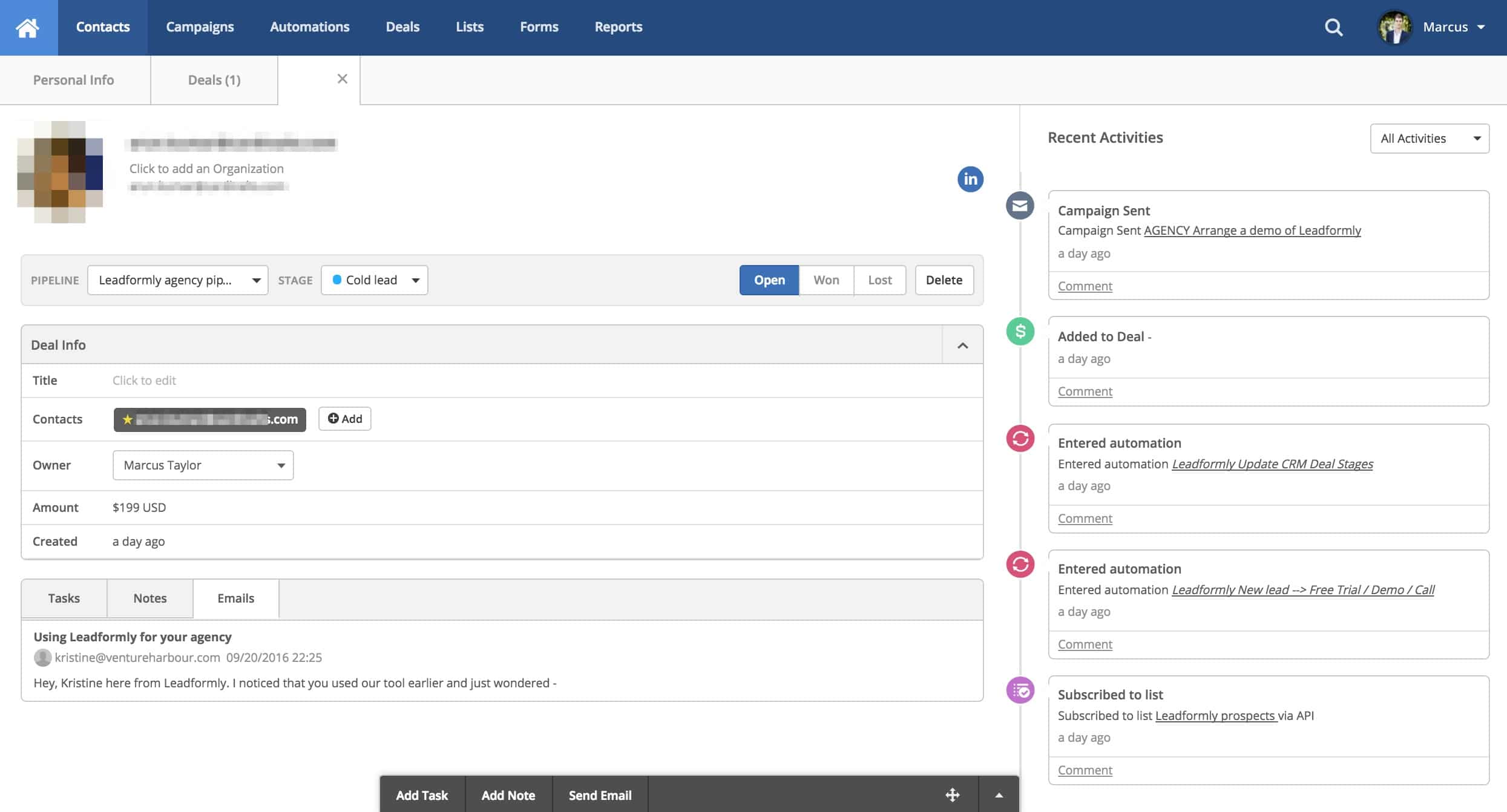 If you want to learn more you can create a free ActiveCampaign trial here.
Clate Mask and brothers Eric and Scott Martineau co-founded eNovaSys in Arizona in 2001, with the dream of revolutionising the way that small businesses grow through sales and marketing automation.
The company later evolved into Infusionsoft, which is now used by over 15,000 small businesses. Mask is the current CEO of Infusionsoft and has written articles on entrepreneurship for such publications as VentureBeat, Entrepreneur and Fast Company. Clate Mask and Scott Martineau also co-authored Conquer the Chaos, a New York Times best-selling book.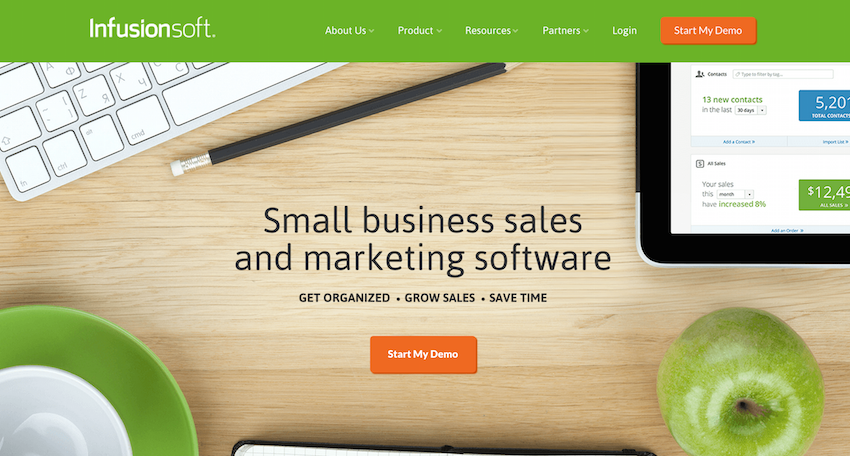 Infusionsoft is one of the only sales and marketing software built exclusively for small business and promises that you'll spend less time chasing dead ends and more time building relationships by automating the repetitive tasks in sales and marketing process.
Their cloud-based software will allow you to centralise all customer interactions and daily activities in one place, while their email marketing capabilities will capture new leads, automate follow-up and turn them into customers.
The lead scoring feature identifies the hottest leads so you can close sales faster, while custom segmentation allows you to create lists based on demographics, lead score, and behaviours like email clicks, purchases and payment history.
E-commerce shopping carts allow you to sell more online and collect payment with one centralised system. To further customise your experience, Infusionsoft Extras are additional Infusionsoft-created products and tools that plug in seamlessly to their software. An example of this is Infusionsoft Sync, which allows access to Infusionsoft's sales and marketing features while working in gMail or Outlook.
Infusionsoft's 4-tier pricing structure starts from $199 per month for the Essentials package, designed for companies with basic marketing automation needs. This includes 3 users and 2,500 contacts, compared to 5 users and 10,000 contacts for the most expensive package, Complete, which costs $379 per month and is suited for companies with a sales team and online store. Kickstart Services, at an additional one-off cost of $1,999, are required for all new Infusionsoft customers and include one-on-one consulting and training resources.
ICON is Infusionsoft's annual marketing automation conference for their community of customers, small business owners and industry experts who gather for three days of product training, education and inspiration. In 2016's conference in Arizona, attendees can expect six inspiring keynote presentations, over 39 educational sessions, personal consultations with industry experts, and networking events.
You can read our full review of Infusionsoft here.
Serial entrepreneur Landon Ray founded Ontraport in Santa Barbara, California in 2006 and currently serves as CEO. Ray has taken his exhaustive research and personal experience and created a family of products and related services that reflect his passion for educating and supporting entrepreneurs.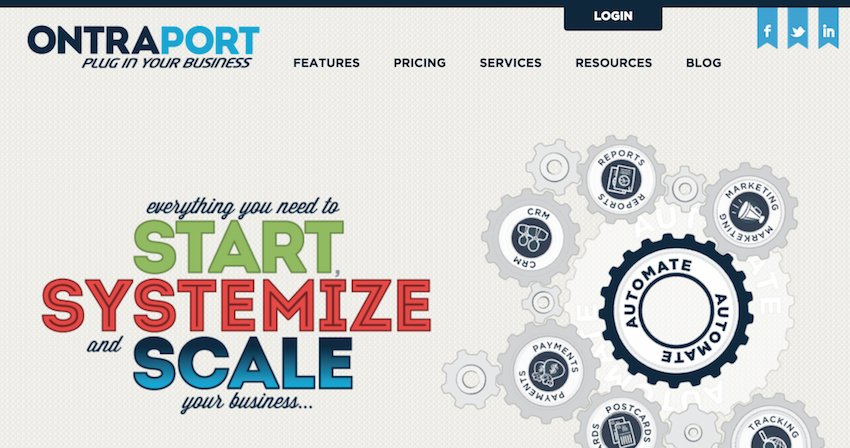 Ontraport is an award-winning all-in-one marketing and business automation platform designed to help entrepreneurs start, systemise, and scale their small and mid-sized businesses. The Dashboard feature allows you to create a personalised heads-up display of all your vital business stats on one easy-to-use screen, with an interface that allows you to add fully customisable metrics, set the reporting period, and stay up to date with your analytics.
In addition to the CRM that allows you to track customer interactions, manage tasks automatically and score leads, you can set triggers to perform various actions, such as sending an email, direct-mail postcard, SMS message, scheduling a rep to make a phone call or another automated action.
Their open, secure API allows developers to securely access, add, delete or edit most account information automatically, making it possible to integrate virtually any other software tool you use in your business.
The Pro package is $297 per month for two users and up to 25,000 contacts while the Team package is $597 per month for ten users and 100,000 contacts. Both packages include access to all the same features, as well as two complimentary, one-hour meetings with a Client Success Specialist where they'll begin setting up your account. Packages are easily scaled to your business by paying extra to add more contacts, users or messages.
Now in its 4th year, Ontraport's annual Ontrapalooza conference for 2015 will take place in Santa Barbara. Over the two days, the 600 entrepreneurs and small business owners in attendance can expect four exceptional keynotes, 24 hands-on workshops and networking opportunities. The cost is $599 with pre-sale and early bird pricing available.
You can read our full review of Ontraport here.
Oregon-based Act-On was founded in 2008 and CEO Raghu Raghavan is the product visionary and driving force behind it. A seasoned entrepreneur, Raghu led the initial design of the Act-On service and the development of its core technology and infrastructure.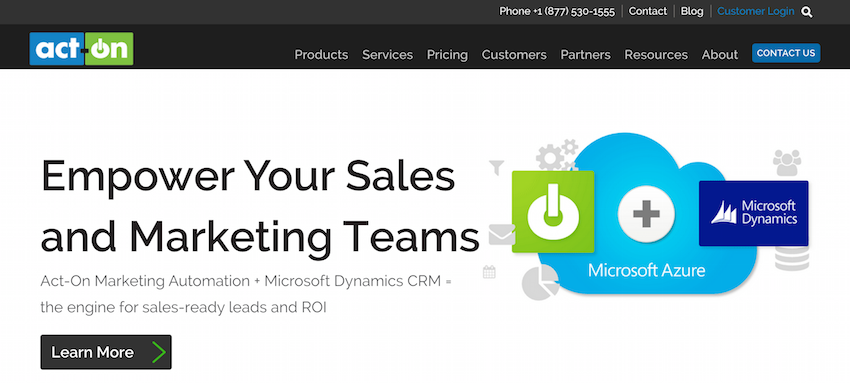 Act-On provides a cloud-based integrated marketing automation platform that enables small and medium-sized marketing teams to effectively acquire customers, build loyalty and expand their relationships with them through inbound, outbound, and advanced marketing automation capabilities.
Functionality includes email creation and delivery, social media campaign creation and management, webinar/event communications and management, website visitor tracking, advanced SEO for websites and marketing content, integration of SEO with blogs and CMS, Google AdWords integration, lead management, lead scoring and nurturing, out-of-box CRM integration, API access for third party integration, and reporting.
All tiers include the same features but prices range from $600 per month to $8,750 per month, based on the number of active contacts and whether billing is monthly or annually. Fees for implementation and training are not included and are an additional $500 to $2,500.
iHeartMarketing is Act-On's regional user conference and will be in the form of a Road Show for 2015. This complimentary, half-day marketing workshop will be visiting Seattle, Atlanta, Los Angeles and Boston. Attendees can expect a hands-on workshop with strategies for getting the most out of Act-On solutions, a look at the latest Act-On product roadmap, a sneak peek of some upcoming features, and networking opportunities with other Act-On users and success managers.
Phil Fernandez, Chairman and CEO, co-founded Marketo in San Mateo, California in 2006 and has led the company's product vision and unique marketing and sales strategy to help them become an acknowledged leader in digital marketing technology.
Phil is a Silicon Valley veteran with more than 30 years of experience building and leading breakout technology companies. He is a well-known writer and speaker on topics related to digital marketing, marketing automation, big data, and entrepreneurialism, and is the author of Revenue Disruption (Wiley, 2012), which delivers bold new strategies for any company to transform its sales and marketing to accelerate revenue growth.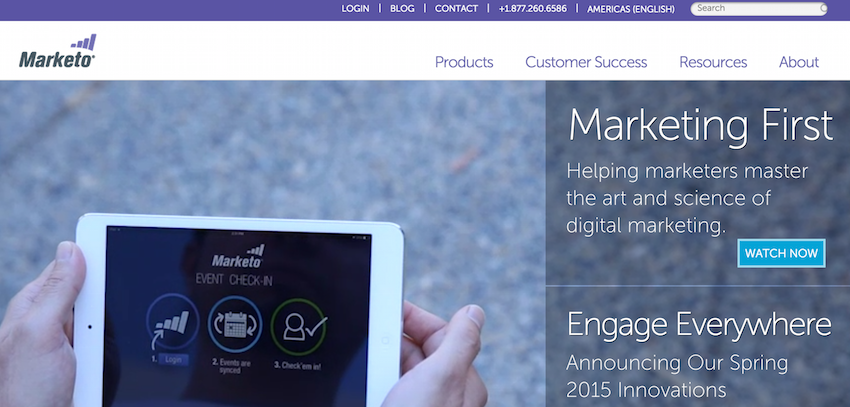 Marketo profess that their Engagement Marketing Platform has been built from the ground up and provides everything marketers need to succeed in this new era of engagement marketing. Capabilities include: targeted campaigns with lead-scoring, lead-nurturing and advanced workflow automation; cross channel engagement, including email, web, mobile, events, direct mail, and social media; integrated social marketing; a unified marketing calendar that fuses campaign planning and execution in one place; and more.
For small companies and beginners, the Spark package offers fast and easy B2B marketing automation for $895 per month for up to 10,000 contacts. The Standard package has more advanced features and is the most popular package for B2B marketing automation at a cost of $1,795 per month for up to 10,000 contacts. The Select package offers an advanced B2B marketing solution with full insight into your revenue funnel at a cost of $3,195 per month for up to 10,000 contacts.
Marketo's Marketing Nation Summit 2015 will bring together over 6,000 of your peers, colleagues and thought leaders to San Francisco, California to celebrate Innovation in the Nation over two and a half days. The registration fee is $1,295, with early bird rates available.
You can read our full review of Marketo here.
Still headquartered in Cambridge, Massachusetts, Hubspot was founded out of the Massachusetts Institute of Technology in 2006 by Brian Halligan and Dharmesh Shah, now CEO and CTO, respectively. Since then, it has grown to have 11,500 customers in more than 70 countries. Shah also founded OnStartup.com, an online resource for and about software startups, and is a frequent speaker and writer on the topics of startups and inbound marketing.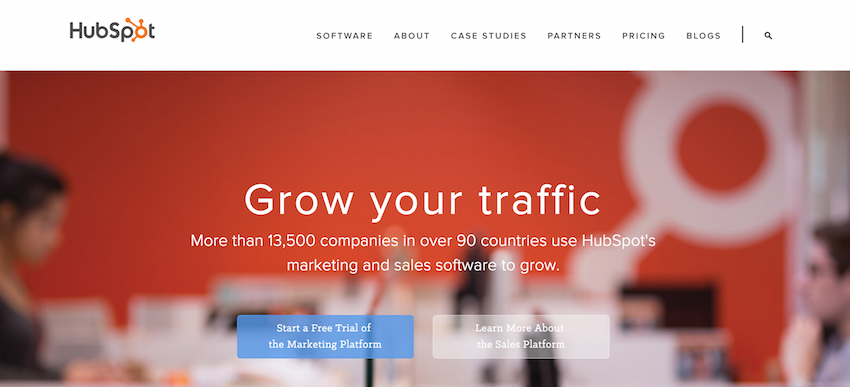 HubSpot recognised the mismatch between how organisations are marketing and selling their offerings and the way that people actually want to shop and buy. They focus on pulling people in rather than just broadcasting information in the traditional way. HubSpot also differentiate themselves by building workflows around your marketing goals.
The Basic package, an entry tool for those new to inbound marketing, is $200 per month and includes up to three users and 100 contacts. The Pro package, an integrated solution for professional marketers, is $800 per month for unlimited users and up to 1,000 contacts. The Enterprise package, an advanced platform for marketing teams, is $2,400 per month for unlimited users and 10,000 contacts.
This can be scaled to suit your business by purchasing extra contacts in increments of 1,000 for an additional fee. Onboarding services are required for new customers and cost a one-time fee of $600, $3,000 or $5,000, depending on the package purchased.
Hubspot's 4-day Inbound Conference in Boston includes six inspiring keynotes, over 170 educational sessions, networking and over 10,000 attendees. The cost varies between $499 and $1,998, with early bird rates available.
You can read our full review of Hubspot here.