The Difference Between Marketing Automation, CRM, and Email Marketing
Marketing Automation Insider is supported by readers like yourself. We may earn an affiliate commission when you purchase through our links. Of course, this won't increase the cost of your subscription.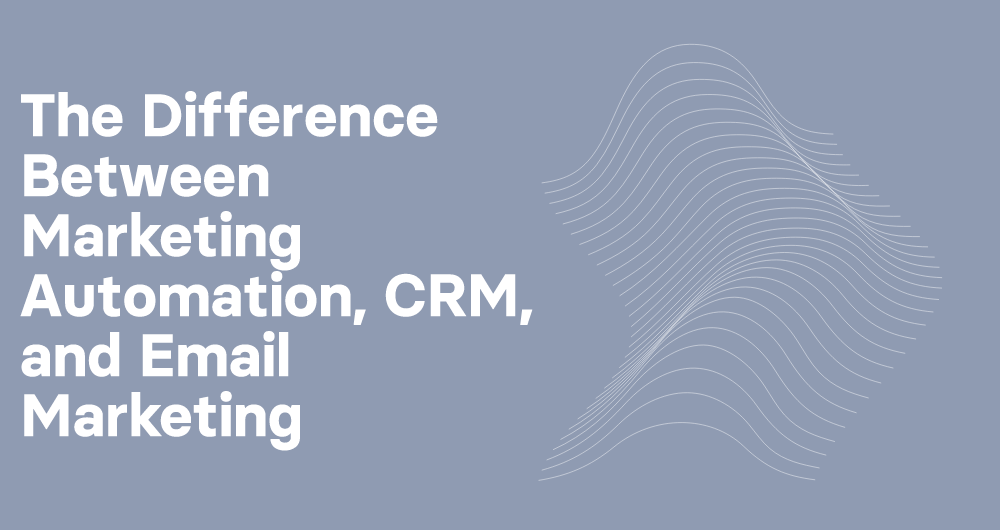 Considering that most marketing automation tools have a built-in CRM, email campaign builder, landing page builder, and much more, is there any point to having a separate CRM system or email marketing tool?
First off, let's clarify what a marketing automation tool is and isn't, and how it differs to a standalone CRM or email marketing tool.
What is marketing automation software?
Marketing automation is often described as 'email marketing on steroids' or 'CRM-driven email marketing'. While good marketing slogans, neither captures the essence or value offered by of automation software.
At the most simple level, marketing automation is the combination of CRM, analytics, and email marketing. In this case, the sum is greater than its parts, as CRM data provides additional insight into email marketing, and vis versa via analytics.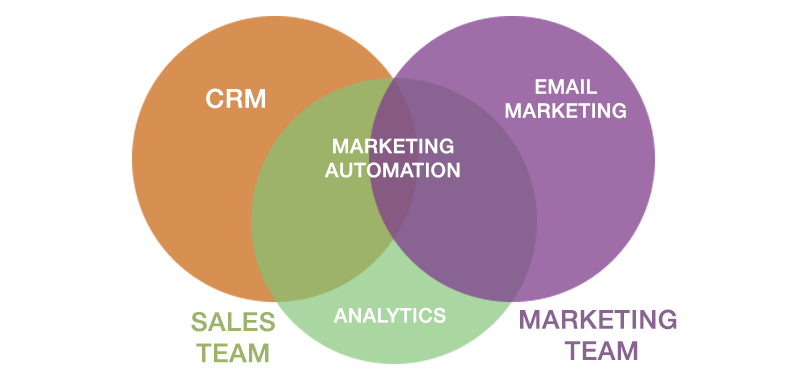 As illustrated above, the alignment of CRM data with your marketing channels is surprisingly profound, as it aligns your marketing and sales teams and enables one another to build on each other's work.
But before we go too deep into the value of marketing automation, what exactly are we automating with this software that we wouldn't usually automate?
Where automation comes into the equation
Marketing automation provides the ability to automatically trigger emails (or text messages, postcards, voicemails, webinar invitations etc) when a segment of your contact list completes a certain action.
In other words, you can build a set of rules like 'when a contact does X (downloads an ebook, visits a certain page, buys a product), or is Y (a C-level executive, a repeat customer), do Z (invite them to a webinar, cross-sell a specific product). When this is scaled up, you can have thousands of different emails being sent out to different customers every day – each one beautifully personalized to the recipient's situation.
Here's an example of such a sequence in Infusionsoft: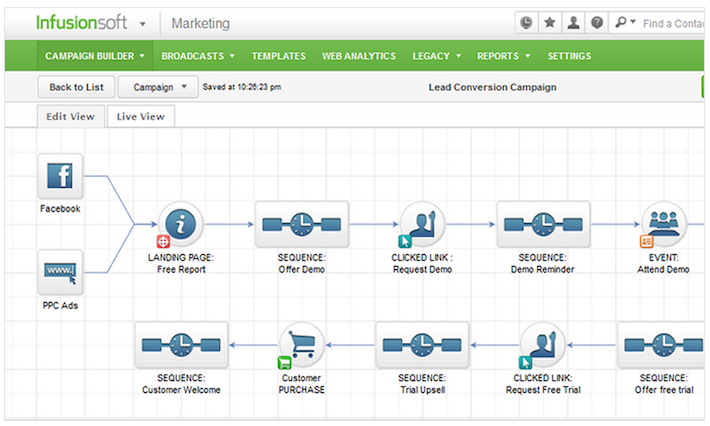 The holy grail of marketing is to reach the right person with the right message at the right time. Unfortunately, due to human error and a limit on resources, we sometimes fall short on one or more of these points.
By automating your messaging you can, for example, ensure that every single lead is followed up with within 15 minutes of expressing interest, regardless of whether you receive one lead a day or 10,000.
What's CRM and how does it differ to marketing automation?
CRM software simply provides a system for managing and organizing interactions with potential and future customers. While most CRMs allow you to communicate with contacts from within the CRM, this level of communication is relatively basic.
Let's say, for example, your CRM has 10,000 contacts who are all interacting with your business in different ways. A CRM will record those interactions, allow you to prioritise which leads to focus on, and enable you to contact them manually or in one bulk-mail.
A marketing automation tool, on the other hand, allows you to set up pre-built campaigns that are automatically sent to individual leads when they complete certain actions. You can A/B test different methods of communication, and even combine multiple marketing channels (e.g. SMS and email), ultimately leading to a more scalable and efficient sales process.
CRM and marketing automation are not dichotomous. In fact, with CRM companies acquiring and bolting on marketing tools to their software, the line between CRM and marketing automation is becoming increasingly blurred.
So, in what instance would you be better off choosing a CRM instead of marketing automation?
When is it better to choose a CRM system over marketing automation software?
There are several valid reasons for why you might choose a CRM instead of a marketing automation tool:
Cost – If you're a small business just starting out, then a $10/month CRM may provide you with everything you need. Marketing automation software typically starts at around $200/month plus setup fees. For enterprise-level software, that figure can be anywhere from $1,000/month to unlimited. Ultimately the benefit has to outweigh the investment, which won't be the case for every business.
Needs – If your company does predominantly all of your sales & marketing 'in the field', you probably won't benefit from automation software. Marketing automation satisfies an additional need, that isn't necessarily present in every business. For those, a CRM will probably suffice.
Migration & Integration – If your company has been using a CRM like Salesforce for ten years and your whole company is used to it, educating staff on a new piece of software is going to be a significant cost. On top of this, not all automation tools integrate with all CRMs, so implementing marketing automation can be a major time & financial investment, particularly for larger corporations.
In the majority of cases, though, marketing automation is the more powerful alternative as it provides additional insight and marketing capability on top of CRM.