5 Mistakes to Avoid When Choosing & Implementing Marketing Automation Software
Marketing Automation Insider is supported by readers like yourself. We may earn an affiliate commission when you purchase through our links. Of course, this won't increase the cost of your subscription.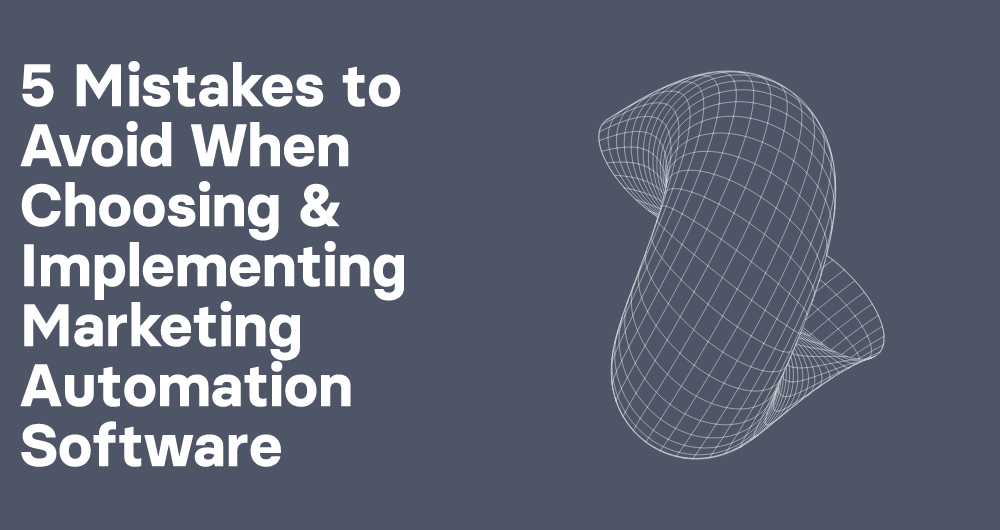 The first step to increasing productivity and ROI with marketing automation is choosing the right tool with which to do it. Too often, businesses don't do enough research when selecting automation software and end up with expensive subscriptions to tools that don't suit their needs, budget, or marketing strategy.
In this post, we'll go over 5 common mistakes people often make when choosing and implementing marketing automation software, and how you can avoid them.
1. Choosing a Software that Doesn't Suit Your Needs
By far the biggest mistake you could make when choosing a marketing automation tool is selecting one that doesn't suit your needs; i.e. one that doesn't have all the capabilities that you need.
It would be frustrating to sign up with Infusionsoft, which has a $1999 kickstart fee, only to discover that they don't offer a specific feature you need.
To avoid this sort of mistake, try planning out a basic overview of your marketing strategy before you make any commitments. That way, you'll have a good idea of what you need from the software you end up purchasing and will be able to choose accordingly.
2. Choosing a Software that Doesn't Align with Your Budget
You might think that it's impossible to choose a software that's out of your budget. After all, if you don't have physically have the money to buy something, you can't buy it, right?
Well, no. It turns out, even though your desired automation tool may seem to be priced right at first glance, that could change a few months down the line.
This is because most marketing automation tools come with price creep. In other words, as your list of contacts/leads grows, so does the amount you pay.
Hubspot is one such software that a pretty steep pricing structure. Let's see how their pricing structure works: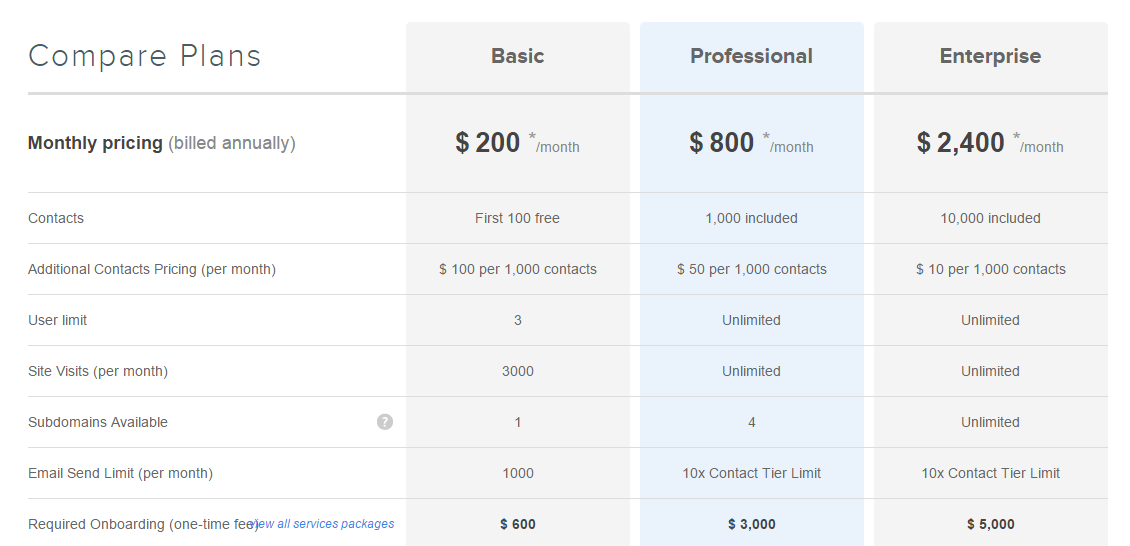 The minimum buy-in is $200/month for the most basic package. But there's one thing you should know: for $200/month, you can only have 100 contacts in your system.
Most likely, your business already has a lot more than just a hundred leads in your system. With Hubspot's basic package, though, you still won't be able to track or engage with any more than hundred of them.
You can of course buy support for additional contacts, but that comes at a rate of $100/1000 contacts, which works out to a pretty significant $0.10 per contact.
Let's take an example of a business that signs up to Hubspot with a $250/month starting budget. Initially, they have a relatively low volume of 50 contacts in their system, so the basic package services them just fine at $200/month (plus the $600 onboarding fee).
A couple months down the road, their marketing campaign is turning out to be quite successful, and they already have 2000 contacts in their system. They are now paying $450/month (more than double the original rate), and it's not even as if they are getting any extra functionality for their trouble.
You could upgrade to the Pro or Enterprise plans, but they start at $800/month and $2400/month respectively with 4-figure onboarding fees; and you'd still have to pay more if you exceed the 1000 contact limit for Pro and 10,000 contact limit for Enterprise.
While this pricing can work quite well for larger businesses with higher turnover, it's a very significant expense for your average startup.
So when choosing the right tool for business, remember to keep in mind the sort of price creep you can expect as your list of contacts grows and whether or not your budget will be able to keep up.
3. Choosing a Software that Doesn't Integrate with Other Apps Used
Another common mistake to avoid is selecting marketing automation software that doesn't integrate with the CRM, ecommerce platform, analytics tool, etc. that you currently use.
For instance, let's say that your e-commerce website is built on the Bigcommerce platform. If you've signed up for a subscription to Ontraport, you've put yourself in a tricky position because Ontraport currently doesn't natively integrate with Bigcommerce.
Your options would then be to change your ecommerce platform (a big hassle) or switch to a different tool that does integrate with Bigcommerce (a waste of money). A lose-lose situation you definitely want to stay away from.
When short-listing a possible choice of marketing automation software, be sure to research how they integrate with all of the other apps you use: CRM, marketing, analytics, payment gateways, social networks, etc.
4. Not Considering Email Deliverability
One frequent problem that many marketing automation tools face is poor email deliverability.
Some tools have email marketing platforms that simply don't have the capacity to deliver emails to everybody on your list. Worse yet, some tools also have a history for letting emails end up in the spam folder, which is the absolute last place you want to be.
You've spent good money building your list, and if you choose a marketing automation tool that isn't able reach as many people of your contacts as possible, then more money is left on the table.
If email is a big part of your marketing strategy (which it definitely should be), then you need to check up on the deliverability rates for each automation tool you consider. Ask fellow email marketers who use the tool, check online reviews, and try to find a case study or two if possible.
5. Not Building a Good Foundation with Your Tool
Before you can make the most of your automation strategy with your tool of choice, you need to build a solid platform.
There are several steps you should take soon after purchase to correctly implement your new automation software. Let's go over a few of them now:
1. Plan your marketing strategy in detail: before you bought a tool, you should have already had a basic marketing strategy in mind (as we discussed in mistake #1 on this list). Now's your chance to plan out this strategy in full. Iron out the finer details of your plan, see what all of the tool's features you'll be using, select the content formats and distribution channels you'll be focusing on, and more.
2. Build some basic workflows: you should already have gained some hands-on experience with your automation tool during the onboarding process, but allow yourself to test the waters a bit further with some very basic automation workflows. Setup things like opt-in forms, major lead segmentations, lead scoring, and the like.
For example, here's a very simple automation I created in Active Campaign. When a new subscriber enters the system, a welcome email is sent and my marketing manager (we'll call him James) is notified.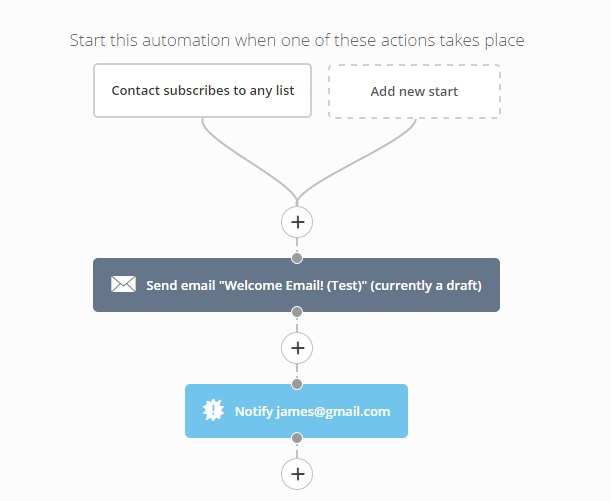 3. Add the right users: most standard automation tools will allow multiple users to access the tool's UI. Make sure that everyone in your company who needs access to the tool has it.
Conclusion
Let's quickly recap the various mistakes we covered when choosing and implementing marketing automation software:
choosing a software that doesn't have all the capabilities & features you need
buying into a pricing structure with a high price creep that won't fit your budget down the line
using a tool that doesn't integrate with the other apps and services you use
signing up to a platform with a history of poor email deliverability
not planning your marketing strategy or setting up some basic workflows before launching automations
While these mistakes are easy to make, they are also just as easy to avoid with a little bit of research and careful planning.
How do you plan to dodge these common slip-ups when you choose your marketing automation tool? Let us know in the comments!
Featured image credit: Stuart Miles