Marketing Automation Market Size & Vendor Market Share
Marketing Automation Insider is supported by readers like yourself. We may earn an affiliate commission when you purchase through our links. Of course, this won't increase the cost of your subscription.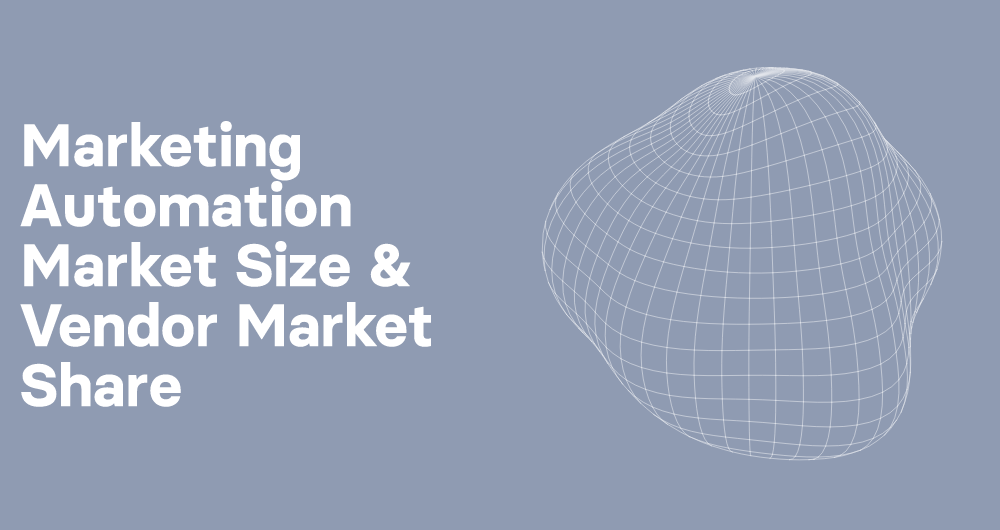 As of 2015, over 142,700 business are now using marketing automation software. Yet, only 369 of the top 10,000 websites have implemented it.
The marketing automation industry is now worth approximately $1.62 billion per annum, and Hubspot are the most popular marketing automation vendor, with a 36.3% share of the total automation market.
These are just some of the highlights from our recent analysis of the marketing automation industry, which we've published in our 2015 marketing automation industry report & buyer's guide.
In this post, I thought I'd share some of the insights that we uncovered on vendor market share and on the industry in general.
Which marketing automation tool has the most users?
First of all, let's look at which marketing automation vendors have the largest share of companies using marketing automation software.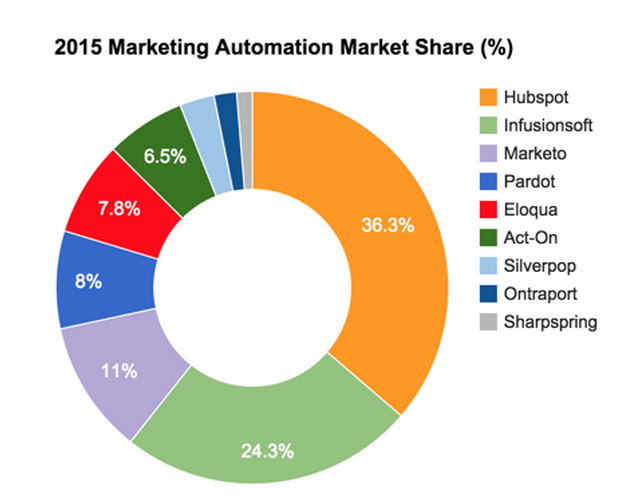 1. Hubspot (36.3%)
2. Infusionsoft (24.3%)
3. Marketo (11%)
4. Pardot (8%)
5. Eloqua (7.8%)
6. Act-On (6.5%)
7. Silverpop (2.8%)
8. Ontraport (1.9%)
9. Sharpspring (1.3%)
The astute among you might have noticed that this market share overview incorporates two very distinct markets: small business marketing automation software, and enterprise automation software.
Separating the two isn't easy, given that companies like Hubspot and Marketo cater to both markets. For the sake of simplicity, if we assume that 85% of Hubspot and Marketo's users are small businesses, and 15% enterprise, we can create a more realistic picture of which vendors are likely to be leading each market. Let's start by looking at the small business marketing automation market.
Which marketing automation tool has the highest market share among small businesses?
For the small business market, Hubspot are the clear leaders in customer volume with a 41.6% market share, followed by Infusionsoft with 32.8%, and Marketo with 12.6%.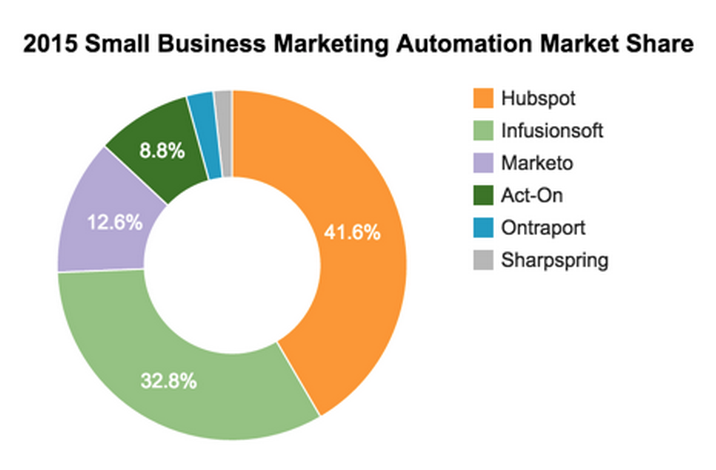 Which marketing automation tool has the highest market share among large businesses?
For the enterprise market, Pardot and Eloqua (now 'Oracle Marketing Cloud') are neck-and-neck with 31.2% and 30.2% market share.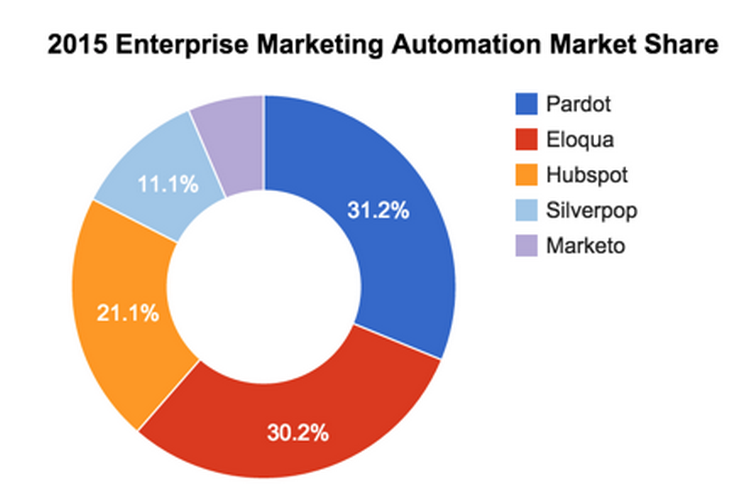 It's important to remember, however, that this is based on the number of companies using each vendor, and not customer revenue or number of individual users.
While we did not collect revenue data in our study, a report by Mintigo found that despite only having a relatively small share of total users (7-8%), Eloqua received 26% of all marketing automation revenue. This is unsurprising given that their platform starts at $2,000 per month, and is used by the likes of American Express and Sony.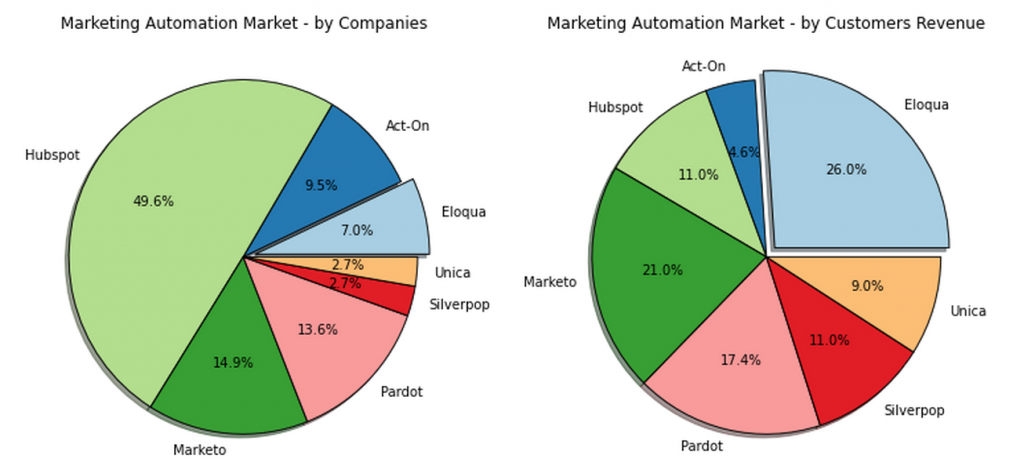 Which marketing automation software do the top 10k websites use?
All of the stats above are based on automation software used by over 309 million websites (approx. one third of the whole Internet). But what if we were to only look at the top 10,000 websites?
To our surprise, we found that only 369 of the top 10,000 websites were using marketing automation (3.69%).
Used by 85 of the top 10,000 websites, Marketo was the most popular vendor among the top 10,000, representing 23% of the 369 marketing automation implementations. Hubspot, Eloqua, Pardot, and Silverpop were all found to be used by at least 50 of the top 10,000 websites each.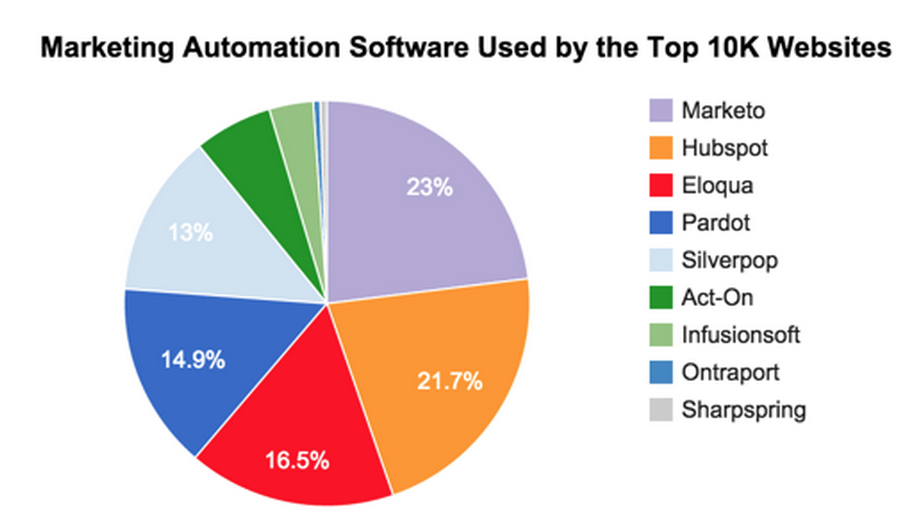 What can we expect over the next 2-3 years?
Over the past three years we've seen exponential growth in marketing automation adoption, causing the industry to grow from being worth $225m to $1.6bn in a matter of five years.
Given the following truisms, it's highly probable that this exponential growth will continue into the foreseeable future:
Marketing automation is becoming more accessible, with new players reducing the cost and accessibility of software to smaller / niche businesses. Over the next twelve months we will see the major email marketing providers becoming more aggressive in their marketing automation offerings, which will create a surge in adoption.
Marketing automation has reached a credibility tipping point. As it's now used by everyone from American Express, Sony, Chrysler, and Intel to many of the most influential bloggers and online businesses, it's becoming harder to be a skeptic.
Despite the massive growth in marketing automation adoption, the overall penetration is still incredibly low. As we found in our study, with only 3.69% of the top 10,000 websites using marketing automation, there is still a huge number of businesses yet to adopt the software.
As far as market share is concerned, I predict that Hubspot and Eloqua will continue to engulf their respective corners of the market. Given the external growth of the market, though, it's likely that most major vendors will continue to grow with the expansion of the market.
Whatever happens, it's going to be a very interesting and exciting few years for the marketing automation vendors.
How this data was collected:
It's important that we mention the limitations of our data: as not all vendors make their current usage numbers public, our conclusions should be interpreted as 'a close estimate', and not as gospel.
Our data was collected by combining data from BuiltWith®, a tool that monitors the technology used by over 309 million websites, with published usage figures, we were able to create two separate calculations based on each of these data sets.
When both numbers were very close (in almost all cases), we used the BuiltWith statistics, as they are likely to be more up to date. In the case that the two numbers were very different, we used the company's reported figures.