The History and Timeline of Marketing Automation
Marketing Automation Insider is supported by readers like yourself. We may earn an affiliate commission when you purchase through our links. Of course, this won't increase the cost of your subscription.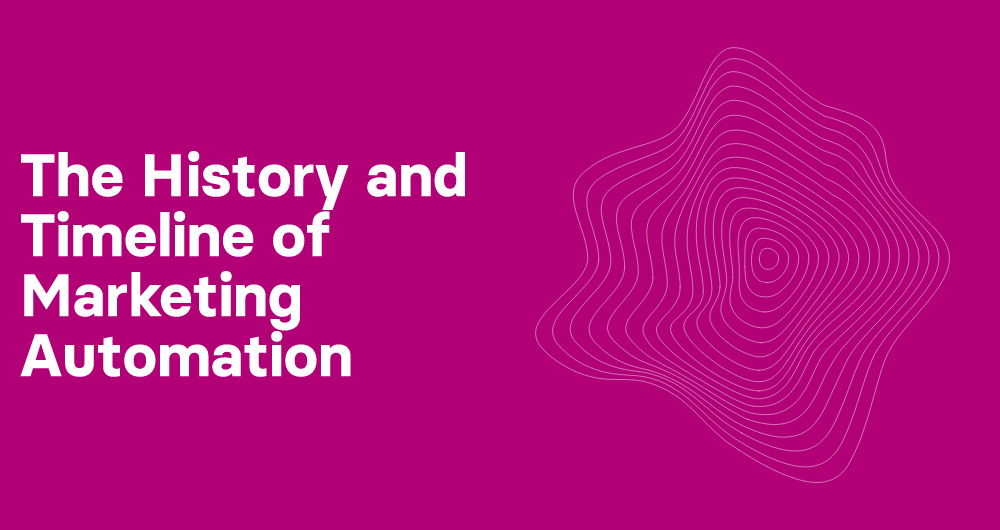 Marketing automation first came into existence in 1992. Yet, it was until the late 2000's when the marketing automation industry began to grow exponentially from a $225 million industry to a $1.65 billion industry in just five years.
It was in those five years that the industry saw over $5.5 billion worth of acquisitions being made by the likes of Salesforce, IBM, Adobe, and Microsoft.
While the early systems were primarily revolved around email alone, the marketing automation tools of today have become significantly more powerful. American Express, Intel, LinkedIn and many others now use marketing automation to send tens of millions of personalized emails, text messages, direct mail, and social adverts to their users based on their actions.
You might be wondering, how did this industry grow up, and when did it take its first steps? In this post, we'll look at the evolution and history of the marketing automation trend.
The First Marketing Automation Vendors
Most feel that marketing automation first burst into the scene when Unica was founded in 1992. However, this was merely scratching the surface; most businesses were not present online and the Internet was still in relative infancy.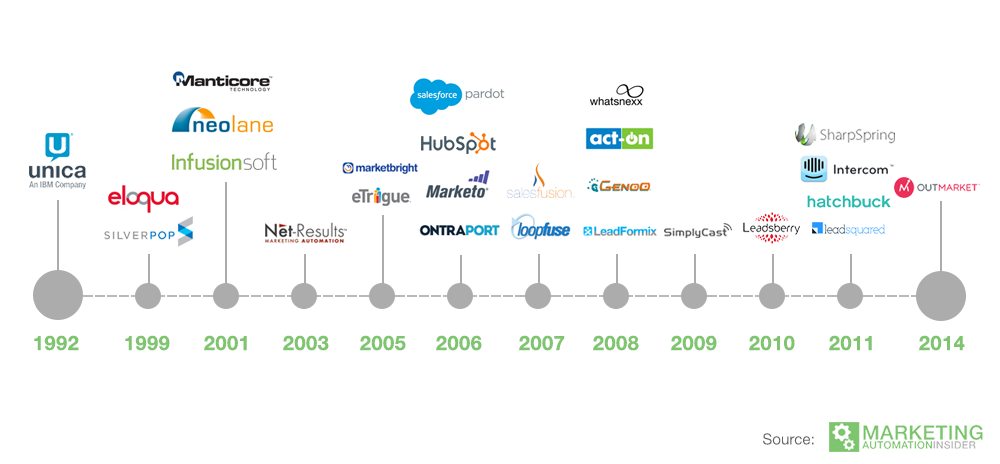 All of this changed in 1999 with the establishment of Eloqua. Over the next seven years, Eloqua's success inspired a number of competitors to enter the market. These included companies such as Pardot, Infusionsoft and Marketo.
The success of these companies was compounded by several simultaneous trends that emerged throughout the 90's and early 2000's. Not least of all was the increasing speeds at which the Internet could be accessed. Another was the ability for computers to handle such software.
With the increasing penetration of Broadband Internet between 2004 and 2009, more marketing automation tools began to be built or migrated to the cloud. So, we likewise saw the birth of many cloud-based tools such as Ontraport (2006), Hubspot (2006) and Act-On (2008).
Becoming All-in-One Sales & Marketing Software
The rise of social media caused marketing automation vendors to think beyond email marketing. With the number of social media users rising to just under one billion in 2010, it comes as no surprise in hindsight that companies such as Hubspot and Infusionsoft jumped onto this opportunity to integrate social marketing software into their systems.
At roughly the same time, other trends such as mobile commerce, cloud-based A/B testing, cloud-based landing page development, and webinars increased in popularity. With all of these different marketing tools and channels increasing in popularity, many marketing automation tools developed, integrated, and acquired their way to becoming all-in-one marketing and sales services.
The Acquisition Years (2010 – 2014)
In the four years between 2010 and 2014, there was over $5.5 billion worth of acquisitions made in the marketing automation industry. The largest of which was Salesforce's 'Russian doll' acquisition of ExactTarget for $2.5 billion, after ExactTarget acquired Pardot for $95 million.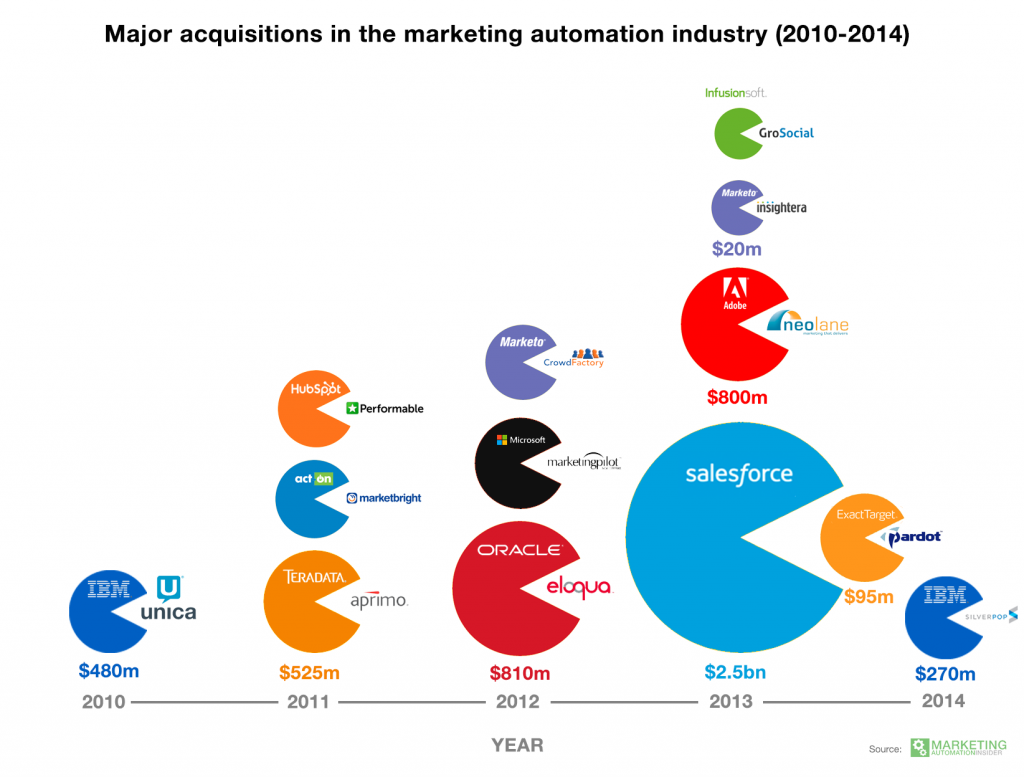 This market consolidation has led to the enterprise market being dominated by a small number of parent companies, such as Salesforce, Oracle, IBM, and Adobe.
Meanwhile the small business market has yet to see any major consolidation. While both Infusionsoft and Hubspot have made a few acquisitions, most of these appear to have been featured-led acquisitions, rather than to acquire market share.
This makes sense given the vastness of the small business market, and the fact that both companies are probably wiser focusing their efforts on expanding the size of the overall market, rather than increasing their share of what currently exists.
2015 & Beyond For Marketing Automation
I think it's fair to say that we've reached a point where mass-penetration of marketing automation software is no longer a probable event, but an absolute given.
Over the next few years, I think we'll see a few things happen. First of all, and most likely, the cost of marketing automation software will drop to a point where it's highly accessible to all businesses.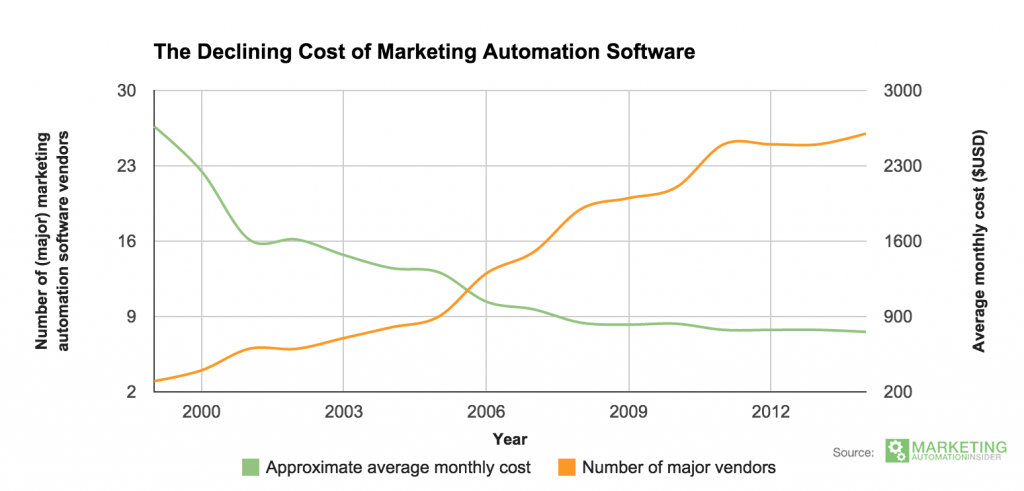 This will be due to the increased competition, in particular from the email marketing service providers edging into the market. While I'm limited in what I can say without breaking NDAs, I'll leave it at this: the next big wave of change in marketing automation is very likely to come from the ESP market.
Secondly, I think tool vendors will increasingly target niches within niches. Currently, there are two broad categories of marketing automation tools: small business tools, and enterprise tools. As more competitors have entered the space, we've started to see more targeted tools aimed at specific sectors within the small business market.
With the exception of a few leaders, like Infusionsoft, Hubspot, and Eloqua, many tools will have to pick their corner of the market and become extremely good at it.
Finally, we'll see more and more tools tackling the trends that are emerging in the wider digital landscape. Whether that's predictive analytics, mobile commerce, or wearable device marketing, the best prepared vendors will be those with active partner marketplaces. as the development partners will rise to the opportunity presented by building integrations and extensions.