6 Case Studies of Businesses Killing it With Marketing Automation
Marketing Automation Insider is supported by readers like yourself. We may earn an affiliate commission when you purchase through our links. Of course, this won't increase the cost of your subscription.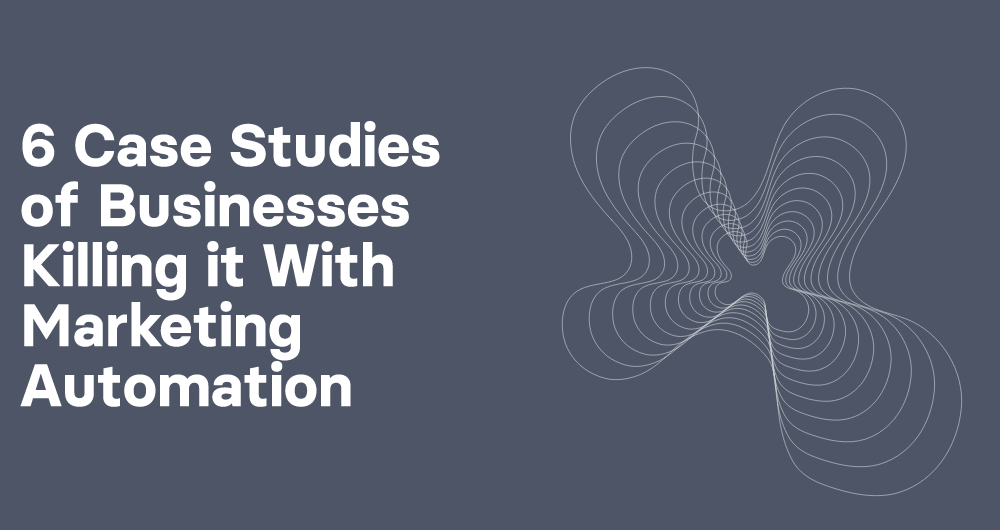 Marketing automation has the potential to boost content ROI, increase customer lifetime value, streamline lead generation, reduce support response times, produce better customers, and much more.
In this post, we'll take a look at seven different businesses that used marketing automation to give their bottom line a significant boost. We'll break down the problems they faced, the solutions they employed, and the awesome results they obtained.
1. Salon Success Strategies Triples One-Year Revenue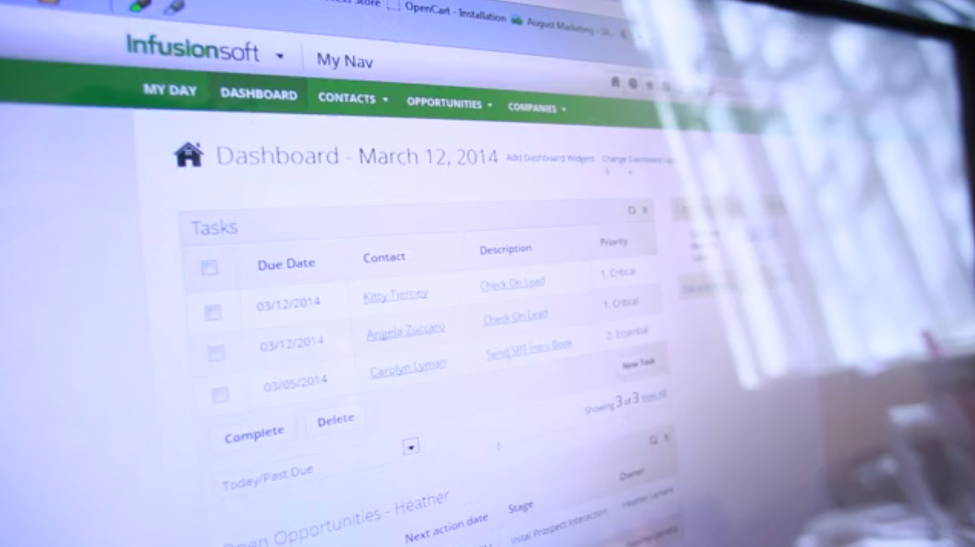 Tool used: Infusionsoft
Salon Success Strategies is a marketing agency that caters to salons and spas. The founder, Heather Lemere, started this business six years ago in 2009. She was sick and tired of 16+ hour workdays at her day job, and decided to leave it in favor of her entrepreneurial spirit.
The problem: For the first few years of running the business, Salon Success Strategies had significant trouble generating leads. Not only that, but the leads they were able to attract to attract were very rarely qualified or targeted to their business.
Furthermore, because their shopping cart software, email marketing system, and other marketing solutions were all on different platforms, administration was a huge burden.
The solution: Salon Success Strategies used Infusionsoft's broad range of features to get their act together. They started by organizing all of their important marketing systems into a single platform, resulting in instant productivity gains.
The company also took advantage of segmentation tools to tailor marketing campaigns to each prospect that went through the system. This allowed for better lead nurturing, increasing the quality of each lead that made it to the end of their sales cycle.
SSS also used lead scoring to focus efforts on their most conversion-ready leads.
The results: The personalized marketing campaigns, combined with their expansion into more varied content formats and distribution channels, created significant results for SSS. Within months they saw:
30% reduction in expenses
150% growth in subscriptions
300% growth in revenue from $200K in 2013 to $600K in 2014
40%+ decreased advertising spend
Heather is also reaping the benefits of more streamlined administration, as she now rarely works more than eight hours a day.
2. The Foundation Sees 500% Revenue Increase and 10% Better Customer Retention
Tool used: Ontraport
Dane Maxwell is a serial software entrepreneur, having started four digital companies even before reaching 27 years of age. With a ton of business experience under his belt, Dane began a coaching program for budding software entrepreneurs. Soon, he had already reached $150,000 in revenue with only 80 clients.
The problem: Dane was already making 6-figure revenue from his 80 clients without even a website. The only platform he used was a basic Google web form. If he was already banking that much without a website or any automation systems in place, imagine what could be done if he implemented a more comprehensive marketing program!
The solution: After taking the plunge and deciding to rely on Ontraport for his lead management, Dane launched The Foundation.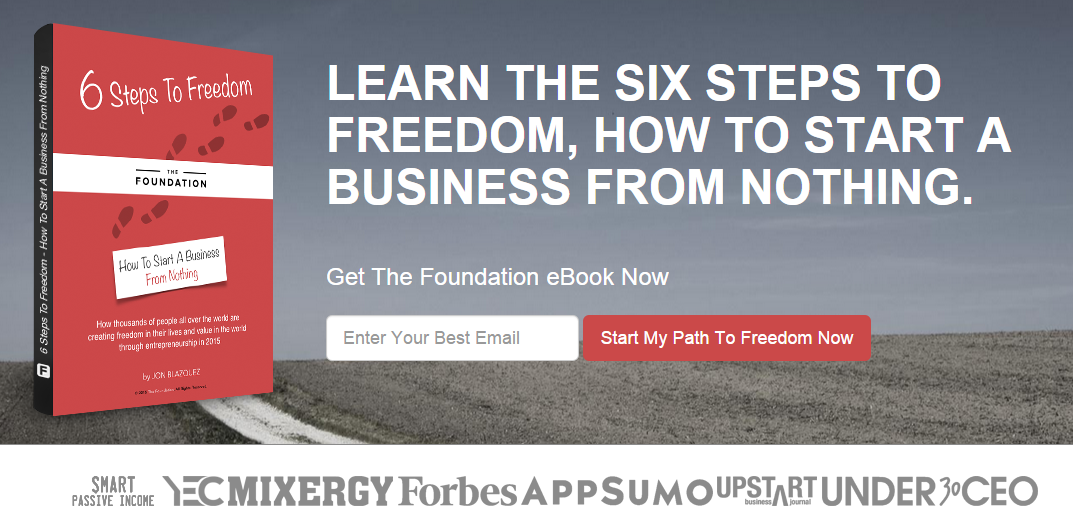 Dane used Ontraport's concierge done-for-you service to get an automated lead management system installed for him. Shopping carts, payment gateways, and even affiliate marketing for a quick sales boost were all set up.
The results : 12 months from when Dane started using marketing automation, The Foundation grew to three employees and saw the following results:
500% increase in revenue to $750,000/year
380% increase in number of customers
10% more customers retained
The Foundation has recently been getting some buzz in the investor world, and has also been featured on Forbes, Smart Passive Income, App Sumo, and other popular business publications since.
3. McAfee Quadruples Conversion Rate
Tool used: Eloqua/Oracle Marketing Cloud
We're all familiar with McAfee — the multibillion computer security company responsible for some of the world's most popular virus scan and removal tools. It's hard to imagine that such huge corporations have the same marketing & sales problems we experience, but they do nonetheless.
The problem: Unlike Salon Success Strategies, McAfee already had a huge number of leads. So many, in fact, that sales started complaining that the marketing department focused too much on quantity and too little on quality. Sales was right on the money, too: conversion rates were worryingly low.
The solution: McAfee turned to Oracle Marketing Cloud (now known as Eloqua) to help align their marketing and sales departments and reach the common goal of more customers.
So instead of just handing over any and every lead off to sales, marketing began to segmenting leads into personalized follow up campaigns. They tracked the progress of the nurtured prospects with lead scoring, and only forwarded the most conversion-ready leads to sales.
The results: Initially, the automated lead management was limited only to the North America department. As time went on, McAfee eventually rolled out the strategy changes worldwide. The data proved their choices to be the right ones:
4x increase in conversion rate
35% less leads (but because each lead was more qualified than before, the time invested in each lead decreased and the value of new customers increased)
A less tangible but nonetheless important result was increased cohesiveness between the sales and marketing departments. Thanks to marketing automation, the two were able to begin working in tandem to achieve the common goal of more revenue.
4. Thomson Reuters Decreases Lead Conversion Time by 72%
Tool used: Eloqua/Oracle Marketing Cloud
Thomson Reuters is another billion plus dollar company that's been able to use marketing automation to its advantage.
The problem: Similar to others on this list, Thomson Reuters failed to target their marketing campaigns to specific leads. As a result, their marketing strategy consisted more of a "batch-and-blast email approach". Needless to say, this doesn't cut it when it comes to generating quality leads.
The solution: Like McAfee, Thomson Reuters chose Eloqua to give their lead nurturing strategy a boost. They used lead scoring to see how close each lead was to the sale, which allowed marketing to personalize messages sent to leads based on how far along they were in the sales cycle.
Each lead was fed a steady stream of targeted content until its score was high enough to be passed on to sales. Thomson Reuters even created special sales teams to move the most qualified leads at a faster pace through their pipeline.
The results: Also like McAfee, Thomson Reuters saw both intangible and tangible results. Not only did they get the numbers you see below, but their marketing and sales departments also began working as two complementary parts of a smooth, well-oiled machine.
72% lower lead-to-conversion time
175% increase in revenue from marketing dept.
23% increase in high quality leads transferred from marketing to sales
5. Azuqua Streamlines Reputation Management
Tool used: Azuqua
This case study is particularly interesting because it involves a company that used its own product to effect results.
That's right. The company in question, Azuqua, is actually a marketing automation software vendor themselves. It's not often that you see companies writing case studies about their own use of their product online, which is why it's so awesome to see Azuqua doing so.
The problem: Probably the worst feeling in the world as an entrepreneur is when someone speaks ill of your business. Although it's hard to prevent negative mentions on social media, there is a way to fixthem.
Whenever Azuqua discovered a negative mention about their company online, they saw an opportunity: an opportunity to turn a displeased customer into a loyal supporter.
The solution: Azuqua started to put their own automation tool to use. A feature inside the tool, named Flõs, allowed them to create a cloud process that automatically tracked down negative Twitter mentions. This allowed their customer support team to prioritize better and respond to unhappy customers very quickly.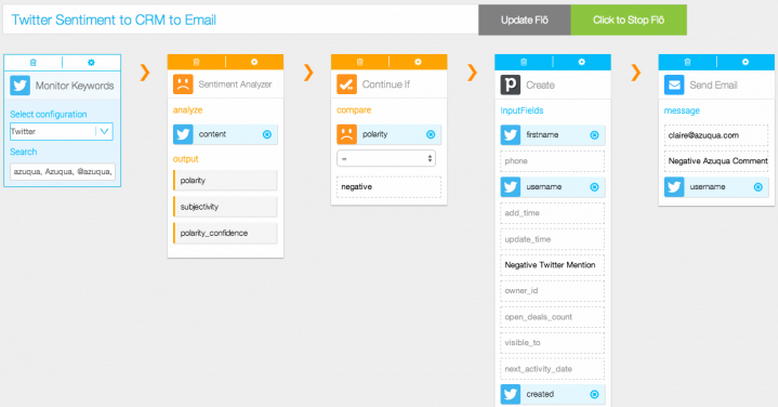 The results: The results of this automation flow were twofold. One, because the speed at which they were able to resolve problems was so fast, the company was put in a positive light that bolstered their reputation & connection with customers.
Secondly, the fact that most of the process was completely hands-off freed up time for the company to focus on other aspects of their business, like marketing and lead generation.
Although there are no tangible metrics to be seen here, this case study is nonetheless significant.
6. Lean Logistics Doubles Marketing Productivity
Tool used: Marketo
The last case study we'll look at in this post involves one of the most important aspects of running a business: productivity. The more you're able to produce with a given amount of time and resources, the more your business will grow.
One business that's been using marketing automation to literally skyrocket their productivity is Lean Logistics, a provider of transportation management systems. They're the guys who help large companies to manage and organize supply chains, shipping, and product distribution.
The problem: Lean Logistics never had a problem with the effectiveness of their marketing strategy — that was going fine. Their real issue was the amount of time it took to actually create and execute campaigns.
Email campaigns would take 3 days to set up and the webinars & trade shows took six weeks to prepare for. Not at all an acceptable level of productivity.
The solution: Marketo's user-friendly interface (something we've highlighted in our review of the tool) was what did the trick for Lean Logistics. The company moved all their marketing systems to one platform, and were able to use the email & landing page templates and campaign builder to work faster and see instant productivity gains.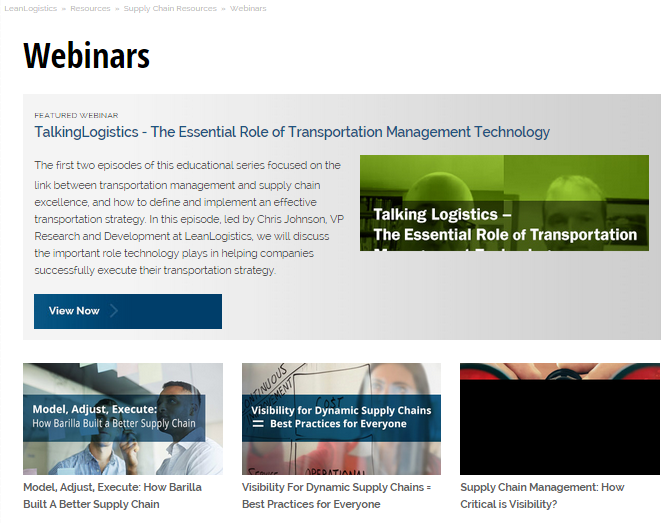 Everything — from repurposing content assets to monitoring the progression of their trade show registrants — became so much more streamlined.
The results: The productivity gains for LeanLogistics's marketing team were enormous.
100% more campaigns created & executed in the same amount of time
webinar & trade show preparation went from taking six weeks to 1-2 days
email marketing campaigns took two days; now, they take two hours
That's a huge amount of time recovered; just think of the growth you could spark in your own business if you were able to save as much time.
Wrapping Up
None of the companies we've profiled above are exceptional or unusual cases. These are not extraordinary or super-special results in any way.
These are results that you could be seeing with your business if you used marketing automation. You could be the one with 500% revenue increase, the 400% conversion rate boost, or the huge productivity gains, if only you too turned to marketing automation.
Ready to take the plunge? See what automation tool is best for your business here.