2 Best email marketing automation tools for Enterprise
Marketing Automation Insider is supported by readers like yourself. We may earn an affiliate commission when you purchase through our links. Of course, this won't increase the cost of your subscription.
Email marketing software can alter the course of your growth by sending the right message to the right people at the right time – on autopilot.
But with 670+ email marketing tools available, finding the best software can be overwhelming. That's why we've meticulously researched and tested over 100 email marketing platforms for you.
Using a combination of interviews with 1,782 marketers, results from our extensive annual testing of email marketing platforms, and a lot of data crunching, we've compiled a list of recommendations to meet a range of needs.
2 Best email marketing automation tools for Enterprise in 2023
Scroll horizontally to compare tools
Scroll horizontally to compare tools
ActiveCampaign
Enables businesses to create optimized customer experiences.
Website
Scroll horizontally to compare tools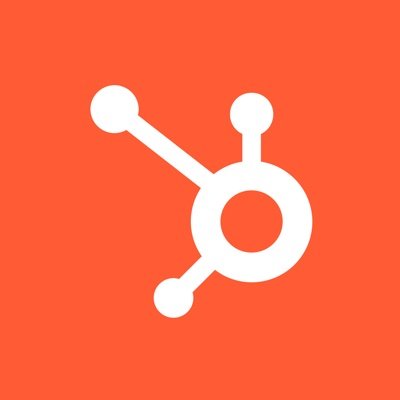 HubSpot
Small and medium ecommerce businesses that want to generate sales on autopilot.
Website
Best for
Best for
Best marketing automation software for small to medium-sized businesses
Best for
Best for B2B service companies
Pricing for 2,500 contacts
Pricing for 2,500 contacts
Pricing for 2,500 contacts
We've uncovered the strengths and weaknesses of these popular email marketing services in 9 key areas: cost, deliverability, integrations, ease of use, reporting, security, advanced features, CRM, and support.
Read on to finally find the optimal tool for your email marketing efforts.
Best marketing automation software for small to medium-sized businesses
With over 150,000 customers, it's not surprising that ActiveCampaign was the most commonly mentioned tool in our survey of email markering software options for 2023.
ActiveCampaign has earned its reputation as a leading marketing automation tool by focusing on building a world-class product that provides multiple solutions for B2C, B2B, and e-commerce businesses from around the globe.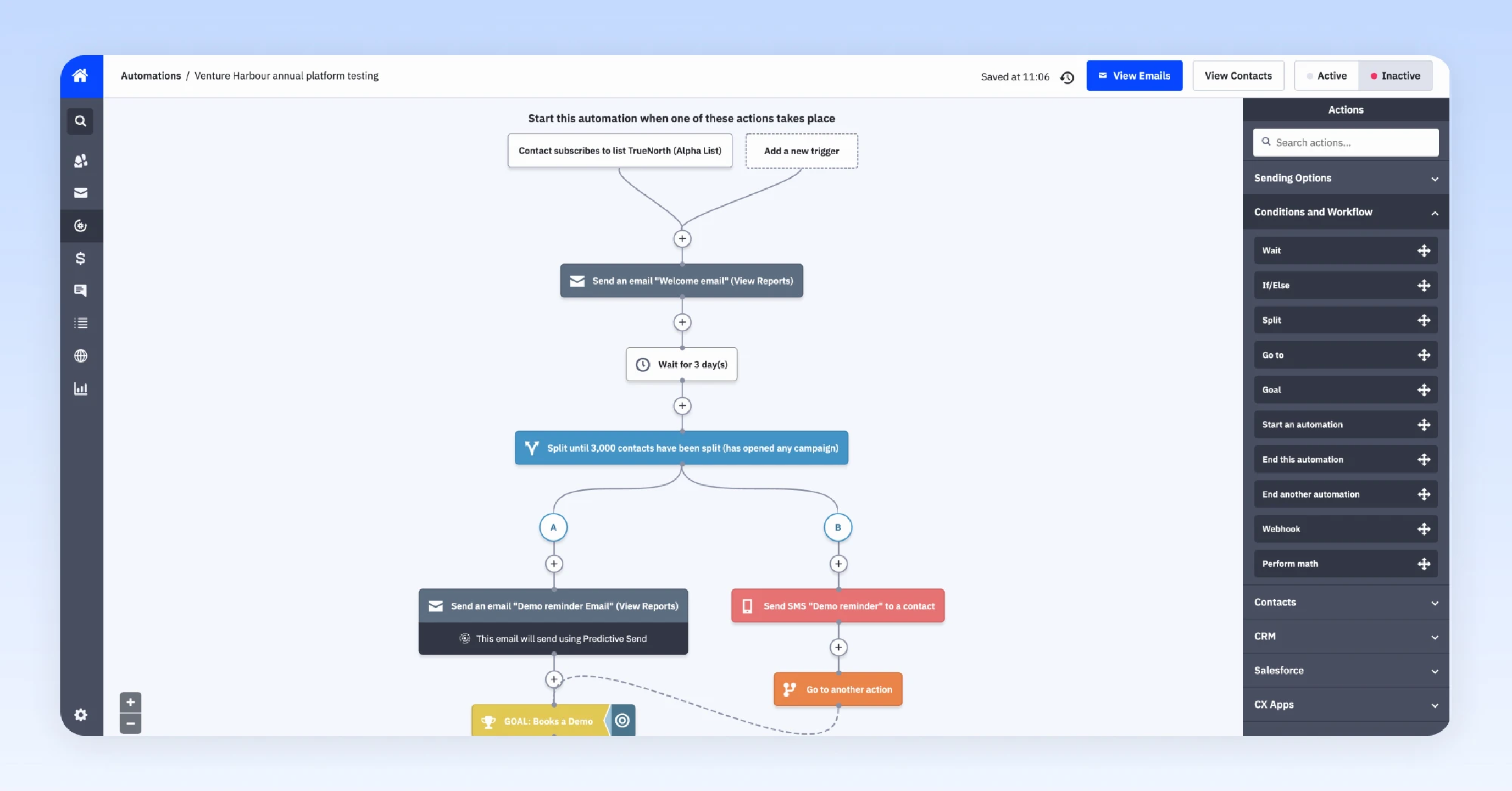 ActiveCampaign's automation builder is as simple to use as a flowchart or mindmap
It's by far the most advanced email marketing platform on our list, with machine learning and predictive tools enabling marketers to work smarter and deliver higher ROI.
Often credited with pioneering visual marketing automation, ActiveCampaign is impressively intuitive and easier to use than some tools on our list.
As an all-in-one marketing tool, ActiveCampaign comes with a built-in CRM system to manage your sales, live chat, and of course, email campaigns.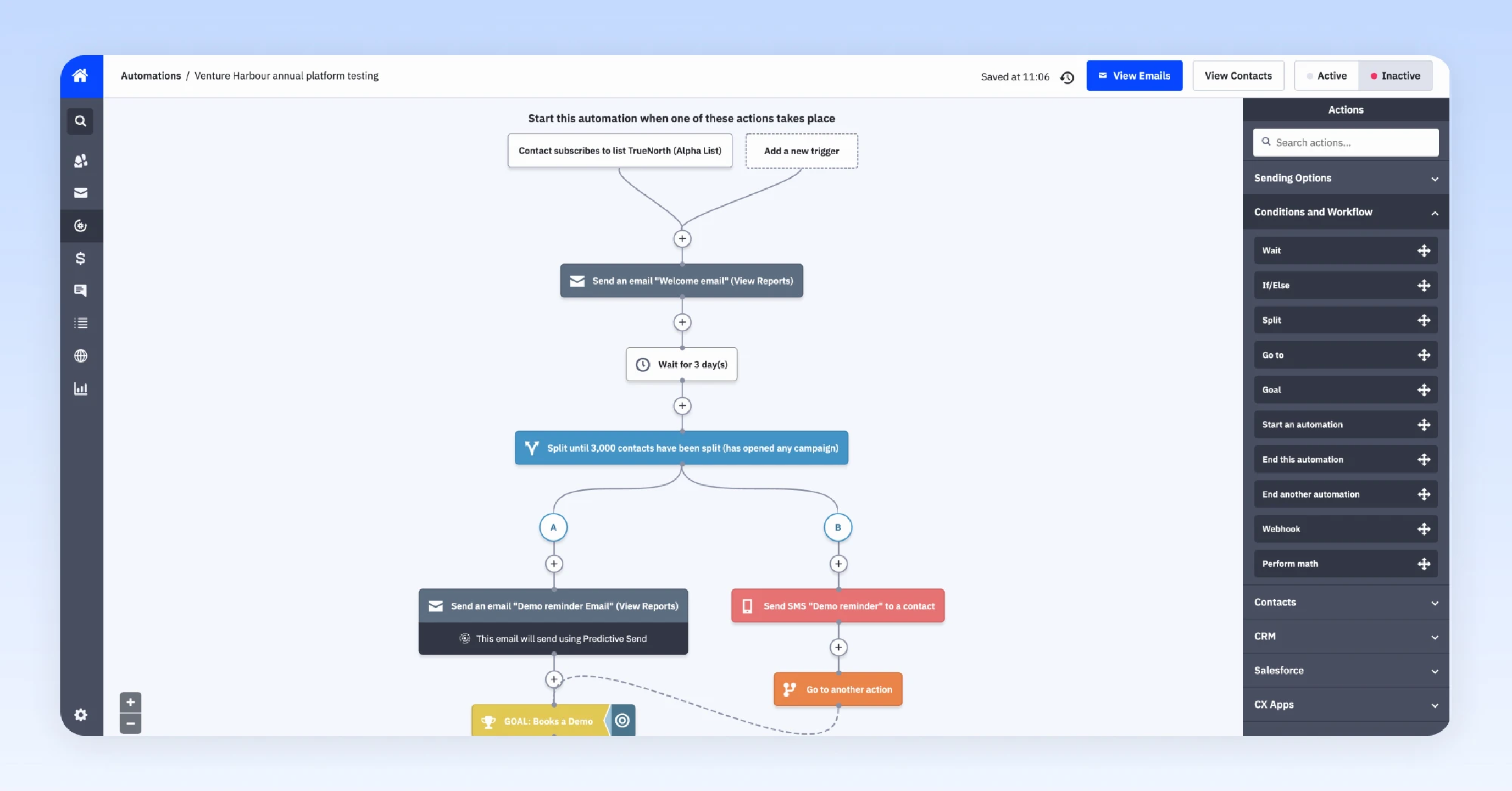 A built-in sales CRM connects with ActiveCampaign's powerful automation engine
As an all-in-one marketing tool, ActiveCampaign comes with a built-in CRM system to manage your sales, live chat, and of course, email campaigns.
ActiveCampaign's Pricing
You might think all these features come at a hefty cost. Yet, starting at only $9 a month, ActiveCampaign is reasonably priced and more affordable than many of the tools on this list.
ActiveCampaign's Pros
All-in-one platform

You can build courses, landing pages, websites, membership sites and manage products directly inside ClickFunnels.

Unique triggers and actions

As a bi-product of it's all-in-one platform, ClickFunnels has unique triggers and actions in their automation workflows, like auto-enrolling people into courses or upselling products.

Community

ClickFunnels have an active user community (online and offline) with more than 100k customers throughout the year. There is also a wide network of ClickFunnels consultants available for managed campaigns.

Automation split testing

This feature enables you to A/B test entire sequences against each other, rather than just test individual emails (which is offered by most marketing automation tools).
ActiveCampaign's Pros
CRM

ActiveCampaign's marketing automation is particularly powerful because ActiveCampaign has an in-built CRM system. This CRM, however, is not as good as standalone platforms like PipeDrive or Salesforce – though we feel this is a reasonable trade-off for ActiveCampaign's automation features.
ActiveCampaign Verdict
If you're looking for a market-leading email marketing solution, there's no denying that ActiveCampaign has long occupied that position.
Try ActiveCampaign today with a 14-day free trial — no credit card required.
Best for B2B service companies
Hubspot are an extremely popular, yet massively over-priced, marketing automation tool aimed at small businesses.
In our recent analysis of the marketing automation industry, we found that Hubspot own a 41.6% share of the small business automation software market, positioning them ahead of Infusionsoft as the market leaders.
HubSpot's Pricing
With a lot of features and market renown, Hubspot offers a lot of flexibility and you can have confidence in your marketing automations. However this comes at a hefty price tag, with prices starting at $200/mo.
To find out which plan is right for you, check out our full HubSpot pricing breakdown.
HubSpot's Pricing
HubSpot's Pros
The platform is easy to use

Hubspot have a beautifully designed product. Given the complexity of marketing automation software, they have done a great job of making it intuitive for small business owners with little or no coding ability.

7-day free trial

Most marketing automation tools do a pretty bad job of mitigating the customer's up-front risk (high setup fees, no free trials, and long contracts). While Hubspot do require high setup fees and a contract, they are one of the only tools to offer a free trial.

Educating their users

Perhaps the most impressive aspect of Hubspot is the extent to which they invest in educating their customers. Their blog provides an exceptional place for business owners to learn about online marketing.

A place for all your tools

Hubspot is convenient in that it has everything in one place. While you could get 99% of Hubspot's functionality for free (or cheap) elsewhere, it's handy having it all in one place.
HubSpot's Cons
Requires a 12-month contract

Hubspot contracts are billed annually by default. Ultimately, marketing automation is something that you're likely to use for many years, so this is not too big an issue. However, it would be preferable to have a rolling month-on-month contract.

No A/B testing in their basic or PRO package

If you want to run split tests, you're going to have to upgrade to their $2,400/month package. Given that A/B testing is one of their quickest and most effective ways to improve the performance of online campaigns, it seems odd that they wouldn't offer this at lower levels to help small businesses generate better results (and additional revenue).

Very steep price creep

While Hubspot do have a $200/month package, marketing automation and CRM integration are only offered at their $800/month package, which includes only 1,000 contacts. As your requirements and contacts grow, so does this cost (quite rapidly).

Most tools offered by Hubspot are free elsewhere

Hubspot offers a well-designed set of tools, but there aren't any silver bullets in there that couldn't be found elsewhere for free or cheap.

Technical support is paid

Implementing Hubspot is fairly straight-forward, but if you do require ongoing technical support, you'll have to pay for it.
HubSpot Verdict
Hubspot are the most popular marketing automation tool for small businesses. While their product is excellent, you do need to be aware of price creep, as Hubspot's pricing gets expensive as you require additional contacts.
Last checked by Marketing Automation Insider: 23/05/2023
First reviewed by Marketing Automation Insider: 11/04/2023