8 Best Marketing Automation Blogs to Follow
Marketing Automation Insider is supported by readers like yourself. We may earn an affiliate commission when you purchase through our links. Of course, this won't increase the cost of your subscription.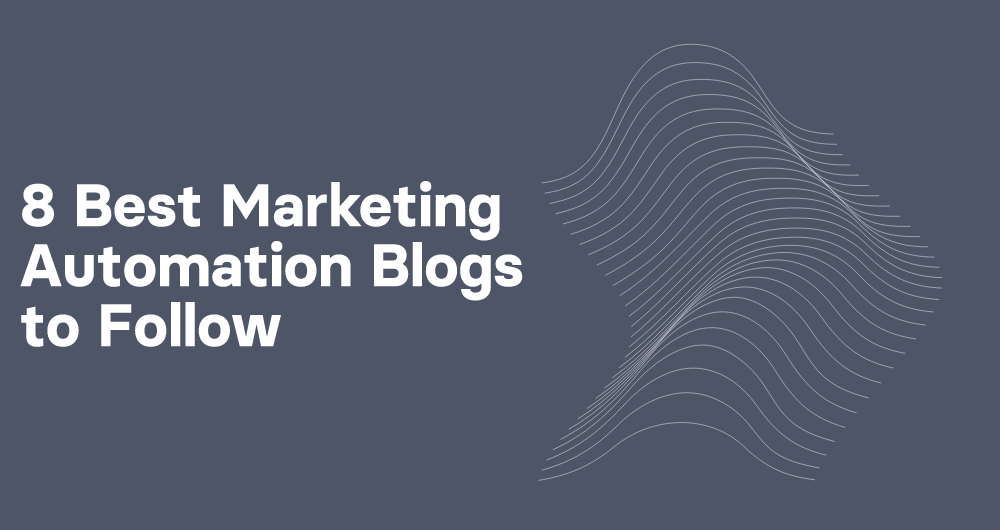 When I was first introduced to marketing automation several years ago, I was surprised by the lack of blogs and communities dedicated to sharing marketing automation campaign ideas and helping marketers learn from one another.
This was the primary reason we decided to create Marketing Automation Insider. Fortunately, there are now many great blogs on marketing automation – mostly run by the vendors. Below are eight of the best blogs, in my opinion, to learn about marketing automation.
While Infusionsoft's content is relatively basic and aimed at entry-level marketers, they do feature a lot of interesting case studies written by Infusionsoft users and consultants. On top of their (almost) daily educational content, they also feature a campaign of the month which tends to be quite insightful.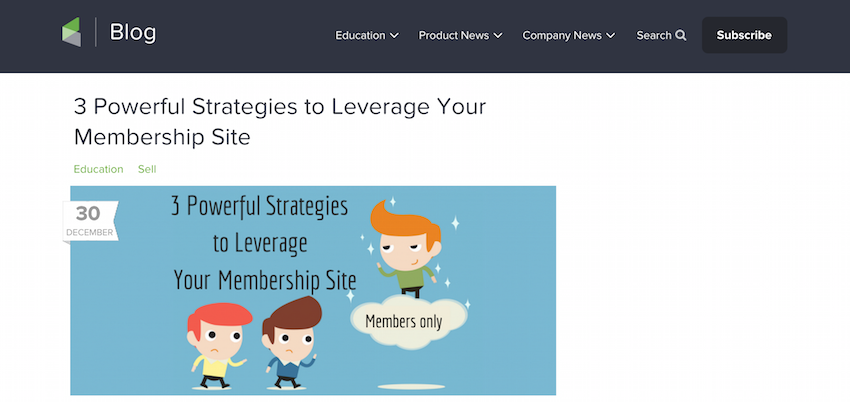 One thing that I do quite like about the Infusionsoft blog is that their content is categorised into four categories; attract, sell, wow, and success mindset. This makes it easy to get inspiration and ideas on the areas that you need the most help with.
Go to the blog | Get the RSS feed | Follow on Twitter
While David's website may look like a relic from 1995, his content certainly makes up for the garish design. David Raab is the author of the popular B2B Marketing Automation Vendor Selection Tool (VEST) report, which publishes interesting data on the industry each year.

Go to the blog | Get the RSS feed | Follow on Twitter
Ontraport's blog is another great one for small business owners to subscribe to. While similar in style to Infusionsoft's content, I generally find Ontraport's blog posts a little bit more insightful and advanced.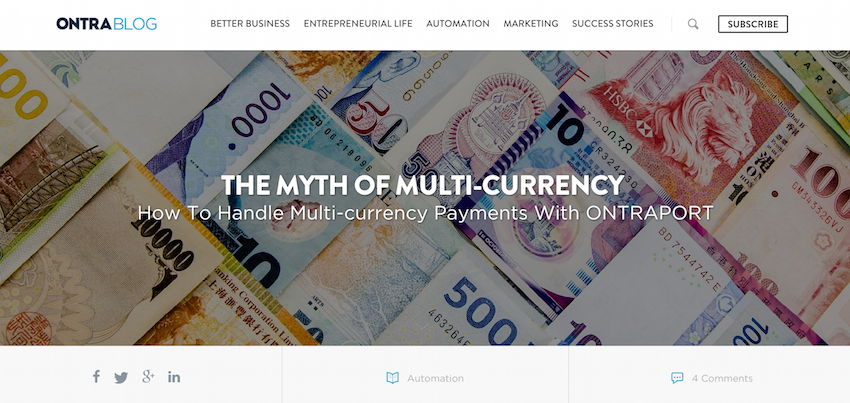 They have a good balance on content related to their software, and general content, so whether you're a customer or not you'll find plenty of interesting articles on their site.
Go to the blog | Get the RSS feed | Follow on Twitter
Given Eloqua's dominance in the enterprise marketing automation market, it should come as no surprise that their blog (now called the Oracle Modern Marketing Blog), is one of the best sources of information on enterprise marketing automation.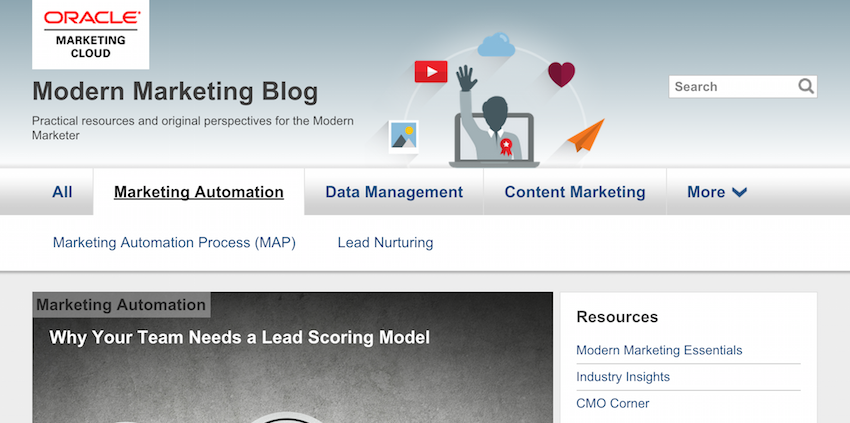 With a wide range of articles covering everything from data management, to marketing automation and cross-channel marketing automation, the Eloqua blog is a great place to keep up to date with the developments in online marketing for large corporations.
Go to the blog | Get the RSS feed | Follow on Twitter
The Act-On blog has a wide variety of posts that are ideal for smaller businesses and entrepreneurs. They share a lot of insights specifically on the Act-On Software, but the advice is generally objective enough to be useful to most small businesses and entrepreneurs.

With content ranging from productivity tips, to specific marketing automation sequences, their blog has a good balance of articles aimed around growing your business.
Go to the blog | Get the RSS feed | Follow on Twitter
With a dozen or so contributors, the Silverpop blog has a good variation of content around marketing automation and digital marketing in general. Their content is generally aimed towards marketing managers in medium-large businesses.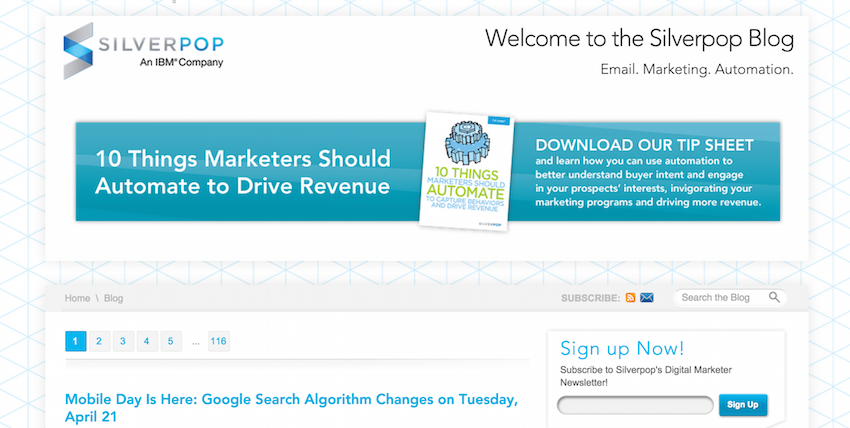 Silverpop generally post a few times per week, with the occasional guest expert interview. You can learn more about their blog using the links below.
Go to the blog | Get the RSS feed | Follow on Twitter
Marketo have one of the most popular blogs in the marketing automation industry. With over 250,000 followers across their social media profiles, you can be sure that their content is well-received.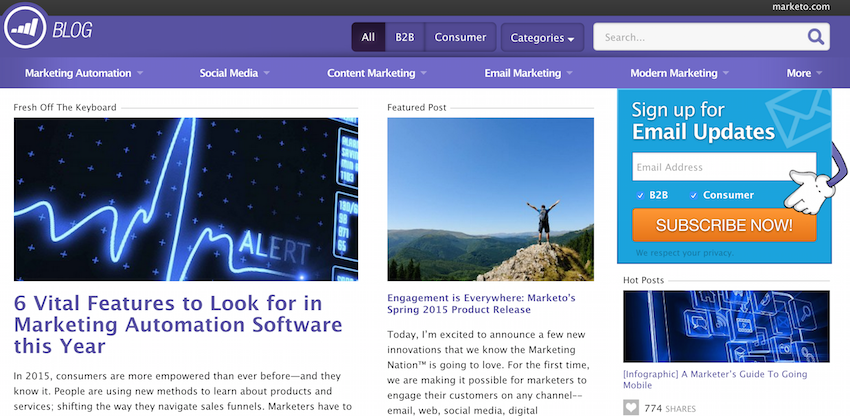 Marketo's content writers are great at taking larger and more complex marketing concepts and break them down in easily understandable posts.
Go to the blog | Get the RSS feed | Follow on Twitter
With daily content from the Salesforce team, Pardot's blog is another great source of marketing automation insights with a strong bias towards increasing sales efficiency and effectiveness.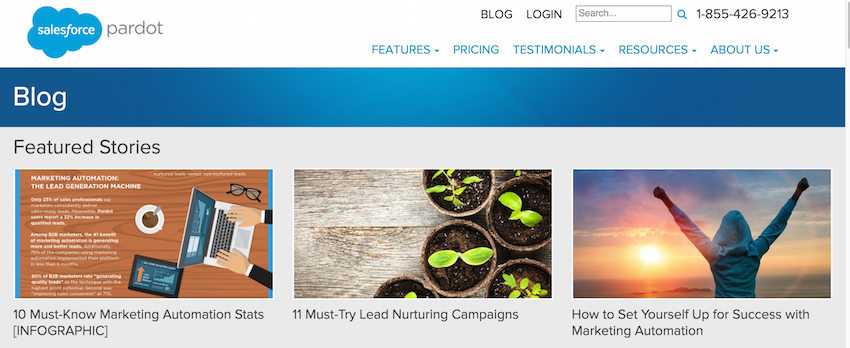 Go to the blog | Get the RSS feed | Follow on Twitter
I'm a little bit biased here, but with lots of fantastic insights from experts in the marketing automation field, to case studies by companies using marketing automation software, Marketing Automation Insider is becoming an interesting collection of insights on marketing automation.
As one of the only independent (non-vendor) blogs solely dedicated to marketing automation, we promise to keep you updated on the best tips and tricks for getting the most out of your software.
If you'd like, you can subscribe to our blog using one of the following:
Get the RSS feed | Follow on Twitter