12 Ways to Grow Your Agency
Marketing Automation Insider is supported by readers like yourself. We may earn an affiliate commission when you purchase through our links. Of course, this won't increase the cost of your subscription.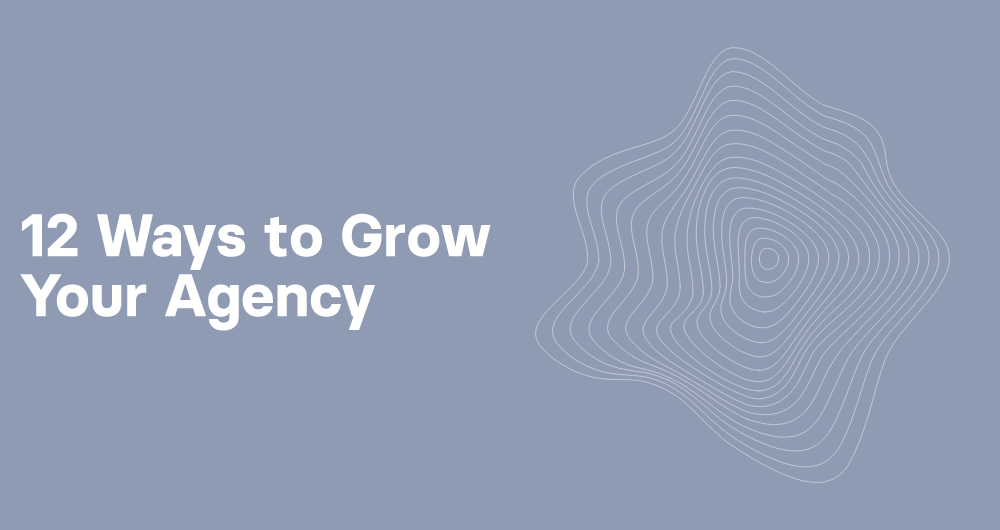 Through running Venture Harbour, I've experienced many of the challenges that come with running a consulting agency.
Whether your biggest challenge is generating new leads, converting them, managing clients, or retaining them, there are plenty of ways that marketing automation software can take some of the weight off of your shoulders.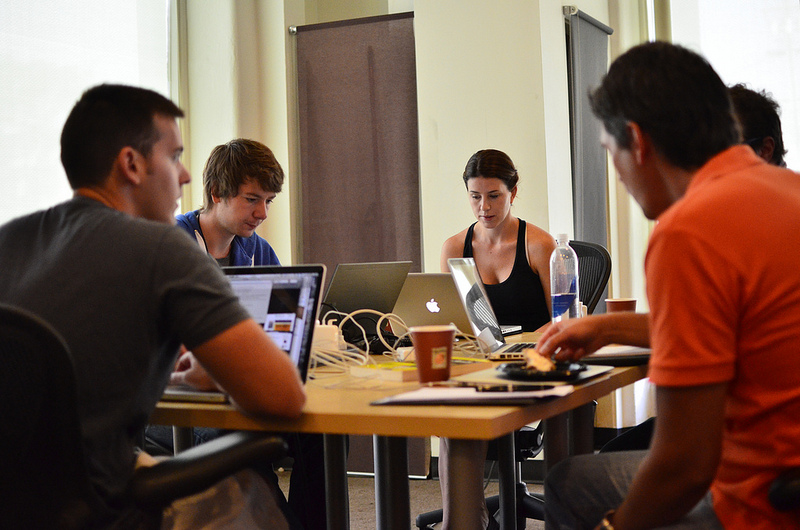 In this post I want to share twelve specific ways that you can use marketing automation to streamline your consulting service. First of all, though, you need to have the right tools for the job.
Which tool is best for agencies & consultants?
While most marketing automation tool vendors claim to serve all types of businesses, the reality is that some tools are better suited to certain types of businesses than others.
As an agency or consultant, you'll want to be particularly mindful of:
How much will the software cost for your current number of contacts, and the number of contacts you expect to have in one, two, and three years time.
Will the software integrate with your existing CRM, accounting, and project management software?
Will you have the ability to create sub-accounts for clients?
While our free tool finder can help you narrow down the right tool for your business, there are likely to be three options worth considering:
Ontraport – By far the most affordable and scalable marketing automation tool. With no setup fees, and the ability to have 100,000's of contacts for a fraction of what other tools would charge, Ontraport's one of the most popular choices for consultants.
Infusionsoft – With over 15,000 clients and 50,000 users, Infusionsoft are the most popular marketing automation provider for small businesses. Their platform is beautifully designed and has better integration with third-party tools than Ontraport. With similar pricing to Ontraport, they're also a very affordable option for agencies and consultants.
Hubspot – Hubspot are perhaps the best-known vendor in the small business automation space. While their product is very well-designed, I find it rather expensive compared to the two options above. While their entry package costs $200/month, this is only for a maximum of 100 contacts. To put it into comparison, Hubspot charge $2,400/month for 10,000 contacts, while Ontraport charge $297/month for 25,000 contacts.
With an idea of which software might be best for your agency, let's move on to how automation can help you scale and grow your consulting services.
I've divided the following twelve tips into four sections: attracting clients, converting clients, managing clients, and retaining clients.
Attracting Clients
Marketing automation software is no silver bullet for opening the floodgates on client leads, but it can free up a lot of time by automating parts of your lead generation strategy.
1. Automate your content marketing strategy
Most agencies and consultants plug away by sporadically posting blog posts and the occasional white paper, in the hope that potential clients will stumble across them and get in contact.
There's nothing wrong with this approach, but imagine the following scenario:
A potential lead reads a blog post on your site on how to generate press coverage.
They leave a comment, providing you with their name & email address.
An automated (personalized) email is sent to them about your PR services.
They explain that they're not ready to become a client for another 3-4 months.
The automation software puts them into a 'nurturing sequence' that sends bi-weekly emails educating them on the benefits of an external PR service, what to consider, and other tips on generating PR coverage.
After 3 months, an automated follow-up email is sent asking if they'd be ready to arrange a call to discuss your PR services.
If you also offered social media marketing, content marketing, and SEO services you could create custom nurturing sequences for each service. Whether you had 5, 50, or 500 leads in the pipeline, they would all be dealt with in this way.
This laser-targeted approach means that content is re-purposed in an intelligent way to increase the likelihood of leads converting with you.
2. Automate social media posting
One of the easiest and most obviously automatable aspect of your online marketing strategy is your social media posting strategy.
I won't go into whether social media should or shouldn't be automated here, as that's an article for another day. Assuming that you are open to the idea of at least automating certain aspects of your social strategy, how can it be done?

One option is to use a combination of tools like IFTTT, Buffer, and Feedly to automatically gather potential blog posts to share and schedule them. You could even throw Snip.ly into the mix to add a call-to-action from any articles you share, driving traffic back to your site.
Certain marketing automation tools offer a more elegant approach, whereby you can set up automatic alerts for things you might want to share, and then automatically share / schedule them through your various accounts.
3. Make your blog content dynamic
Last week, James Scherer from Wishpond.com wrote a great post about how Wishpond.com use marketing automation software to display dynamic blog content to their visitors based on each user's previous history on the site.
For example, when a visitor downloads a whitepaper on the Wishpond website they have to fill out which sector they're in. If someone mentions that they're in the real estate sector, a cookie will be dropped onto their computer, which ensures that when they revisit the Wishpond site they will see content related to real estate marketing.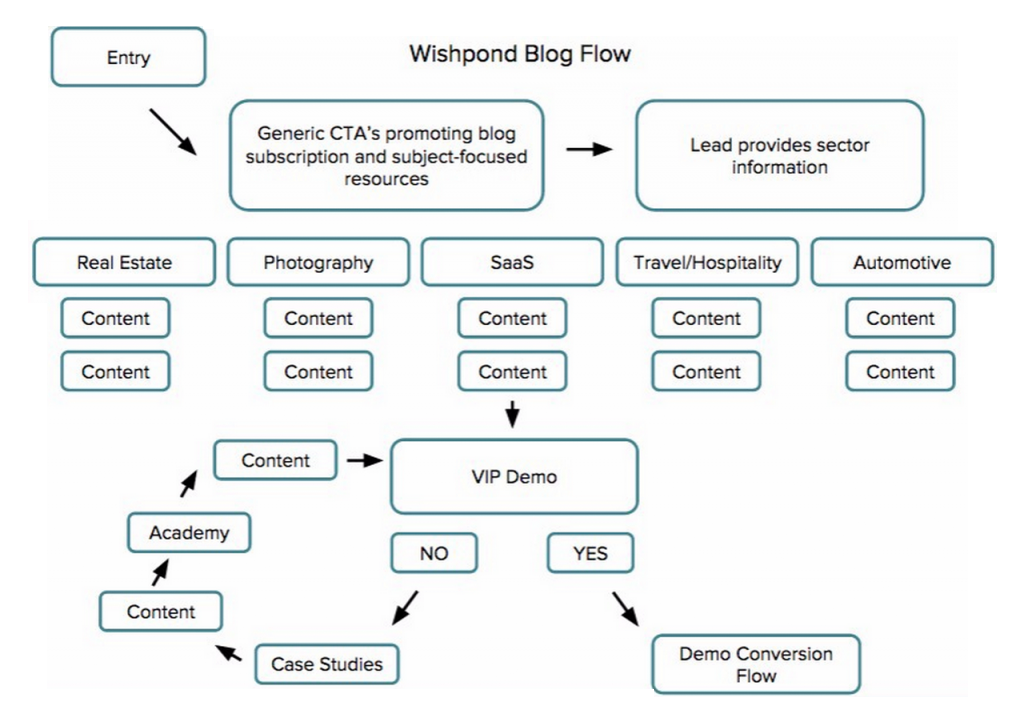 Needless to say, this increase in relevancy results in an increase in leads.
For an agency with several different services, you could replicate this strategy by only showing content relevant to what a visitor is interested in, or for where they are in the buying cycle.
Converting Clients
Having a constant stream of leads is not always as good as it seems. If your leads are low quality, you can end up wasting valuable time trying to qualify them.
One of them most valuable aspects of automation software for agencies, in my opinion, is in automating your lead qualification process, as it enables you to remove human error and time wasted on low-qualify leads.
4. Automate drip campaigns for lead nurturing
What do you do when you receive a lead that isn't sales-ready, but could be in several months? You put them into a drip campaign.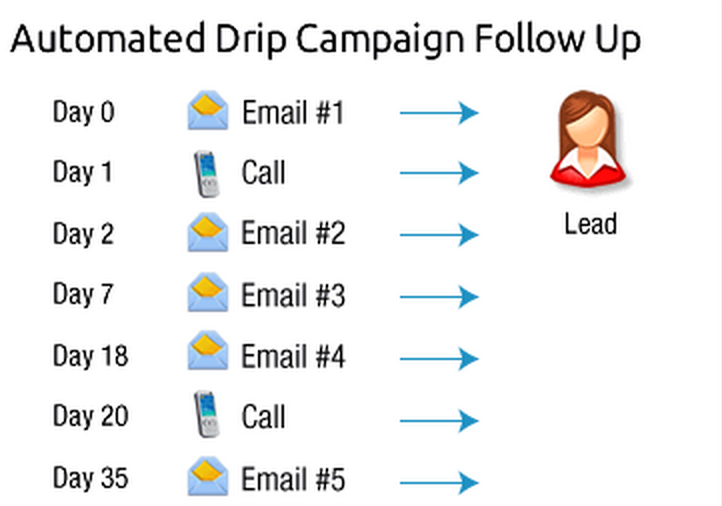 As the name suggests, drip campaigns work by sending your leads a pre-built sequence of emails over a certain time, with the aim of nurturing them to become sales-ready.
5. Reduce your response times
A study from Harvard found that companies are seven times more likely to qualify a lead when they respond to enquiries within an hour, compared to those that responded even an hour later — and more than 60 times as likely as companies that waited 24 hours or longer.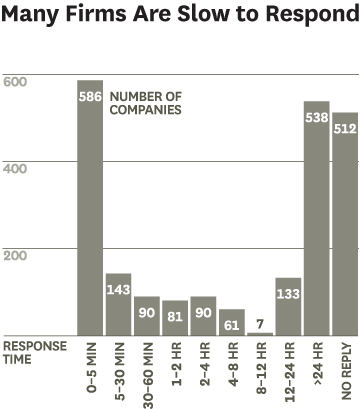 Despite this, most companies are unintentionally slow to respond. This is another instance where automation can make human error obsolete, by creating sequences that respond to all leads that match certain criteria within an hour of receiving an enquiry.
6. Don't waste time qualifying leads
Most leads are, sadly, a waste of time. The difficulty is in knowing which ones are wasteful and which ones aren't.
Using lead scoring, you can pre-qualify all of your leads to ensure that your team only spend time on the leads with the highest value or likelihood to convert.

Managing Clients
In this section, we'll walk through some of the ways that marketing automation can help with the day-to-day operations of running an agency and managing clients.
7. Automate client payments & late paying follow-ups
Where possible, you should aim for prevention over cure with late payments.
One of the best preventative measures for this is to simply use a recurring billing service that sets up an automated direct debit agreement with your client's bank or credit card.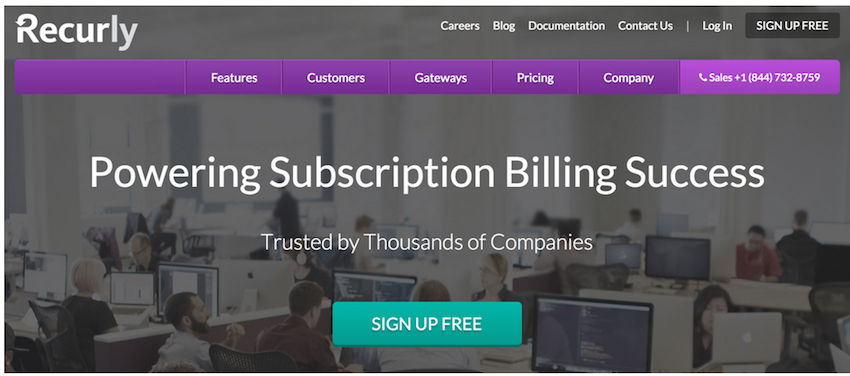 Recurly is a great service, and integrates with most marketing automation providers.
If, on the other hand, you're invoicing your clients manually using a service like Freshbooks or Xero, you can create automated email sequences that automatically follows up with clients if invoices are still unpaid after certain time intervals.
8. Automating the client on-boarding process
When a new client comes on board, you'll likely need a number of things from them to get up and running.
Whether it's Google Analytics access, brand guidelines, or details of your point of contact, these things can eat into time that you could be using to get some early momentum. So, how can we automate the on-boarding process?
After speaking with a friend who runs a large digital agency in London, I discovered the client on-boarding survey.
Using SurveyMonkey, this agency would send every new client a survey that asked for all of the important information the agency needed, along with a checklist containing points such as 'Have you granted Google Analytics access to the following email addresses'.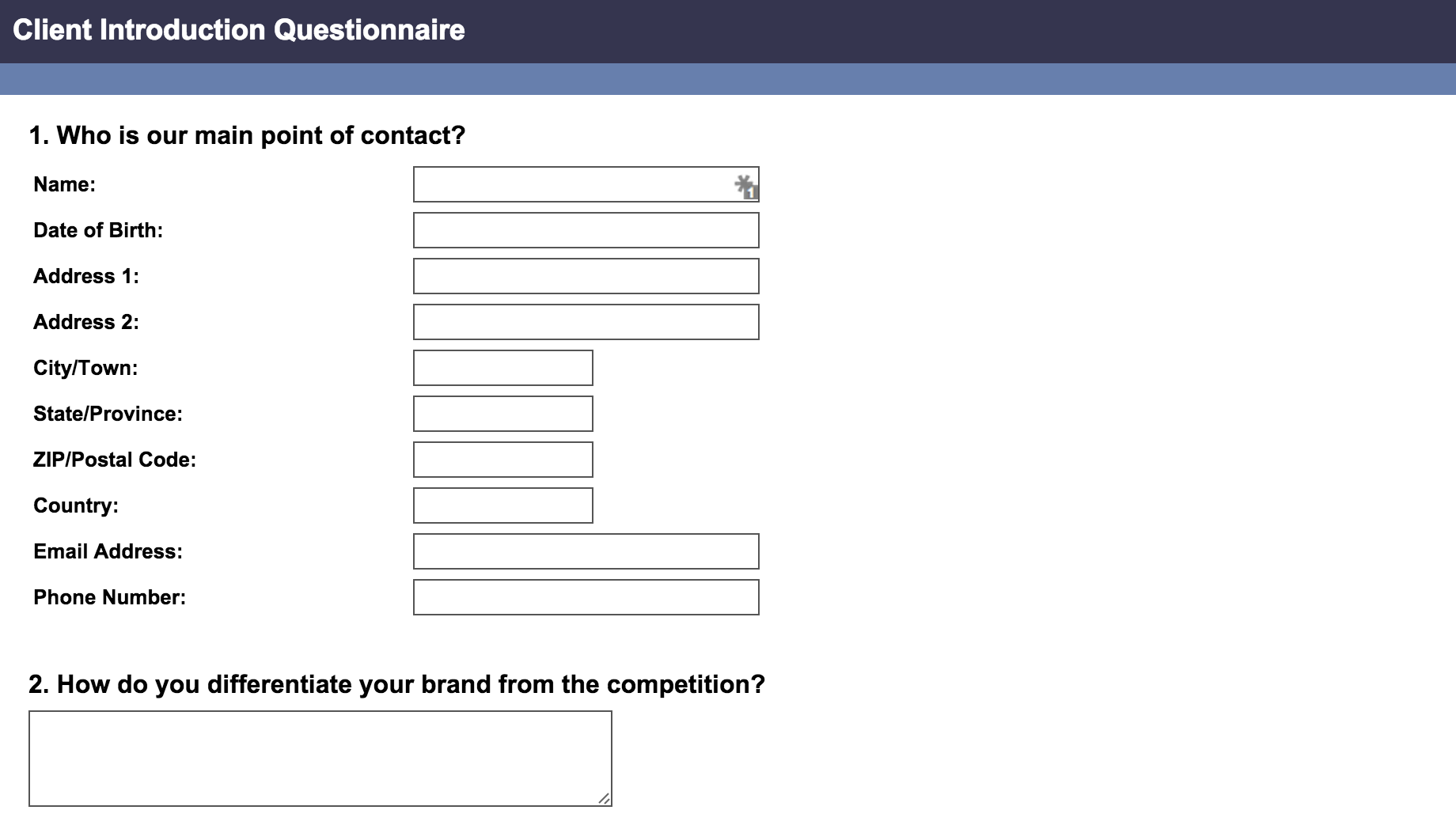 By asking each client to complete the survey as soon as they signed the contract, they were able to reduce client onboarding time significantly, while also eliminating the need to send tens of project kick-off emails back and forth in the early stages of the project.
Thanks to SurveyMonkey's API integration, they were also able to automatically store all of the survey data for each client into their CRM. It would be very easy to then use this data to set up automation sequences designed to educate and nurture clients.
9. Automate regular contact
It's important to check-in with clients once in a while to ask if there are any events coming up that would be useful knowing about, or even just to see how happy they are with your services.
Sending these 'check-in emails' is easy with three or four clients, but what about when you get to 10, 20, or 50 clients? Once again, automation is the answer.
Retaining Clients
If you ask any agency or consultant what the number one reason for losing clients is, they tend to say the same thing: poor communication. Below are some of the ways that you can use marketing automation to reduce losing clients due to communication issues.
10. Automate NPS / Survey Data Collection
Several weeks ago I came across an interesting case study by Mention.com, explaining how they reduced user churn by 50% using an automated sequence that gathered Net Promoter Score (NPS) feedback after a free trial ended: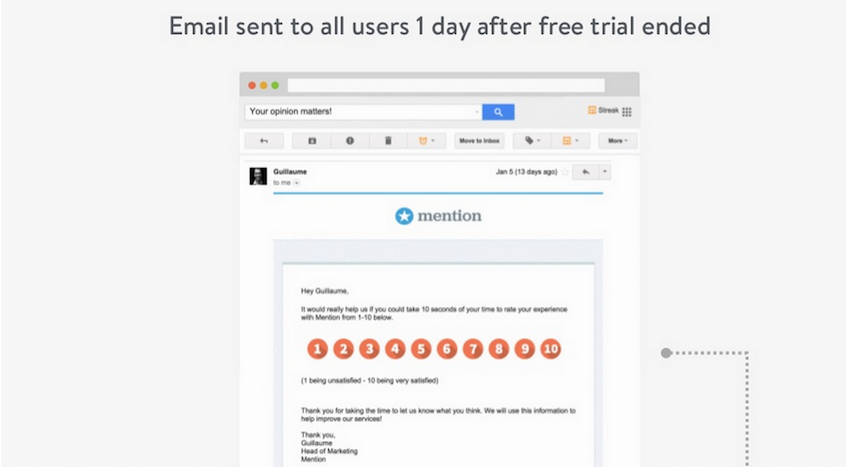 Then, based on the user's feedback, they triggered another set of automated emails depending on the user's answer.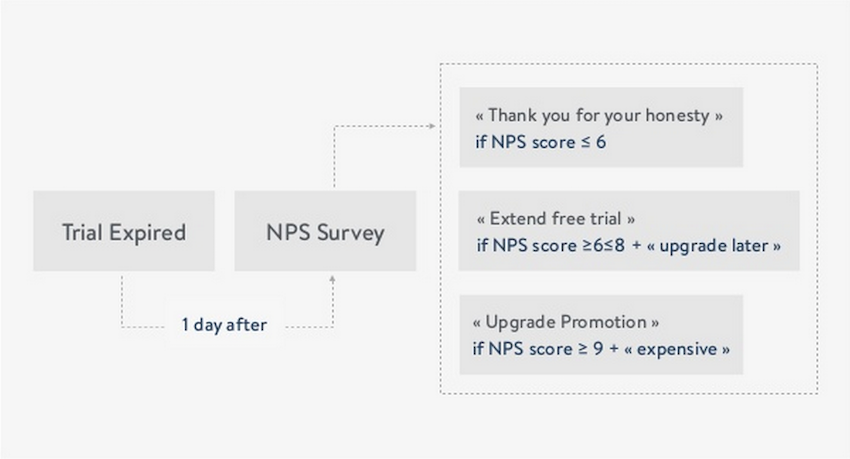 What I like about this case study is how it makes NPS feedback actionable. Many companies send NPS surveys to find out how satisfied their customers are, but too often this survey data is not acted upon.
For agencies and consultants, you could easily recreate a similar process to identify which clients are happier than others, and what actions need to be taken to nurture unhappy / neutral clients.
11. Automate contract renewal
When it comes to improving client retention, the best long-term strategy is to deliver more value and ROI to clients. That said, it helps to have contracts in place that are built with retention in mind.

While auto-renewing contracts aren't particularly revolutionary, they are important. Where you can get a little bit creative is in using automation to set up internal reminders about upcoming contract renewals.
When a client is reaching a contract renewal point, you'll want to make sure you have project plans and results to hand to convince clients to stick around.
12. Automate the personal touches
I want to wrap this post up with something quite controversial and counter-intuitive; automating the personal touches. Let me explain with an example.
Isn't it nice when you receive a handwritten letter or note with something you ordered online?
What if you could automate handwritten notes?
A company called MailLift, who integrate with all major marketing automation tools, offer this exact service – with every letter being handwritten by a real person on beautiful cotton paper.

What about automatically sending client's a gift on their birthday? At Venture Harbour, we experimented with this by adding a 'birth date' field in our client on-boarding survey, which automatically updated our CRM and sent alerts two weeks prior a client's birthday.
While it may seem contradictory to automate these things, the reality is that if we don't create nudges to ensure that they happen consistently, human error gets in the way. As your schedule gets busier, where do you think sending your clients birthday gifts will fall on your to-do list?
Eliminating human error in consulting
In Peter Drucker's famous book 'The Effective Executive', he says that companies should embrace technology that makes existing processes more efficient.
Marketing automation has the potential to distract you with fancy features, or help you grow your business by eliminating human error, improving consistency, and increasing the amount of communication with leads and clients – without the need for extra staff.
I hope this post has helped you identify how marketing automation might be able to help you grow your agency or consulting service. As always, if you have any questions feel free to get in touch or leave a comment below.
Image Credit: Philippe Lewicki