What is Marketing Automation?
Marketing Automation Insider is supported by readers like yourself. We may earn an affiliate commission when you purchase through our links. Of course, this won't increase the cost of your subscription.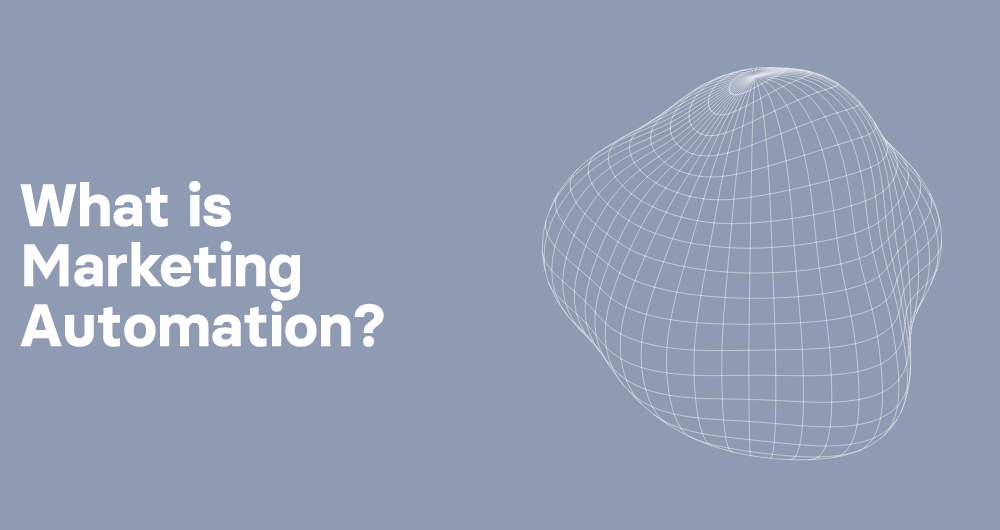 In a nutshell, marketing automation software collects and uses data to send personalized messages to your contacts at different times based on their actions.
It's often described as 'all in one marketing and sales software', and 'CRM-powered email marketing software'. Before we go into detail about what it can do for your business, let's first establish why it matters.
Why?
Marketing automation is hyped. You're right to be skeptical.
Yet, in the same way that social media and content marketing were once considered hype by the marketing community, only to eventually become widely accepted, marketing automation is rapidly following suit. Here's why.
Marketing automation provides the opportunity to send the right message to the right person at the right time, in a way that's scalable.
We've always been able to say the right thing to the right person at the right time. A phone call or in-person conversation achieves this. But neither of these forms of communication scale effectively without having to hire hordes of staff.
So, unlike the hyped marketing fads that come and go, marketing automation solves a fundamental business challenge: scaling the ability to communicate with contacts in a personalized manner.
The Best Way to Understand Marketing Automation…
…is to see it.
At the heart of every marketing automation campaign are your workflows (sometimes called sequences). Here's an example of a simple marketing automation workflow: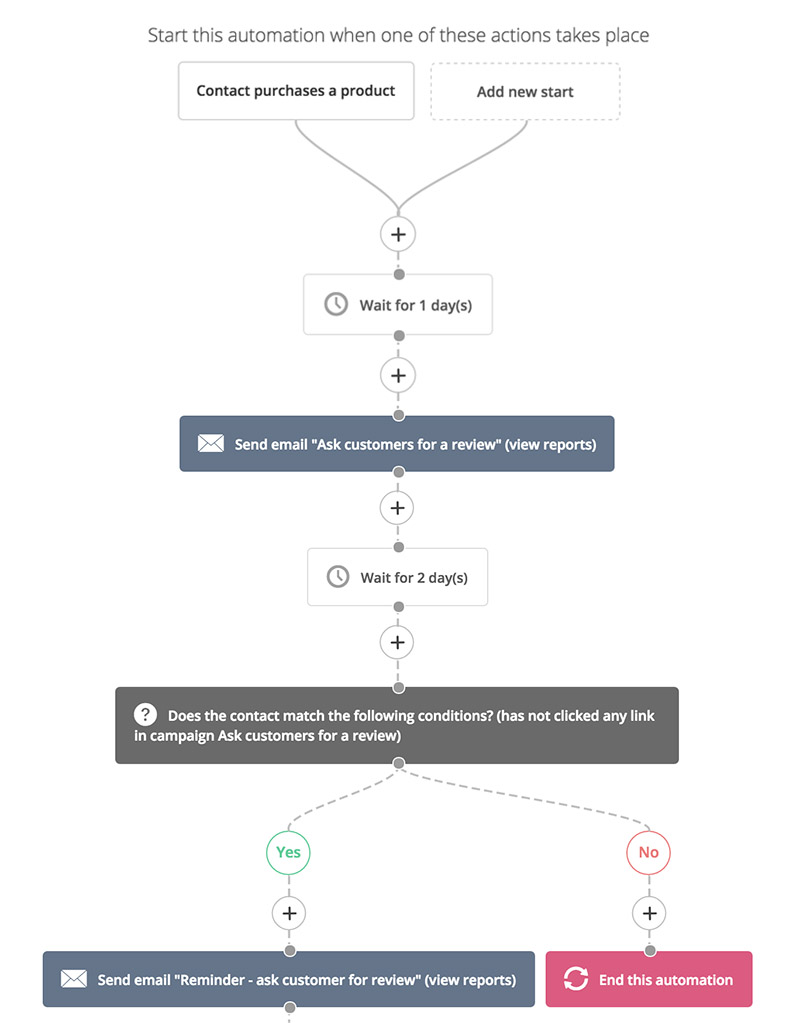 There are four basic elements in a workflow:
Triggers (What causes the workflow to start? In this case, it's when someone purchases a product from our site).
Delays (The time between different steps of the workflow).
Conditions (If X is true, do this. If X is false, do that instead).
Actions (what should be done if a condition is true or false. This could be as simple as sending another email, or it could be something more complex, such as adding the contact to a different workflow or inviting them to a webinar).
Workflows can be used to nurture leads, upsell customers, incentivise feedback, and much more. Over the next few chapters we'll explore lots of case studies and workflow examples that you could use in your business.
Isn't marketing automation too impersonal?
There is a common misconception that marketing automation is impersonal and 'too automated'.
Like all things, marketing automation has its limitations, and not everything can (or should) be automated. That said, marketing automation isn't primarily about automation. First and foremost, it's about the ability to communicate effectively on a large scale.
Your contacts want relevant and useful information. When you send bulk email newsletters you are not providing that. You are, ironically, providing an impersonal experience by treating all of your contacts as if they want the same thing at the same time.
Marketing automation, when used correctly, is actually more personable because messages are only sent to people that the message is relevant to.
In chapter two, we'll go into more detail about the features and tactics offered by marketing automation tools. First though, you may be wondering how marketing automation differs to conventional email marketing.
How does this differ to email autoresponders?
Any decent email marketing tool will allow you to create autoresponders with triggers, delays, conditions, and actions like the workflow above. So what differentiates email marketing from marketing automation?
The first key difference is that marketing automation software uses a CRM (customer relationship management) system to record and build up a profile of information on each of your contacts (typically, you can either use a built-in CRM provided by the software, or you can integrate your existing CRM).
The second key difference is that marketing automation software isn't just about sending emails. Additionally, most tools allow you to:
Send SMS text messages.
Send & schedule social media updates.
Send automated voicemails.
Send physical postcards (some tools even have a service for hand-writing these).
Build landing pages and microsites.
Create and run events (e.g. webinars, teleseminars, live events)
Accept payments (with built-in shopping cart / eCommerce functionality).
Create referral programmes.
And more.
Each marketing automation vendor has its own set of features. As we'll discuss in chapter four, some tools are better suited for certain types of businesses, so it's important to choose the right software from the start.
What can marketing automation do for my business?
If you have a list of leads, customers, or subscribers, marketing automation can help you:
Increase customer lifetime value
Improve customer retention
Shorten your sales cycle
Improve your lead qualification process
Increase sales conversion rates
Improve subscriber engagement rates
Increase your email open rates and click-through rates.
Improve marketing effectiveness.
Reduce marketing / sales overhead.
Improve collaboration between sales & marketing team
And these are just the 'off-the-shelf' benefits. At Venture Harbour, we also use marketing automation software to:
Improve our hiring process – We use automation software to pre-screen applications and then automatically send the best potential candidates a digital marketing quiz to fill out. The applicants' answers inform us which candidates should then be interviewed.
Improve PR & blogger outreach – To save time, we built a series of email templates and journalist databases to contact when we have something we want to promote. As a result, outreach now takes less time and our effectiveness has improved.
Reduce admin – From automatically sending late-payment reminders to consulting clients who are late on paying an invoice, to automatically setting up reporting & project planning accounts when a client accepts a proposal, we use automation software to reduce the amount of repetitive admin work.
We'll explore more interesting uses and examples of how you can use marketing automation in the following chapters, but to wrap up this chapter lets see whether marketing automation is right for your business.
Is marketing automation right for my business?
As a general rule of thumb…
Marketing automation is best suited to companies with:
Predictable communication that could be converted into a process.
A large number of leads, subscribers, or customers. The more contacts you have, the more potential impact the software can have.
In excess of $100,000 in annual revenue.
Below are some good signs to look out for that suggest you could benefit from marketing automation.
You're not upselling / cross-selling your customers as much as you'd like to be.
Your leads are being handled inconsistently.
Your sales process is not well-defined.
Your business still sends bulk newsletters.
Your time spent on sales and marketing is increasing proportionately as your business grows.
Your business isn't retaining customers for as long as you'd like to be.
You or your team are responding to enquiries manually.
Whether you're a blogger, an attorney, a startup, or a fortune 500 company, there's a marketing automation tool designed and priced with your business in mind.
On that note, let's move on to discuss precisely what you can do with marketing automation to improve your sales.
In this next chapter, we'll look at features like lead scoring, lead nurturing, and setting up automated alerts to tell you when your leads are visiting your website.
Start reading chapter 2