7 Small Business CRMs that Offer Marketing Automation
Marketing Automation Insider is supported by readers like yourself. We may earn an affiliate commission when you purchase through our links. Of course, this won't increase the cost of your subscription.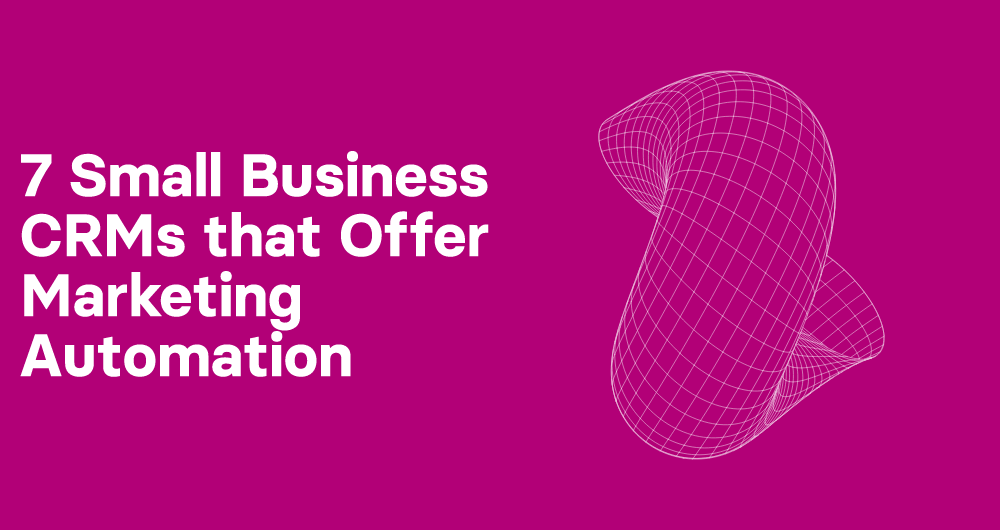 Nowadays, if you're a digital small business with a significant customer base, you can't afford to not have a CRM. Customer relationship management tools allow you to organize contacts and consolidate all customer information into one place. Without one, you'll waste time flipping between various interfaces trying to figure out how to make your data from one platform play nicely with the data from another.
The max potential of a CRM is reached when teamed up with marketing automation. Marketing automation uses the information of your contacts to send them personalized messages based on their onsite behaviour.
In this post, we'll explore 7 of the top small business CRMs that come with marketing automation features out of the box.
1. Infusionsoft
Infusionsoft is one of the most popular CRM/marketing automation tools for small business. One quick look at the feature list, and it's not hard to see why; Infusionsoft is easily one of the most powerful platforms out there.
Infusionsoft has been praised in particular for its intuitive UI, which allows you to manage everything right from one convenient dashboard. The campaign builder is also very visual and has a sequential flow to it.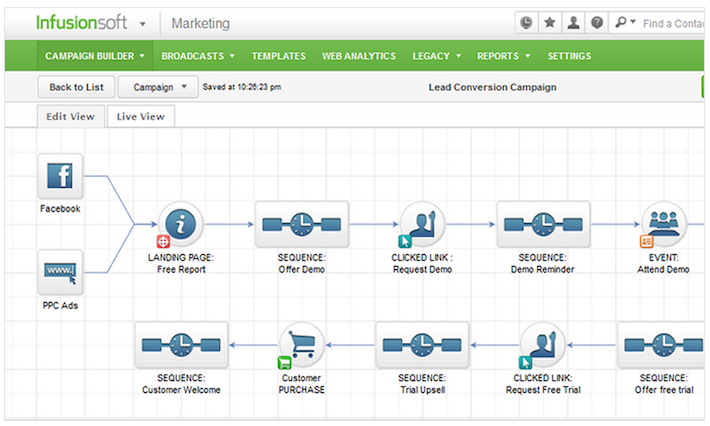 One drawback, though, is Infusionsoft's mandatory $1,500 kickstart fee. If the kickstart fee is a little higher than what you're able to commit to upfront, then you might be better suited to a cheaper option.
Features:
email marketing (follow up triggers include specific actions, profile traits, or contact)
advanced landing page builder (pages can be hosted for free on Infusionsoft)
very detailed metrics of website visitors (even down to their screen resolution)
task management tools
300+ integrations (some require extra payment)
eCommerce tools (supported payment gateways include PayPal and all major credit cards)
referral marketing programs
Starting price: $199/month for 2,500 contacts & 3 users + $1,500 kickstart fee
2. Ontraport
Ontraport is another giant in the marketing software field, with a user base comparable to Infusionsoft's. Unlike Infusionsoft, though, Ontraport comes with no kickstart fee and has very competitive pricing and low price creep.
Ontraport is also mobile-enabled, and comes with several advanced eCommerce features (overall, its very suited to any digital store). It's very scalable as well: the starter package includes support for 25,000 contacts.
The story isn't all roses, though, because Ontraport's text-based campaign builder isn't as intuitive as the more visual ones you get in other tools. Additionally, the dashboard isn't very appealing, and the rest of the UI also has a pretty steep learning curve.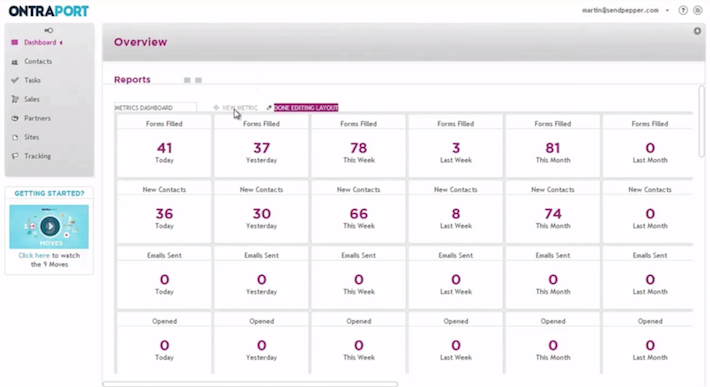 Features:
customize user permissions
web form builder with lots of predesigned templates
ONTRAmail (email marketing tool with responsive templates)
automatic follow-ups via email, phone call, direct mail, and SMS
one of the highest deliverability rates in the industry
integrations with Facebook apps
event management for physical meetups
Starting price: $297/month for 25,000 contacts and 2 users (14-day free trial, no credit card required)
3. ActiveCampaign
ActiveCampaign is a highly functional CRM and marketing automation tool. Don't let its relatively low popularity fool you: ActiveCampaign gives you a whole lot of bang for your buck. In fact, it's the very tool we use here at Marketing Automation Insider.
The email marketing tool allows you to create responsive templates in a drag & drop editor; lots of segmentation options and triggers are possible. ActiveCampaign can also fetch extensive contact data, like age, gender, location, interests, and more just from a contact's email address. The UI feels very smooth and the campaign builder has a nice flow to it.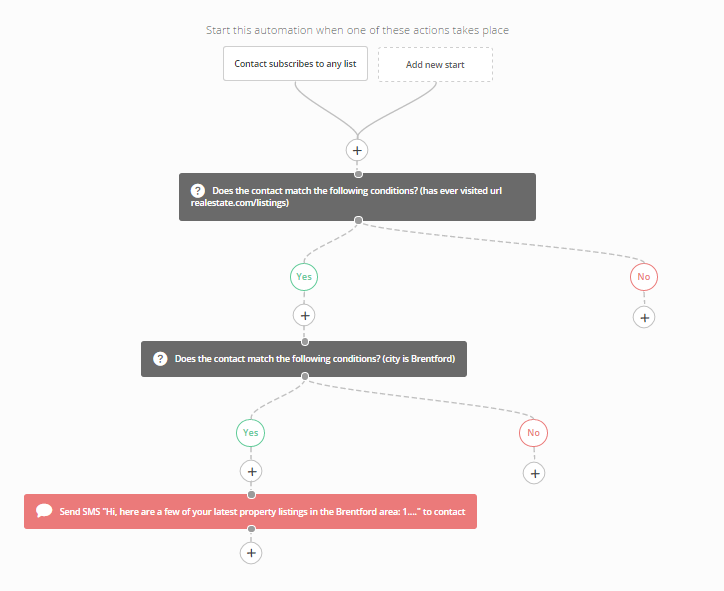 Features:
email marketing (split testing enabled)
embed content in emails from eCommerce platforms or via RSS feeds
social analysis and tracking
SMS/text messaging
multiple automation triggers
smooth UI with a drag & drop campaigne editor
integration with custom apps (e.g. Facebook apps)
Starting price: $9/month for 500 contacts and 3 users
4. Hatchbuck
Hatchbuck is a popular CRM and marketing automation platform with a big emphasis on simplicity. Hatchbuck's Email Nurturing Engine was designed especially to meet that goal; it comes with over 450 responsive email templates and a visual campaign editor.
Hatchbuck also boasts several features that enhance your productivity like activity management, task prioritization, and more.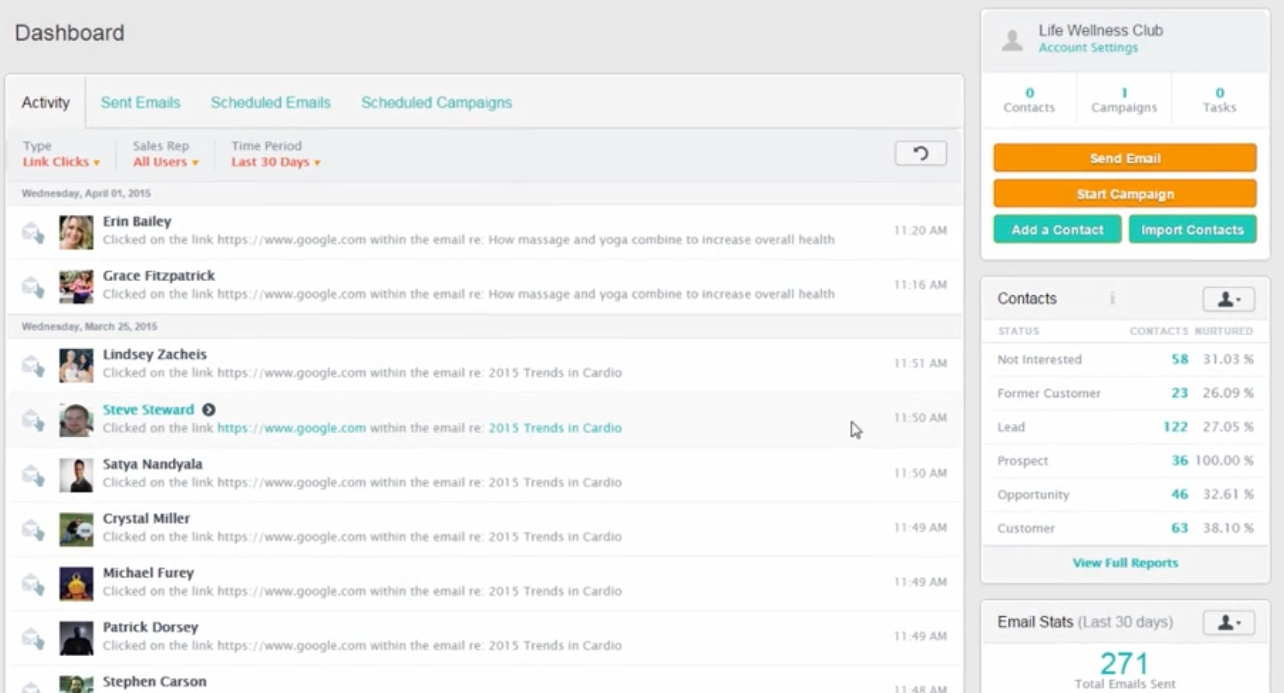 Features:
hot lead alerts (get notified when a lead is ready to buy)
detailed activity and engagement tracking
simple email marketing (with a huge template library and a drag & drop email editor)
segmentation & lead nurturing
contact management and extensive reporting
Starting price: $99/month for 2,500 contacts and 1 user
5. Jumplead
Jumplead is a popular tool; its main purpose is marketing automation, but it also comes with a few CRM features as well. Jumplead comes with a free plan, but the free plan is so limited in scalability that it's essentially just a free trial.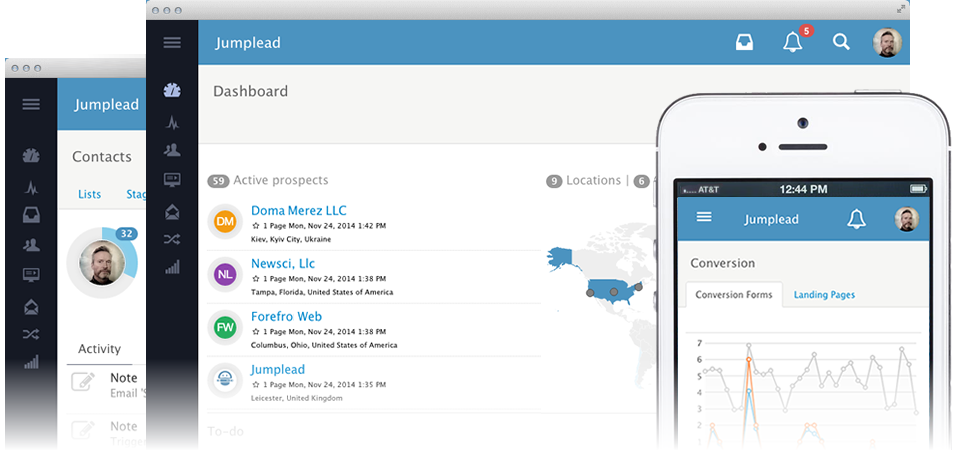 One of the best features Jumplead offers is the ability to chat with your visitors in real-time while they're browsing your site. Most automation tools, even some top-of-the-line products, don't come with this feature built-in. You'll usually see it instead in a third-party solution like Olark and Zopim.
Getting live chat as a native feature, though, allows you to directly transfer new leads or contacts generated through the chat into the CRM and automation flows; this would be harder to do with a third-party option. Unfortunately, though, the feature isn't available in the free version.
Features:
live chat
email marketing
detailed engagement activity (you can view users' onsite activity before you start chatting with them)
lead qualification & scoring
plenty of automation triggers (like a pricing page revisit, web form submission, or when a lead visits a certain number of pages)
lifecycle stages (specify the requirements a lead must meet to be considered in a certain stage of your sales funnel)
WYSIWYG landing page editor
in-depth analytics (including UTM reporting)
Starting price: $0/month for 200 visitors & 200 contacts and no chats; then $49/month for 3,000 visitors, 2,000 contacts, 10 concurrent chats
6. Leadsius
Leadsius is a CRM/marketing automation combo suite that's been growing rapidly in popularity in recent months. Like a couple other tools on this list, one of Leadsius's main attractions is its $0 starting price tag. With it, you can manage up to 2500 contacts with 1 user account.
For a free tool, Leadsius comes with a whole host of intriguing features that manage your system right from lead generation to sale conversion, like a WordPress plugin (due soon) that will allow you to manage your campaign right from the WP dashboard.

Features:
lead qualification and scoring
email marketing (with ready-made templates)
Leadsius WordPress plugin (coming soon)
personalize email messages according to past behavior with campaigns
WYSIWYG landing page editor with embedded forms and 1-click publishing
basic website traffic analytics
Starting price: $0/month for 2,500 contacts and 1 user; then $295/month for 5,000 contacts and 5 users, billed annually
7. Maximizer
Maximizer is a very powerful CRM platform with detailed analytics and an excellent sales integration. One of it's more unique features is multilingual support: you can choose from English, French, Spanish, Portuguese, Italian, and Dutch languages to manage your dashboard.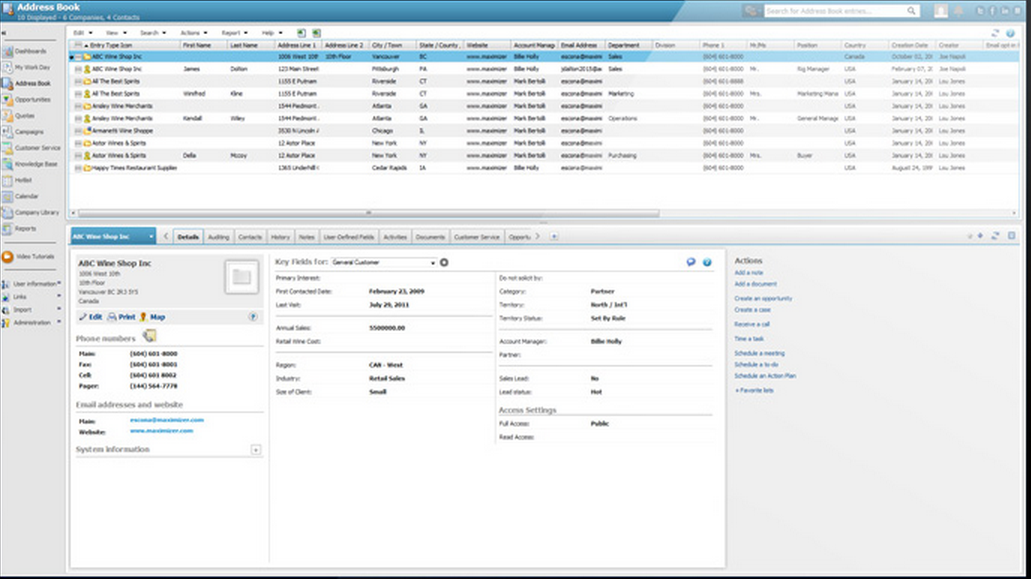 Maximizer is also a mobile CRM, which means its fully accessible on your phone or tablet. It includes a streamlined interface for mobile use, shortening the steps or clicks needed to perform certain functions like contact search and emailing.
It's a little on the expensive side; although the $55/user/month doesn't seem like too much for unlimited contacts, the integration connectors and other add-ons quickly tack on some hefty fees. Furthermore, your only payment option is an annual plan.
Features:
multi-phased email campaigns (triggers include site downloads, purchases, and service incidents)
lead qualification
175 predesigned analytics report including, spanning sales, marketing, and management departments
configurable analytics dashboards
reports on sales team effectiveness that show you exactly where you're losing customers
forecast sales pipeline data and estimated revenue
Starting price: $55/month/user for unlimited contacts
Which Tool is Right for You?
There's no one-size-fits-all in marketing automation; the CRM & marketing automation platform you go for will depend on factors like your business size, budget, and industry.
Which of these platforms do you think would work best for your business? Let us know in the comments below.