8 Small Business CRMs With iPhone & iPad Apps
Marketing Automation Insider is supported by readers like yourself. We may earn an affiliate commission when you purchase through our links. Of course, this won't increase the cost of your subscription.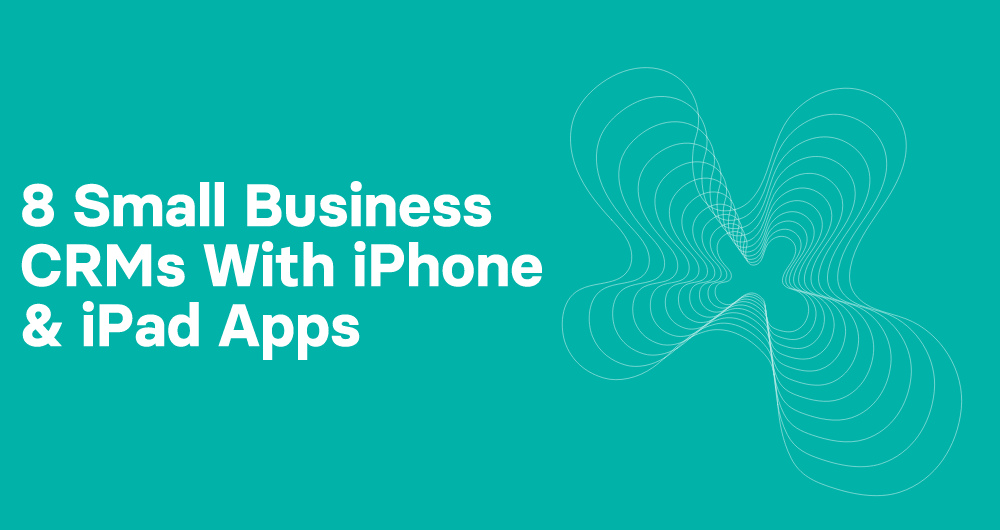 Today, you have a huge amount of choice for awesome small business CRMs. However, the availability of mobile CRMs i.e. software that come with apps that enable monitoring of your CRM and/or marketing automation right from the comfort of your smartphone is less abundant.
In this post, we'll take a look at 8 small business CRMs will allow you to manage your customers on-the-go on your iOS device.
ActiveCampaign are one of the hottest marketing automation & CRM tools for small businesses right now.
Why? Because they have one of the best products despite being 10X less expensive than many of the clunkier alternatives. While there isn't an office ActiveCampaign iOS app, there is a Moboop app that allows you to manage your ActiveCampaign contacts and campaigns.
You can download the app here. To learn more about ActiveCampaign, you can start a free trial here.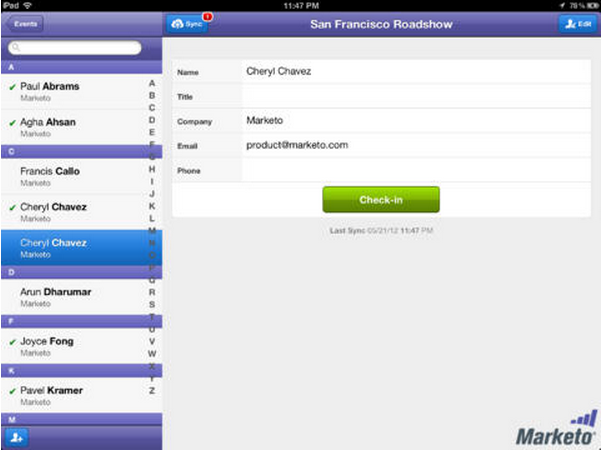 The Marketo iOS app isn't quite as functional as HubSpot's app, but then again it's not meant to be. You see, although Marketo doesn't currently offer a mobile app to manage your entire CRM, it does come with an Event Check-in app that's available on both iOS and Android.
This app is a great tool to have in your belt if you ever find yourself hosting an offline event. As your guests come in, you can check them in with a simple click of a button. All of the attendance information is then immediately synced with your customer database in real-time.
Because of the database-app connection, you can also create specific attendance-related triggers as your guests check in. For instance, you could forward a welcome email to a guest as soon as his/her attendance is recorded. Or, you can also automatically request guests to complete a poll or questionnaire at the end.
You can even send notifications to specific team members when the attendance of a VIP guest is registered.
Download the Marketo Events iOS app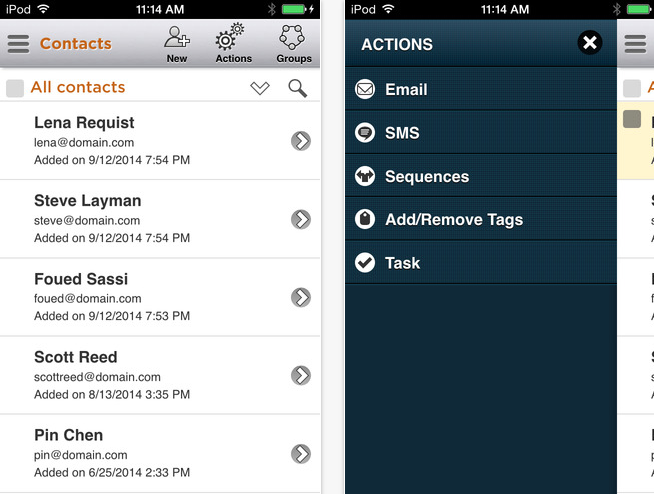 Ontraport is another popular CRM that offers a mobile app.
The app offers a variety of functions right from the dashboard. You can email a contact or a segment of contacts, send text messages, or tag leads based on specific criteria.
There are also built-in management capabilities for your pending marketing and customer service tasks. Tasks can be marked complete, reassigned to different team members, rescheduled, or canceled on the app.
There are a couple disadvantages, however. Just as in Ontraport's desktop software, the interface is just a little bit clunky and some of the screens are visually unappealing. That said, the UI is still (for the most part) relatively easy to navigate, even though it might not be the nicest thing to look at. And if you ever do get stuck, Ontraport has written up a detailed forum post that documents the app's capabilities fully.
Download the Ontraport iOS app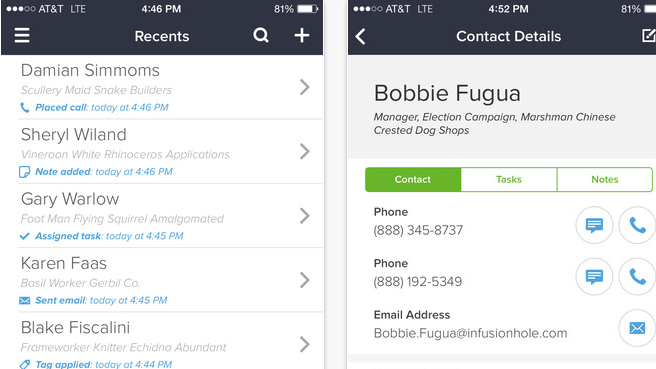 Infusionsoft is a veritable giant in the marketing automation industry, and their iOS app is much the same.
The app comes with a whole host of tempting functions. Contact management, of course, comes standard with viewing, adding, editing, and searching capabilities built-in. You can also create tags that will trigger actions from your sales team or set an automation workflow in progress.
Follow ups can be done right from the mobile UI as well, with features for call, email, and text messaging. Map directions can be sent/received to/from your contacts.
Download the Infusionsoft iOS app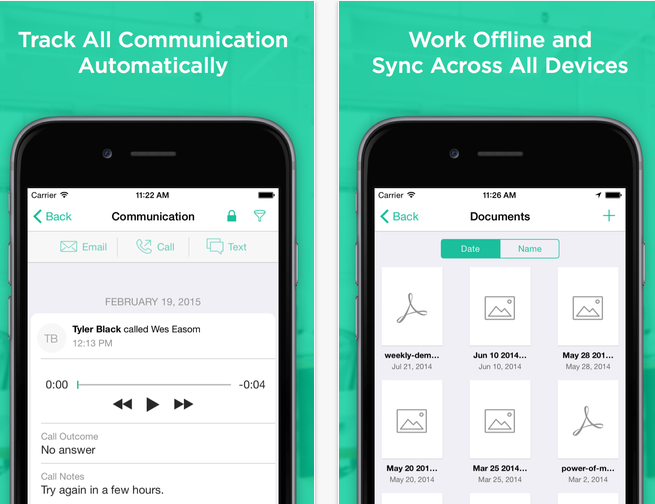 Base is a popular CRM with a powerful mobile app. Base itself does not come with marketing automation capabilities, although you can use Zapier to integrate it with software like HubSpot and Infusionsoft.
Even so, Base touts its mobile CRM as the "#1 Mobile CRM Experience"; to be honest, it's a little hard to disagree. The UI of the app is not only gorgeous, but also functional. You get a beautiful analytics dashboard, graphic pipeline visibility, emailing capabilities (with templates included), and automatic call tracking.
The app will also import contact geolocation data to display any customers in your CRM that are near your current location. Notifications can be set up when high-value leads, contacts, or deals are updated.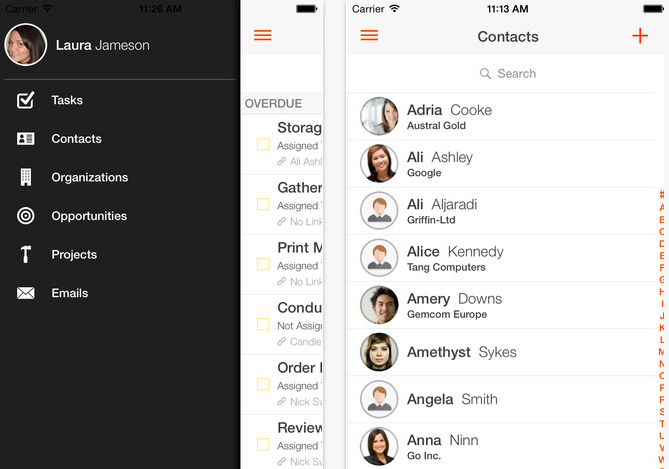 Insightly is a vastly popular CRM and project management app with a user base that's over 900,000 strong. Its mobile apps are also widely used. One of Insightly's most attractive features is not in their product itself, but rather in their pricing. For up to 2 users, Insightly is completely free and allows you to store up to 2500 records with 250 MB worth of storage.
Inside the app you can communicate with your team and manage your task calendar. Events can be scheduled right from the UI, and you can also get in touch with your leads (via call, text, or email), whose locations will be mapped. What's more, you can also record meetings and create contacts & leads simply by scanning business cards.
All your data will sync in real-time with the web app.
Download the Insightly iOS app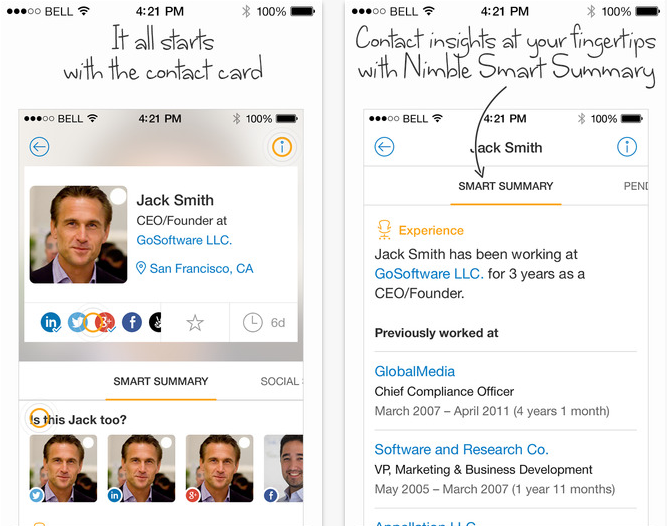 Nimble is a social CRM targeted towards small businesses. Because of its social media based nature, Nimble has a few unique and quirky features that you aren't likely to find common in other mobile CRMs.
The big idea behind the Nimble iOS app is "intelligent insight". Nimble allows you to be better prepared as you walk into meetings with your contacts. It searches the web for contextual information about your contacts, pulling in data from the top 3 social networks (Facebook, Twitter, and LinkedIn) and from email. It then personalizes the information for each contact and presents it to you in a clean interface.
HubSpot is easily one of the world's most popular CRM and marketing automation combo software. It's an all-in-one inbound marketing platform that's been praised highly for its superior versatility and reliability, with functions that are ideal for small businesses.
One of HubSpot's best features is their mobile app. With it, you can schedule new social media posts (right from the comfort of your standard web browser, e.g. Safari), monitor brand mentions on Twitter, follow up with new contacts, and a whole lot more.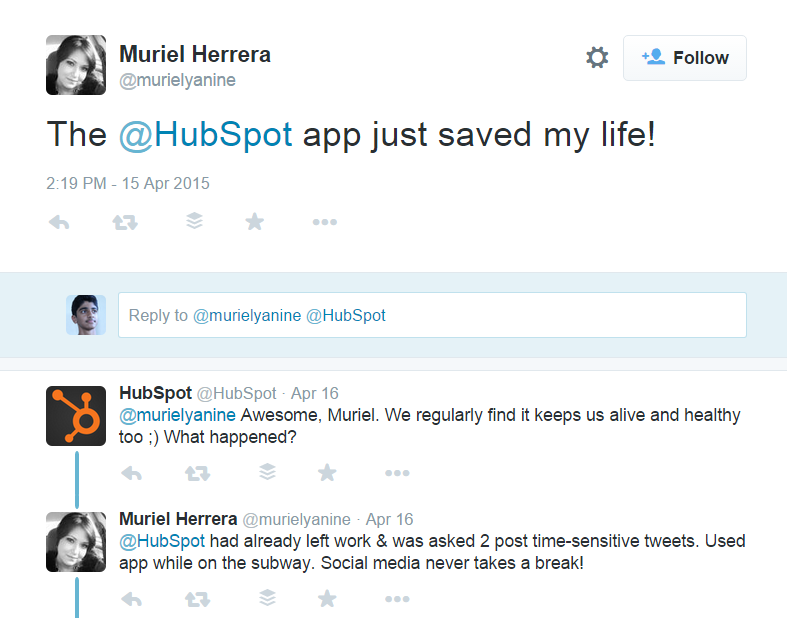 The iOS app also comes with a neat analytics dashboard that allows you to easily view your website performance in real-time. You can even manage multiple HubSpot accounts right from the same iPhone/iPad.
One of the main drawbacks to HubSpot's service is their steep price creep. As your contact base grows, your fee for the HubSpot software will also grow quite significantly.
Wrapping Up
Which of these mobile CRMs do you plan to use or integrate with your current software? Which one fits your budget and business needs the best?
Let us know in the comments!